Riders to Remember....Rick Timmo
By Tracy Holmes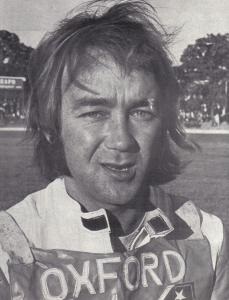 Rick Timmo
Rick is known in New Zealand as Freddie. Why? That is his name, Frederick Timmo.
Born 62 years ago, Rick was always keen on motorbikes and got hooked on speedway while still at school. While serving his mechanics apprecticeship, he saved hard and trained just as hard, swimmimg and riding MotoX.
Buying his first speedway bike in 1964, he got his first rides as a teenager at his home town track of Napier. He spent three years on the local scene and was impressive enough to catch the eye of Colin McKee who suggested a trip to the UK. Rick saved hard and booked his passage to the other side of the world.
Making his way to London, he got a job in Leytonstone as an apprentice motorbike mechanic for six months. McKee arranged trials at Hackney and it was Danny Dunton who snapped him up and off to Oxford.
There he stayed for the next 7 seasons with averages of 1967- 4.6; 1968- 5.5; 1969- 6.6; 1970- 6.3; 1971- 6.7; 1972- 5.1 and 1973- 5.3.
Throughout these years of quality service, he kept fit by riding grasstrack. He always saved hard to return to New Zealand each year where he was a big star.
In the 67/68 season, the British Lions toured and Rick was selected for all five Tests. He scored 12 points in the first one and thrilled his home town fans in the second, after a third place behind Colin Pratt and Eric Boocock, by reeling off five wins for 16 points. The third test brought six points and he scored eleven in the fourth. The last Test was rained off and Rick was unable to stay for the restaging.
Rick was a natural selection for New Zealand after that and in the years that followed, back in the UK, he would represent NZ against England, Australia and Sweden.
He also got to ride in Czechoslovakia. It was in 1969 for the Golden Helmet. Sadly, he missed the actual meeting because the plane was delayed by fog but the next day, rode in the Lubos Tomicek Memorial Trophy in Prague where he scored two points to finish 15th.
Early in his British career, Barry Briggs had wanted Rick to ride for Swindon. For Rick however this wasn't an option. He liked being settled.
Whenever Napier had an all-car night, Rick would make the trip to Gisborne along with Dave Whittaker and Colin Farquharson. Sometimes the Auckland boys would also visit: Bob Andrews, Tommy Sweetman, John Goodall, Jim Wells, Colin and Mike Fullerton. To see these guys in action was a real treat!
When Ivan Mauger, Ole Olsen, Barry Briggs, Bruce Cribb and Gary Peterson were also there, that was paradise and Rick got to impress more often than not.
The Lions also did a Gisborne night in February 1971, seeing Rick ride against the likes of Nigel Boocock, Roy Trigg, Ken McKinlay, Chris Pusey and Howard Cole was magic. For the record, NZ won 58 to 50. Gary Peterson scord 17, Bob Andrews 13 (the same as Rick).
Rick also rode in two New Zealand Championships, he was fourth in 1970 and eighth in 1973.
In the World Championship, Rick made it to the 1970 British Semi-Final at Leicester and scored two points. He loved the JAP and was still riding this in 1973.
The 1974 season saw our Rick starting to think of his future and deciding what that should be and where. He had done 10 League matches for Oxford when that decision was made for him. Riding in a grasstrack meet, as the swinger on a side-car, a nasty crash resulted in a broken femur. Rick's career was over there and then.
He returned to New Zealand and his hometown of Napier. Today, Rick is 62 years young. He owns Timmo Motorcycles and is still happily married to his British sweetheart of all those years ago. They have three children. Spencer followed in his dad's footsteps to ride for Mildenhall and Newcastle. He lives today in the UK with Rick's grandson. There is also Rick junior and a daughter who rides horses, equestrian and practices in the Timmo fived acre block. So Rick is still involved in horsepower!
Rick Timmo was never a 'superstar' and quite happy with that. He was the kind of bloke who showed up match after match, did the business to the best of his ability and thoroughly enjoyed the experience and friends along the way. Thrilled to have represented his country at International level and over here speedway wise, 'World Famous in New Zealand'!
We want to feature similar articles on riders from any era of the sport's rich history. If you'd like to contribute a piece then email us at speedwayplus@hotmail.com or fill out our form here.
This article was first published on 11th September 2008
---

Alan Campbell:

"Great article Tracy. Rick (Fred) was probably my all time hero behind Hans Nielsen and Simon Wigg. When I was a kid I used to meet Rick at his workshop at the Stadium to help him clean his bikes and sweep the pits out. Rick was a 'Superstar' Tracy. Anyone going out in a race risking their life for us is a 'Superstar'"
G Howes:

"Rick was my favourite speedway rider for Oxford when I was a youngster and I can still remember when he beat Ivan Mauger and scored a maximum. Great to see he is alive and well."
Nadine:

"What a great guy Freddie is. I used to go out with Spencer (about 20 odd years ago) and got to know Freddie really well. Always a true gentleman, Spence had the ability to go somewhere too."
Rodger McCutcheon:

"My father's farm backed on to the Meeanee speedway track and and I guess between the ages of 9 and 13 I used to sneak over the fence, frightened as hell I would get caught not paying, and Fred was one of my heros. It would have been worth it being caught by the meanest security guard just to see Freddie Timmo ride his speedway bike. I only ever spoke to him once and yes I do remember the British riders at Napier along with Ivan Mauger and Freddie was as goods as it gets. I guess looking at the riding now somehow back in the late 60s it seemed much more dangerous and as a young kid we looked on these guys with awe and looking back it was with good reason. Freddie thanks so much for the great memories, you were a huge part of the folk law that was of the time. PS My brother Garnett raced TQ Midjets at Meeanee and now my son Rex McCutcheon is now doing his first season in the Suzuki Swift Sport Cup."
Garry Watson:

"Fred and I grew up in Napier together as kids with motorbikes. He went the way of speedway and I raced sidecars. We both left NZ at the same time to chase our dreams. Him to the UK...and me to Australia. The thing that sticks out in my mind was our times together at Fred's place in the mid 60's. Fred's mum and dad (Alf and Dot) would make us more than welcome when we all turned up at the garage to talk bikes...Dick Gale, Clive Watson, myself and a few others, great times. He was king of Meeanee speedway in those days and a very unassuming local champion he was...Standard Fred...no crap, just straight up and down. "
Clive Bishop:

"Such wonderful memories of Rick in his heyday at Oxford, a fantastic team member and always gave his everything for the Cheetahs. "
Mike Coombes:

"My wife and I have Grandchildren in NZ and we visit - covid permiting - for 4 or 5 months each UK winter. Having known Fred and Carol since the late 60's we always visit them at their home outside Napier. Fred is one of the nicest guys you could ever meet.

I rode with him in a few Grasstracks. During one he rode Bill Davies Douglas. Danny and Lee Dunton, Jim Gregory and John Stallworthy were also riding. Fred has a big collection of Vintage and Classic bikes as well as his last speedway ride, his ESO-JAP.

Last time we visited, his lovely mum Dot greeted us pushing a wheelbarrow full of stable sweepings. She had just finished 'Mucking out' the stalls. Like all true eccentrics she was wearing a nice skirt and blouse, a twin string pearl neclace and wellies! Dot's life had just improved as she had had her cararact done.

Note the singular - she only had sight in one eye! She had terrible trouble convincing the surgeons to do it. If it went wrong, she would have been blind. She, with typical Kiwi forthrightness said " I'm bloody well blind as it is - you can't make it much worse! "

So they did it - successfully. Cant wait until we can get together again, hopefully in 2022."

[ Use Desktop Version ]

Comment on this Article | Contact Us | Go Back to Main Menu