Ronnie's Newcastle Nightmare
By Tracy Holmes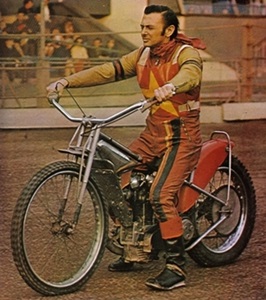 Ronnie Moore
1969, Ronnie Moore had made the comeback Speedway and Wimbledon fans in particular had dreamt of. Obviously, a little rusty at the start but he was soon showing the form of old.
He qualified for the British Semi-Finals with 34 points from a possible 45. [ Coatbridge 10, Wimbledon 14, Newport 10 ] The Leicester staged Semi started with disaster when he broke down in the lead. It ended with a fall and exclusion [ hugely controversial! ] but 7 points saw him equal with Arnold Haley. There should have been a run-off to see who would go to the British Final as reserve, but there wasn't! Two weeks later they returned to Leicester and Ronnie won the run-off. As it turned out, both got to ride in the British Final due to Norman Hunter and Reg Luckhurst being injured.
West Ham hosted the last round to the Wembley World Final and Ronnie romped in with 13 points. Barry Briggs won the meeting unbeaten and Nigel Boocock also scored 13, beating Ronnie in the run-off for second. The defending World Champion, Ivan Mauger fourth with 11. So, after 6 years away, Ronnie was back on the biggest stage of all. And this would be World Final number 13.
On August 6, at Swindon, the First Test, New Zealand V England saw the Kiwis victorious 65-43 with Ronnie scoring 15. Things were looking so good until the solids hit the air-conditioning.
It was the Second Test, New Zealand V England at Newcastle, August 18. Not a good start for 'Mirac',
Heat 2. Gifford, Wilson, Cole. Moore ef. Ronnie said, "Dave Gifford and I were out in front when my motor blew to pieces."
Heat 5. Haley, Gifford, Moore, Trigg.
Heat 8. Gifford, N Boocock, P Smith. Moore-fall. "Dave Gifford and I were out in front for a maximum score. For this race, I had borrowed Ivan Mauger's bike. The safety fence at Newcastle is not straight. It has little curves in it and I clipped one of these going down the straight. The footrest folded up over my right foot and I crashed in the next corner. It took five minutes to release my leg from the bike and I ended up in hospital with two broken bones in my foot."
This was tragic in just so many ways. The World Final at Wembley was just three weeks away. Such was his form that a double figure score looked a sure bet. I don't think he could have beaten Ivan Mauger. This was Ivan at his peak of peaks and as it turned out, he was like the previous year, in a class of his own, taking his second straight World Title. But the way everyone else dropped points, a fully fit Ronnie could have taken the Silver Medal no question.
Ronnie had not been able to ride before the World Final practice on September 11. He describes that Thursday, "My foot felt as if it was being opened up by a pneumatic drill. I should have called it quits then and there. That night I rather foolishly decided to ride for Wimbledon against West Ham at Plough Lane. I struggled through the meeting and surprised myself by scoring eleven points. But the pain took its toll. I was exhausted afterwards. To think that there had been a time when the thing I feared most was a visit to the dentist!"
The World Final was on Saturday, September 13. Ronnie scored just 6 points. A shadow of what may have been. But his heroic efforts were not lost on Wembley or the Speedway world.
September 17 was the 'Brandonapolis' at Coventry, Ronnie scores 7 points. The following night at Wimbledon for 'The Laurels', another 7 points. The World Team Cup Final was held at Rybnik in Poland on September 21. Ronnie had been selected for the Great Britain squad but he withdrew, allowing Martin Ashby to join Ivan Mauger, Barry Briggs and Nigel Boocock with Pete Smith named as reserve. They took the Silver Medals with 27 points behind the home team on 31.
Two nights later, in Stockholm, the World Pairs Final took place. Ronnie had qualified with Ivan to represent New Zealand but this too had to be abandoned. Dave Gifford should have been his replacement but with Ole Olsen riding for Denmark, Mike Parker did not want another star rider missing from his Newcastle team. Bob Andrews got the call and at the end of the night, he and Ivan were World Pairs Champions.
At season's end, Ronnie was smiling again. Wimbledon had finished 3rd in the British League behind Poole with Kiwis Bruce Cribb and Frank Shuter. 2nd was Belle Vue with Ivan Mauger and Bill Moulin. But Ronnie captained the Dons to win the next biggest event, The Knock-Out Cup beating Sheffield in the Finals.
"For me, that should have been the end. I had promised to return for one season. Part of the reason for coming back at all was to buy some more fairground equipment. And it was no fun being separated from your wife and children. By the end of the season, I had had enough and I made that clear. But Ronnie Greene wasn't content to let me slide back into oblivion just yet. If I wasn't prepared to be parted from my family any longer then he would bring them to England. He would even throw in a workshop at Wimbledon as part of the deal. There was one catch, I had to stay for two seasons."
And the rest is history. But for that Newcastle safety fence, who knows how that 1969 year may have panned out. If only Dennis Patterson had have been around, he could have told Mike Parker, "Ya safety-fence is not plumb!"
This article was first published on 21st November 2021
[ Use Desktop Version ]
Comment on this Article | Contact Us | Go Back to Main Menu