Rye House Snapshots
By Robert J. Rogers
These pictures were taken at Rye House in 1965 by my father John Rogers.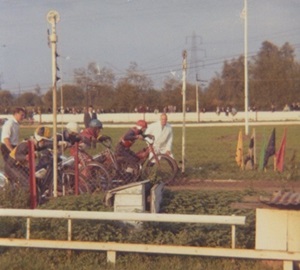 Starting Gate Action. Riders unknown, but I think in Yellow and Black is Neville Slee (Australia).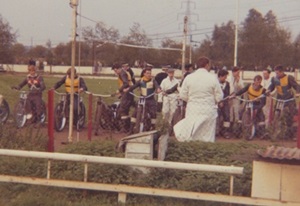 Line up before the match, only rider I can identify is Tony Clark in Hammers Colours (which I think links with a later Photo).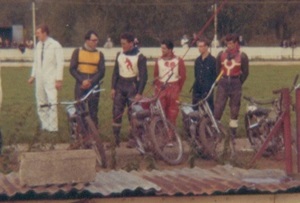 A four rider line up, the second from the left is Ted Ede, who is still in action today with Terry Stone's `Men in Black` show. Ted is wearing a Rye House Red Devils race jacket, but if you look carefully at the rider next to him, he is wearing a `Mickey Mouse` race jacket, now, who were they?? He is also wearing Red Leathers which were the same as Mike Broadbanks who used to live locally, so possible a pair of his being loaned out?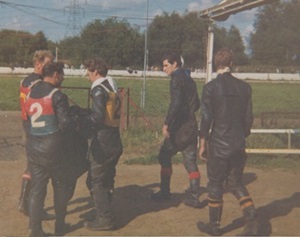 Taking the collection for the St Johns in 1965. Thanks to what is my Mum's writing, they are from left to right Peter Jackson (Wimbledon), Reg Trott (West Ham), Alan Jackson (?), Brian Leonard and Malcolm Simmons both of West Ham.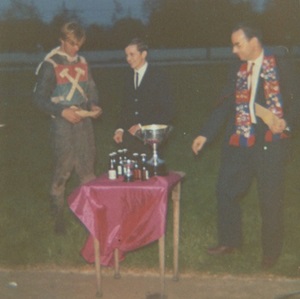 Possible linked to photo two, Tony Clark (West Ham) being presented with the Speedway Touring Clubs Trophy by Ron Dyer who was the Supporters Club Chairman at West Ham. (Gent in the middle unknown).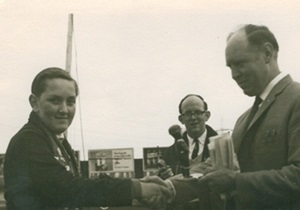 Talking of supporters getting in the Act and 'Lord only knows' what I was up-to 46 years ago, but there is a little me presenting a trophy to a very big Maury Littlechild who was the Kings Lynn Manager with a trophy. In the background is Rye House Team Manager, Ernie Hancock.
This article was first published on 24th February 2011
---

David Pickles:

"I'd just like to say a few words about Mike Broadbank. A couple of Sunday's back, my friend Colin and I went to Rye House to watch the NLRC and we met Mike in the pub garden next door before the meeting. He was a thorough gentleman and spent quite some time with us answering questions and telling us the story of how he started speedway, and before that cycle speedway with Len Silver. A truly entertaining and brave rider, and a pleasure to talk to. Best wishes for the future Mike."

[ Use Desktop Version ]

Comment on this Article | Contact Us | Go Back to Main Menu