Sheffield Speedway : The Sixties and Seventies
By Ian Davey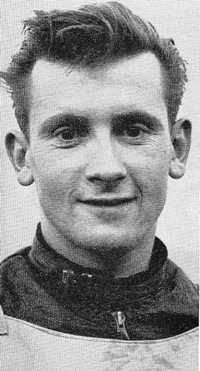 Arnie Haley
When I was 15 years old I met a girl from a village outside Sheffield, so between 1966 and 1972 I made the trip from my home in Norfolk to Sheffield as often as I could. Not an easy journey in those days. It usually took at least four hours, sometimes five. I was already an avid Speedway fan so it was only natural that we would find our way to the Owlerton Stadium. By a strange coincidence my mother, who was a regular at Norwich in its post war heyday, had met a young man through Speedway from the same village so had made this journey many times 20 years earlier.
Someone else making this journey, but on a weekly basis, was Billy Bales who rode for Sheffield from 1965 to 1969. I was delighted because Billy was my idol as a kid when he rode at Norwich, second in line for me only to Ove Fundin. Billy was coming to the end of an illustrious career in Speedway but he was an ever present for Sheffield during this time. At 5 foot nothing he was spectacular and still giving it his all so he was understandably popular with the fans.
I remember my first impression of Sheffield was unfavourable. Why? Because it had a greyhound track in between the Speedway track and the stands. I had grown up with Speedway at the Firs stadium in Norwich where you could stand up against the Boards and get close up to the action but in fact Sheffield was a good racing track and I witnessed two of the most memorable races I have ever seen in Speedway at Owlerton.
In the late sixties Sheffield were a solid mid-table outfit who had the beating of most teams around Owlerton.They had good middle order riders who were Sheffield through and through, John Dews, Arnold ("Arnie") Haley, Bob Paulson, team captain. These guys were capable of beating visiting big guns and Haley in particular was a real battler, hugely popular with the fans. The atmosphere was good and the crowds numbered 6-7,000 every week.
Now for that first memorable race which occurred in 1970 when Sheffield were riding against Newcastle"Diamonds". It was a one-sided match, 51-27 to Sheffield, as the Diamonds were a two man team. Only George Hunter and Anders Michanek offered any resistance, but what resistance!
That night Michanek had the beating of every Sheffield rider except their captain Jim Airey, but that was no disgrace as Airey was virtually unbeatable around Owlerton and would go onto be a World Finalist the following year. Michanek, tall, stylish, was already showing class which would see him become World Champion in 1974.
n the last race "Mich" was up against fellow Swede Bengt Larsson. Michanek made the gate but Larsson was hot on his tail for three laps. At the start of the last lap Larsson made his move to pass the Diamonds number one on the outside just where we standing on the first bend. Michanek, a quick look over his shoulder, knew what was happening and deliberately let his back wheel slide out a fraction earlier than he would normally have done so as to balk his opponent. A classy move and the Newcastle man held on to take the chequered flag. I turned to my girlfriend and her brother and said: "Did you see what he just did there?" That moment, 50 years on, is still engraved on my memory.
Anyone who wants to see a replica of that race can do so by just clicking on Youtube "What a race!". Again it features Anders Michanek at Sheffield but this time riding in Swedish colours against England in 1973. It is the decisive last race, it is 36-36, so the pressure is on. Again Michanek makes the gate but this time he has up and coming Belle Vue Ace Peter Collins hugging his back wheel. PC tries to take Michanek on the inside for two laps but the Swede is too good a rider to give way, so the England man changes tactics and tries the outside where he is getting a lot of grip. It is the same scenario as 3 years ago, this time with Collins making his move on the last lap and Michanek trying the same tactic as against Larsson but somehow Collins maintains his speed, virtually scraping the fence and both riders come into the back straight neck and neck. On the final bend Collins squeezes through the eye of needle to come out in front as they reach the tapes. Result? England win the heat 4-2 and the match. Thrilling stuff for a big crowd. "What a race indeed" indeed! Collins is given the "bumps". He was only 19 years old but he had just shown why he too would go on to become World Champion 3 years later. ITV's "World of Sport" commentator Dave Lanning was in ecstasy.
The programme for that Sheffield vs Newcastle match makes for interesting reading even though it's light on content for a shilling. You could take a 7 day tour by train with five nights in Poland taking in the world final for 46 pounds, about 700 pounds in today's money. Not a bad price!
As was usual in those days there was a second half after the 13 heat match making it 20 races in total. The interval was the opportunity to check out the riders in the pits. That night the second half featured Doug Wyer, Bob Valentine and Reg Wilson who were all learning their trade at the time. Each would go on to become a heat-leader for Sheffield within a few years. The Tigers had a B team who would be racing the following Sunday. Second halves disappeared in the 1980's. Now spectators get just a 15 heat match for their money, 5 races less. The last meeting I attended at King's Lynn last year was finished by 9 pm. Not a "proper" Speedway night out to my way of thinking.
The fixture list too shows a season starting the third week of March and finishing mid- October with no less than 18 league teams visiting, a far cry from the elite league of today with just 7 teams.
Between 1972 and 1975 I was living near Sheffield so had more opportunity to follow their fortunes and it was during this time, 1974, that the Tigers won the Knockout Cup. Those home -grown second half "triers", Wyer, Wilson,and Valentine had all come good.
This was when I witnessed that second memorable race, if anything better than the Michanek-Larsson duel. Sadly there is no record or even a replica of it on Youtube this time. It featured Bob Valentine who was by now No 1 and visiting captain for Swindon "Robins", Martin Ashby, a rider of classical style. What happened was highly unusual in Speedway. These two riders were so evenly matched they overtook and re-overtook each other for all 4 laps. Sensational stuff and I remember the Stadium announcer saying "Yeeesss, that's Speedway at its very best". The same gentleman posed a question to the fans one night. "Which Sheffield rider appears on TV every week?" No one seemed to have a clue as to who it might be. At the end of the match the riddle was solved. It was team captain, Bob Paulson, who featured in the opening clips of "Calendar", Yorkshire TV's regional news programme.
Another visiting rider who really impressed me was Belle Vue's Soren Sjosten. Tiny, spectacular, he had incredible balance, hardly seemed to put his left foot on the track as he took the corners, his head almost below his handlebars. Yes the Sheffield track served up some excellent racing back in those days.
I moved away from Sheffield for good in 1975 and have never set foot in the Stadium since. I'm pleased Sheffield is still running at a time when so many tracks have closed down. If it hadn't have been for the pandemic this year the Tigers would have been riding in the top flight again for the first time in 18 years. Let's hope they'll do it in 2021 with new signing Nicki Pederson, a controversial but exciting rider. If they do maybe I'll make a return visit after an absence of 45 years. With Nicki around, sparks might fly!
This article was first published on 4th October 2020
[ Use Desktop Version ]
---

Anonymous:

"We started watching Hull Vikings when they opened on 1971, and as a treat (I was 8) we got taken to see or hero Reg Wilson rding for Sheffield. I can stil remember how open mouthed we were at Jim Airey hammering round that track - I don't think I have ever seen anyone faster. Owlerton is a sad sight despite recent 1st-bend "improvements" (which have taken away standing capacity) - all the back straight is closed to spectators and the bank of seating in the main stand is long gone. "

Comment on this Article | Contact Us | Go Back to Main Menu