Speedway in Singapore 1930
By Tony Webb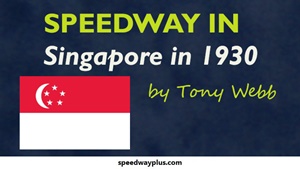 Speedway has been held in what could be considered unusual places to hear the roar of speedway machines. Manilla, Papua New Guinea and Argentina come to mind from the pioneer days, although extended promotions took place in those countries, there were places that conducted only a few meetings that got lost in the mists of time
Singapore and China were two countries linked together by separate get rich promotions that had a detrimental effect on Australian speedway in 1930.
Singapore was a British Colony full of ex. pats, Europeans and a mixture of Asian cultures not known for their interest in motor sport, the success of speedway in England and Australia had tempted A J Reynolds an Australian entrepreneur, showman, theatre manager and speedway promoter that running speedway in this location was worth the gamble.
Reynolds arrived in Singapore in March 1930 and set up the promoting company 'Singapore Speedways Ltd', He realised he could capitalise on speedway riders travelling to England and soon after, he was joined by Australian speedway riders Charlie Datson, Jack Sharp, Tiger Lewis and Fred Yates, all of whom helped with the organisation and preparation. Also to join the troupe was Welshman George Gregor a Cardiff pioneer rider.
The venue was Alkaff Gardens built by a Yemeni sheik was to be the location of the track. The 440yds (402m) oval with white board safety fence was surrounded by palm trees. Stands were built and floodlighting installed all at great expense, but Reynolds did not have enough capital of his own to finance such a large undertaking and local contractors may have financed the construction in exchange for shares or the promise of payment later. Practice sessions for the locals were arranged and a riders association was formed. Australians apart, the riders were beginners comprising of a few ex pats, Malay born Europeans, plus various Asians, Chinese and Cocos Islanders.
An extensive and expensive advertising campaign began 3 weeks before the opening night (19th April); full page adverts appeared in the press and accompanied by speedway related articles, dominated the newspapers. All along the Serangoon road to the stadium giant Chinese fliers fluttered in the breeze and announced the grand opening. An estimated 35,000 attended that opening night, a figure never to be repeated.
The programme consisted of match and handicap races, plus record breaking attempts NSW Rider Charlie Datson set the first track record for the 4 lap flying start at 86secs. Riders on the opening night included Ong Chin Beng, Lee Seng Soon, Cho Jolly (China), Bepo Wahid (Cocos Islands), Sob Prasong, the Siamese (Thai) motorcycle champion, Philippe Ledonou (France), R. McCreath, Jack Holliman, (Malaya) Bobby Waters, Harry Riches, England. A varied collection of bikes were used, BSA, OEC, Sunbeam, Charter Lea, etc. Douglas DTs. were only used by the Aussies and Welshman George McGregor who was advertised as the English champion!
Aussie Sig Schlam also appeared later on during the short season to augment the few real speedway riders. International matches were arranged, China v Cocos islanders and China v England. Captain of China was Ong Ching Bing, England's captain was Bobby Waters, but these somewhat farcical international races were not completed.
The diet of the same riders in a mixture of handicap races, record attempts and match races soon palled and by the final meeting 7th June the crowds had dwindled to nothing and the enterprise collapsed.
A.J. Reynolds could not be contacted, apparently he had skipped the country, Ceylon his destination, leaving behind a trail of angry creditors. The elusive Reynolds had a couple of brushes with authority before leaving Singapore, he was up in court for breaking the strict gambling laws by using lucky programme numbers, but the smooth talker failed to shift the blame onto the programme printers and was fined.
The failure of Singapore did not detour another promoter, who persuaded ten Australians and one Englishman to join him in a tour of the Phillipines and Shanghai in China later the same year.
Original documents are rare but it is known that a Queensland speedcar collector has original Singapore programs. I was at Ipswich museum in 2017 when Eddie Abraham brought in some original programes he obtained from a collector in Kingaroy.
This article was first published on 14th March 2021
[ Use Desktop Version ]
Comment on this Article | Contact Us | Go Back to Main Menu