Snapshots of Yesteryear
By Peter Colvin
Further pictures from Peter Colvin's popular series that features in the Glasgow Tigers programme.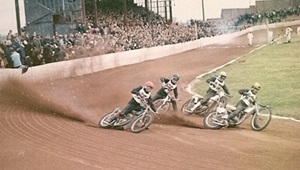 On 22nd June 1968, the second of a series of international speedway matches between Great Britain and Sweden took place at Cliftonhill Stadium, the new home of the Coatbridge Monarchs. The Swedish team had won 55-52 at Wolverhampton 24 hours earlier where Barry Briggs severely damaged a thumb and Nigel Boocock broke a collarbone. This meant that reserve Jim McMillan, who was getting his first cap for Great Britain, took Boocock's place and Norman Hunter was brought into the team for Briggs. The Swedes had intimate knowledge of British tracks and only bolstered their "Anglos" with the inclusion of reigning world champion Ove Fundin. This superb snapshot, taken by Duncan McLean, shows Soren Sjosten leading Heat 3 from Jim McMillan in red, Charlie Monk and Olle Nygren. The injury depleted Great Britain team suffered a record 37-71 home defeat, with Jim McMillan scoring a very creditable 7 points, including a win over Fundin which, according to promoter Ian Hoskins, "set the stadium alight."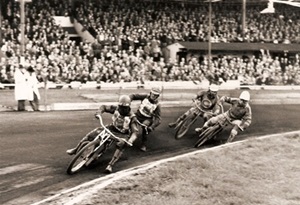 Thanks to Christine Liddell, we can delve even further back in time with this delightful snapshot taken on Wednesday 2nd August 1950. White City stadium was bursting at the seams when Glasgow Tigers and Ashfield Giants clashed in a Northern League match. This is Heat 2 with Junior Bainbridge and Jack Hodgson leading Willie Wilson and Merv Harding. A second 5-1 looks likely, but by the end of the race Hodgson had slipped back into last place. The scorers for the Tigers in a 49-35 win included a 12-point maximum for Junior Bainbridge, Tommy Miller 10, Gordon McGregor 8+1, Norman Lindsay 6+3, Peter Dykes 5+3, Jack Hodgson 5+1, Ken McKinlay 3+2 and Alf McIntosh 0. For the Ashfield Giants, Keith Gurnter scored 8+2, Merv Harding 8+1, Ken Le Breton 7, Willie Wilson 4, Bruce Semmens 4, Bob Lovell 2, Larry Lazarus 1 and Geoff Godwin 1. I am sure you have spotted the two men standing on the track! Was that a regular occurrence at speedway meetings in those days?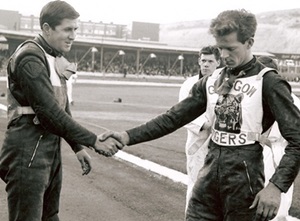 In 1965, the National League joined ranks with the Provincial League to become one big British League with eighteen teams. The first challenger for the Golden Helmet Match Race Championship, held by World Champion Barry Briggs of Swindon, came from the top points scorer of the Provincial League - Charlie Monk of Glasgow Tigers. The Golden Helmet was contested over the best of three legs, all raced at neutral venues, an aspect of the competition that did not go down well with all supporters (or promoters). Monk won the first leg 2-0 at Poole where Briggs had severe engine problems and retired, when second, in each of the three races. (Although leading in the first race, Charlie did not finish the four laps, as he did not want to win by default). This snapshot shows the protagonists before the second leg at Sheffield. From Charlie's demeanour, it looks as if he is anticipating the outcome, losing both races to the World number one. Briggs went on to win the deciding leg at West Ham.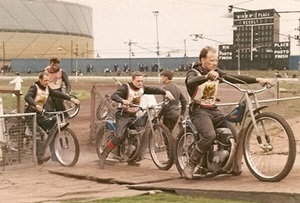 Bo Josefsson (on the left) and Jim McMillan follow Ake Andersson into the pits at White City before the match against Swindon Robins on Friday 28th June 1968. The other rider in the picture is Swindon's Clive Hitch who was due out in Heat 1 and has left his bike on the track. A weakened Swindon team, missing Barry Briggs and Bob Kilby, lost the match by a narrow eight-point margin. This was Ake Andersson's first match for the Glasgow side, having replaced fellow Swede Lars Jansson. This was a move that angered and surprised many supporters, especially as Jansson had scored twelve points the previous Friday in a last heat decider. (Incidentally, this two-point defeat was against a Sheffield side that had a certain Mr Monk scoring a maximum). Ake Andersson won his first race for Glasgow but then only managed to beat Pete Munday, the Swindon reserve, for a total of just four points. He never looked the part and returned to Sweden after just seven meetings with a 4•17 average.
This article was first published on 9th April 2012
---

Ross Dow:

"More fantastic memories from Mr Colvin. As a 'pusher' at White City in 1968 (no! not a drug dealer - I just helped the Y/B helmet rider on his way - honest m'lud!), I was paid to mix with my heroes of the track. The two guys leaning against the fence in the 1950 photo were probably in transit between pubs and were unsure if it was New Year or New York. "

[ Use Desktop Version ]

Comment on this Article | Contact Us | Go Back to Main Menu