Snapshots of Yesteryear
By Peter Colvin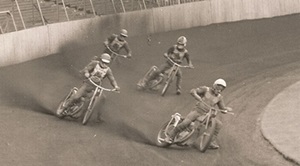 This snapshot was taken from the main stand at Hampden Stadium and shows fourth bend action from Heat 9 of the British League match against Wolverhampton Wolves on Friday, 4th July 1969. Mick Handley is seen leading from Alf Wells with Oyvind S Berg looking for a chance to go round the outside of Bengt Andersson. This drawn heat was won by top-scorer Mick Handley from Berg and Wells. It was not a productive night for Alf Wells, this being his only point in the match and he was replaced by reserve Russ Dent in his final ride. The tall Kiwi was a superb gater, but tired as the race went on. The former heat-leader found it difficult to adapt to the track at Hampden. Maury Robinson replaced him for the next match and, as it turned out, I had captured Alf's last race for Glasgow Tigers, finishing with an average of 4.36 from fifteen league appearances.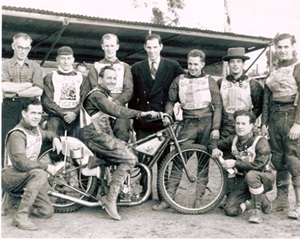 This photograph shows the Glasgow side that rode in a Queen's Cup match at Ipswich on 20th August 1953. A record crowd of 19,000 saw the Witches in the lead for most of the meeting but eventually lost 53-55. The Tigers then had to make the even longer trip down to Exeter for the away leg of the semi-final. The riders shown here are, left to right, Larry Lazarus (kneeling), Harry Welch (wearing what looks like a cricket cap), Junior Bainbridge (on bike), Don Wilkinson, Peter Dykes, Ken McKinlay (with the rather flamboyant headgear), Tommy Miller (kneeling) and Bob Sharp. Team manager Ian Hoskins guided his team through to the Queen's Cup Final against the Edinburgh Monarchs, but lost 99-117 on aggregate, failing to add another trophy to the Scottish Cup victory over Motherwell. Tommy Miller, who had grabbed eighteen points against the Witches, recorded seventeen league maximums in 1953, dropping just three points at home in the process and ended the season with an average of 10.7.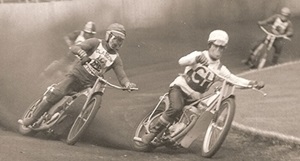 Bernie Persson of Cradley Heath has a slight advantage over Charlie Monk as the pair get their wheels in line coming out of the second bend at Hampden Stadium in July 1969. Graham Coombes lies in third place with Willie Templeton well behind and only just still visible in the snapshot. It looks like a 4-2 for the Heathens in this first heat, but by the conclusion of the race the Tigers duo had grabbed an opening 5-1. Had Willie Templeton really made up such ground on the Cradley pair? In my programme for this meeting, I had written a note to say that Coombes had been excluded. This race may therefore have been re-run, with Charlie Monk winning his only race of the night on his way to a nine point total. Charlie had spent the previous season wearing the stripes of Sheffield and the former idol of the White City fans had been the only new signing for the Tigers in 1969.
This article was first published on 6th May 2012
---

Ross Dow:

"Sorry to hear that this is advertised as the last instalment - it has been brilliant. I recall that there was an official photographer around that time (I used to travel with him occasionally to Motherwell stock cars & speedway with Hans Copeland in his Morris Marina) - he always said that it was well named as it leaked like a seive. I cannot remember his surname but he had loads of Glasgow Speedway photos. There were other photographers = hopefully someone can find the photos and publish them. They wouls be a suyperb addition to Peter's contribution."
Paul Pearson:

"Great ,it's nice to look back on the old style of racing and to see the riders and machines of yesteryear"
Donald Martin:

"Fantastic collection and fascinating commentary - brings back fond memories of my many visits to White City and Hampden in the 60s and early 70s with my friends from Denny - Charlie Boyd and Iain and John Crosby. Now living on the Isle of Lewis, so no speedway to see except the excellent coverage on Sky TV, plus the Swedish League matches and the SGP rounds."

[ Use Desktop Version ]

Comment on this Article | Contact Us | Go Back to Main Menu