Snapshots of Yesteryear
By Peter Colvin
First featured in the Glasgow Tigers programme in 2012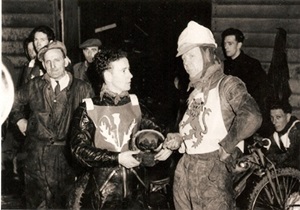 On Monday 11th September 1950, Scotland beat England 67-41 in front of 24,000 fans at a rain-soaked White City stadium. This snapshot, courtesy of Christine Liddell, shows the Scottish captain Tommy Miller chatting to his opposite number Jack Parker, prior to the first heat. This is where the similarity ends. Parker was more than twice the age of his counterpart and had been racing speedway since 1928. This was Miller's first season in the sport, having made his Tigers' debut just five months earlier!
Here is part of the match report from the Speedway World magazine:- "Miller was brilliant and became the first man to score full [18] points in this series of internationals. Miller showed what he could do when he left Jack Parker well behind [in the first race] and went on to clock almost three seconds faster than the next best of the night." The Scottish side had been augmented by the addition of riders from the antipodes, such as Ken LeBreton (15 points), Jack Young (14) and Merv Harding (9).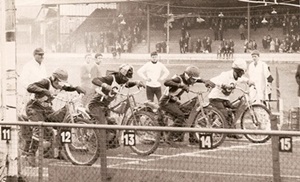 It looks like a fairly even start to Heat 1 of the Glasgow versus Cradley Heath match at White City on Friday 26th April 1968. This Duncan McLean photo shows Willie Templeton on the outside of Tommy Bergkvist, Lars Jansson and Ivor Brown. The match report in the Speedway Star recorded the following details:- "The referee ended up making four attempts at reaching a decision on this controversial first race, causing a torrent of abuse from some of the home support. Bergkvist got off to a "flyer" and was chased hard by Jansson. After two laps, the Cradley rider looked round and was astonished to see Jansson almost beside him. Bergkvist strayed a bit from his "line" and Lars hit him. The [Scottish] referee first disqualified Bergkvist, changed his mind, decided that all four riders should start again, changed his mind, disqualified Bergkvist again, changed his mind and eventually Jansson was disqualified."
Tommy Bergkvist was not able to take part in the re-run and he was replaced by reserve Chris Julian, who finished behind the eventual race winner, Willie Templeton.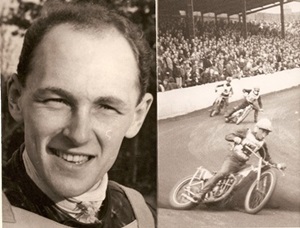 During the last winter, the STARs group initiated their Glasgow Tigers Hall of Fame awards with Jim McMillan being one of the first four recipients of that honour. This is his somewhat less illustrious big brother Bill, who rode for the Tigers between 1964 and 1971.
Bill McMillan started his speedway career in the second halves at Old Meadowbank Stadium at the beginning of the 1961 season. He eventually made a handful of appearances for the Monarchs before being transferred to Glasgow in 1964. Bill made his debut for the Tigers on April 1st 1964, riding at number two in a Northern League match against the Middlesbrough Bears, scoring four points including a win in heat four.
Glasgow became one of the eighteen founder members of the British League in 1965, a year that was to see Bill averaging 4.12 from twenty matches. He rode in every league and cup match the following season, increasing his average slightly to a career best of 4.95 from thirty-seven matches.
On May 5th 1967, he scored his first and only full maximum against Sheffield only to fall and break an ankle in his first ride a week later against Belle Vue Aces. His last match was against the Aces on September 3rd 1971 when he retired from the meeting after just one ride. His decision to retire came after a crash a fortnight earlier (which was not his fault) and a slump in form.
It is interesting to note that Bill McMillan took part in the last ever race at the White City Stadium in 1968. Ivan Mauger won, in a time of 84.8, with Doug Templeton in second place and Reider Eide fourth.
This article was first published on 6th January 2013
[ Use Desktop Version ]
Comment on this Article | Contact Us | Go Back to Main Menu