The Phillips Speedtrack
By Frederick Pallett
I refer to the Pedalling to Speedway Glory article by Philip Dalling and the subsequent feedback from Bert Harkins.
Bert referred to the third of Mr Dalling's photos and asked whether the bike ridden by the young lad alongside speedway's Geoff Bennett was a Phillips "Speedtrack" cycle speedway bike, despite it not having the customary chromium-plated trussed stays, to quote Phillips' description.
As one of the founder-members of the Welling Wings cycle speedway team that competed in the Kent League during the late 1940s/early 1950s (and an ardent Wembley Speedway supporter), I still have a copy of the original Phillips sales brochure.
As can be seen, the rear of the brochure contains two photos that were almost certainly taken at the same time as Mr Dalling's photo and answers Bert's enquiry.
Click on the pictures to see a larger version of the image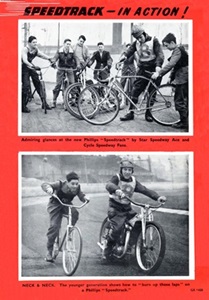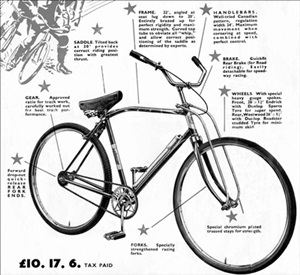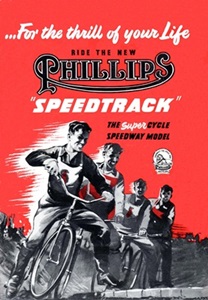 This article was first published on 21st April 2013
---

John Hyam:

"What a coincidence to read the post re the Phillips Speedtrack cycle speedway bike and Welling Wings! Around 1954 or 1955 I owned one of these bikes when riding for several teams run by Vic Duffy who came from Canning Town in east London. The teams included Brockley Boomerangs (where I was captain!) and later Vic tried a brief revival (I think in 1955) of Welling Wings, but this venture was short-lived. I rode for both of these teams - under the name of Jack Brodie."
Ted Dewe:

"Rode a Phillips Speedtrack for two years, whilst riding for Aldershot 'Shots' in 1951 and 1952. Cycle track was in the car park of the Speedway track at neighbouring Tongham. Have several photos on the bike, both stills and in action. Great days, fondly remembered. Also interesting, the £10 17 6 price represented six weeks pay, at the time. Wish I still had the bike."

[ Use Desktop Version ]

Comment on this Article | Contact Us | Go Back to Main Menu