Steve Langton Strikes Gold
By Tony Webb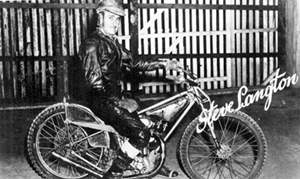 Steve Langton
My eldest son recently moved to Ballarat in Victoria, apart from the Annual swap meet I knew little about the attractions of this historic city. It was while I trawled through the museums for future interest I came across this amazing story which features a well known speedway legend
Queenslander Steve Langton was one of the pioneer Australian speedway riders who searched for fame and fortune on the speedway tracks around the world.
Steve did not strike gold as a speedway rider, although he had his hands on Golden and Silver helmets in his long and illustrious racing years. It was long after his speedway career had ended that his perseverance as a prospector finally came good.
Steve was known to be a dedicated prospector among his speedway friends and legend has it he always carried a little bag of gold nuggets as an insurance against hard times, and there were many who smiled about his long trips into the outback during the speedway off season. Steve Langton had the last laugh and he is now world famous through his gold nuggett discoveries in his twilight years in his adopted region of Ballarat in Victoria.
Steve found no less than thirteen gold nuggets near Maryborough, Victoria. The first one 5.5 kg (177 oz) gold nugget found within 30 km of the Ballarat city centre just goes to show that there is still treasure out on the Ballarat goldfields waiting for those who seek it. Steve struck lucky in the 1980s using one of the early model metal detectors. Remarkably, they were all found close to the surface of the soil. Metal detectors remain a popular choice of prospecting tool for gold seekers today, and are available in a range of designs.
The thirteen Langton Nuggets are displayed together in the permanent exhibition in the Gold Museum's Paul and Jessica Simon. The collection is currently valued at over $750,000.
Steve and his second wife Barbara named the two largest nuggets The Archbishop and The Lion's Heart. Weighing 100 oz (2835 grams), The Archbishop Nugget is notable for its distinctive red colouring from the mixture of iron in the gold, which is a contrast to the bright yellow gold of The Lion's Heart, weighing 60 oz (1701 grams).
Early in 2009, The Archbishop and The Lion's Heart were part of a National museum tour of Japan, in collaboration between the Gold Museum and the National Museum of Nature and Science in Tokyo. They were displayed in four museums across the country, and were viewed by over 187,000 people.
Fame at last for Steve Langton.
A little about his speedway days.
Steve had a long career from 1928 -1953. He was born in a mining camp between Oakley and Toowoomba Queensland 3-9-1909. First rode Toowoomba 1928/29 where he met up with a young Londoner who had emigrated to the area and was working on a farm his name was Phil "Tiger" Hart.
He went to UK 1930 with Tiger and raced at Portsmouth. 1931 he joined the interlinked Lea Bridge and Southampton venture and at the end of the season He returned to Australia with the Johnnie Hoskins' Australian team.
In 1932/33 Steve rode in first test in Perth 10/12/1932 scoring 1 point and he also rode in the 7th test at the Sydney Showground 11/3/1933 scoring 4 points. Thereafter he returned to Brisbane for remainder of the 1933 season.
Steve was back in England in 1934 after missing 1933 season and joined Walthamstow for their short spell at Chingford Road. However remained with this promotion until the end of 1935 English season. There are no record of his riding in Brisbane again until 1935/36. Steve raced in the UK until the outbreak of war in 1939 and appeared at one of the two meetings staged at Dam Park in Ayr in 1937.
Returning to Australia Steve had enlisted in 2/4 Australian Armed Regiment as number nx422650 in New South Wales on August 12 1941, rose to rank of Warrant Officer Class 2. He was discharged on December 21 1945.
Steve returned to England in 1947 and joined Tamworth Hounds. Steve rode 12 seasons total in England, the best of which was 1949. In that time he had raced for 9 British clubs in a 23 year career. He continued to ride after he returned to his native Australian and was selected for the Australian team in Brisbane in 1952 at the age of 43. This made him one of the oldest riders to take part in an International match. Steve Langton retired 1953 and sold his bike to Keith Blicharski of Toowoomba.
The Langton family ran a bus service from Toowoomba to Gympie, on his retirement from racing Steve set up a service station which was a logical location for the buses. at Woombye off the Bruce Highway north of Brisbane
Another legend was that they built one of the first Gnat speedcars in the garage at Woombye in 1956. They tried the car out on the wood floor of the warehouse by oiling the floorboards. His brother set up a mechanical workshop nearby. Steve prospected and around the Gympie area often going bush for long periods.
A creature of habit, he always bought his supplies at the same local store. Steve moved to Victoria after his first wife Constance passed away. He died in Ballarat Victoria. It is reputed that Constance always carried a briefcase which contained all the programs and press cuttings of Steve's speedway events.
By way of an aside, there is a legend has that Steve's ancestor Stephen Langton was a signatory to the Magna Carta, the famous historical document, in 1215. The Christian name Stephen was carried by the male line to the present day. A nightmare for researchers. However Steve's nephew Bonnie chose to ride under his name of Bonnie, therefore breaking a tradition.
Steve's British Clubs
1930 Portsmouth
1931 Lea Bridge
1931 Southampton
1932 Clapton
1934 Walthamstow
1937 Birmingham
1938 Birmingham
1947 Tamworth
1948 Tamworth
1949 Tamworth
1950 Southampton
This article was first published on 18th July 2021
[ Use Desktop Version ]
Comment on this Article | Contact Us | Go Back to Main Menu