Jerzy Szczakiel. The 'Mauger' connection
By Tracy Holmes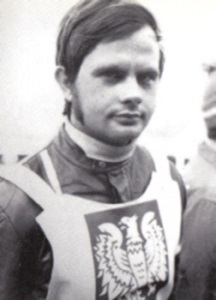 Jerzy Szczakiel
September 1, 2020. Facebook is flooded with images of my hero and friend, Jerzy Szczakiel. I thought, how neat, people are again paying tribute to the former World Champion. Soon after I discovered why. Jerzy had died. He was only 71 years of age.
We all know that feeling when we lose someone that meant so much. I was warmed by the outpouring of respect by the majority that thankfully cancelled out the nonsense from the uneducated. I am so proud of the fact that I may have been one of the few who picked Jerzy as a favourite to win the 1973 World Final. I'd only been following Speedway for three years but I had done my homework.
The night before that Final, I put every picture of each finalist on a cardboard sheet, underneath reserved places for 1st, 2nd and 3rd. My favourites were Ivan Mauger, the defending Champion. Ole Olsen, Anders Michanek, Pawel Waloszek, Edward Jancarz, Jerzy Szczakiel and Zenon Plech. Olsen was riding injured and his first heat would tell if he was up for it. Plech was my last pick because this was his first Final. If he really was a boy genius, he could very well pull it off.
Waloszek and Jancarz were there because they had former World Final glory and the venue being Chorzow, may well have been able to capitalize on that. But Szczakiel? Wasn't this the guy that had travelled to England for the Daily Mirror World League and in two matches had not scored a point? Wasn't this the guy whose Mike Patrick photo had appeared in magazines and papers all over the world, stuck with his bike under the Oxford safety fence?
What a laugh! Haha! So how could I have picked him with the rest? Easy. I was not blinded by British League being the 'be all and end all' of Speedway. I got my Speedway Star each week and had followed the results. I went back to the only meeting that year, he had faced Ivan Mauger. Gorzow, June 17. 3rd Test, Poland V Great Britain. Plech was unbeaten. Jancarz and Szczakiel had 14 points each. Like Plech, they had raced Ivan Mauger twice and beaten him twice. With the Final being at Chorzow, if he could rise to that form again, I figured he was worthy of being a favourite.
A couple of weeks later came that World League series in England. And it was at Exeter on July 2 that Poland faced New Zealand. Would he have faced Ivan Mauger again? We don't know because Jerzy was in the programme as reserve but the night before, he received the news that his mother had died. Now, Jerzy had added incentive to win the biggest prize in Speedway.
Jerzy would have loved being at Exeter, Mauger's home track. It turned out that every meeting they had been in together, Jerzy studied and learned everything he could from the master. One example was the 1970 World Final at Wroclaw. This appeared in Speedway Star five years ago. Jerzy reveals,
"I was second reserve and had plenty of time on my hands, so I actually helped Ivan out and spoke to his mechanic. Ivan and his mechanic spent a lot of time discussing how the bike should be prepared. Ivan was a smart boy. He watched the track very carefully and he knew how to change his bike's set up. Somehow, I found a good way to communicate with Ivan, even though I couldn't speak a word of English."
Ivan won the meeting unbeaten and Jerzy did not get to ride, despite five rides becoming available. First reserve Edmund Migos got them all. Three of them in the last four heats!
The following year, Poland toured England, racing against Great Britain and Jerzy proved a most promising rider indeed. Then at Rybnik, Jerzy and his partner Andrzej Wyglenda were unbeaten to win the World Pairs Final. Second were Ivan Mauger and Barry Briggs. When the teams met in heat 15, this is what happened.
"Wyglenda gates from Briggo and as Ivan tries to ride around Szczakiel, the amazing ace fences him and drives around the outside of Briggs and passing Wyglenda for the lead going into the second turn. It was the kind of move that Peter Collins, Bruce Penhall and Erik Gundersen would make their own. Result; Szczakiel, Wyglenda, Briggs, Mauger."
The Kiwis would go into print, telling everyone just how good this kid would be. A shame so few listened. The 1971 European Final was at Wembley and again Jerzy impressed, winning his first heat and going on to qualify for the Gothenburg World Final. The only Pole to do so. Jerzy was not at all happy with his performance,
"After my two pointless heats, I was devasted and wasn't in the mood to compete after that. My second race was very painful because I was off gate two, Mauger was off gate three and I knew the inside line was a must if I wanted to win. I made such a good start as well but I got to the inside line, then lifted and hit Ivan with my front wheel when he came up on my outside. I fell off and was so disappointed."
Heat 7 result; Wilson, Sjosten, Mauger. Szczakiel fall.
Later came the World Team Cup Final at Wroclaw. And Jerzy had qualified, helping Poland to finish 2nd behind the Soviet Union. This would be Jerzy's opportunity to shine again. However, he was cruelly denied. And the Poles were thumped! Dropped from the squad, Ian MacDonald wrote for Speedway Star,
"How the Poles could go into this meeting without the services of Jerzy Szczakiel is a real baffler. Jerzy spent the entire meeting leaning sadly against the pits fence. The sluggish Poles could certainly have done with the youngster from Opole if only for his never say die spirit."
Wembley would host the 1972 World Final and Jerzy had his focus on that stage. He qualified for the Continental Final but he suffered another blow as injury kept him from taking his place. The head injuries he suffered took a huge toll but he came back later in the season with some impressive performances.
And so, we come back to 1973. With the World Final being at Chorzow, the Poles had 5 places up for grabs and I am the first to agree, that was absurd! But, that did not mean Jerzy was not entitled to go for one of them. I like what was written at the time, 'He reached the Final almost unnoticed.' And again, I am the first to agree that as it turned out, had Mauger not dropped the ball, and I'm not talking about the run-off, he would have been Champion again with a 15 point maximum. As a kiwi, I hoped he would do just that. But when the 6 o'clock news told me had been beaten by Jerzy Szczakiel, I was able to put the pictures into place immediately. For me, not blinded by British League, I was not surprised. How had he achieved this impossible dream? What happened to my other favourites?
Olsen was unable to shake off the injury and his 11 points only lead us to think how it could have been otherwise. Michanek duffed it. Waloszek, despite beating Mauger, and Jancarz proved unable to step up. Plech being beaten by Mauger, then Szczakiel found that the experience was a step too far. Jancarz gifted him the win in round four. Yes, had he won his last heat, he would have been the run-off. But allowing Grigori Chlinovski to come underneath him and take him out, showed up his inexperience. The race was not stopped so could not be re-run. Chlinovski won and so joined Mauger and Szczakiel in the run-off with 13 points. That was until the referee, Georg Transpurger from West Germany took the 3 points off him, giving them to Peter Collins. Plech got 2 and Valeri Gordeev 1. And that's a whole other story.
For Plech, the Bronze Medal was a fine reward for such a fine debut. Now let's look at Mauger. After watching Michanek 'duck' heat 1, then brilliantly seeing off Plech, Olsen and British Champion, Ray Wilson in heat 2, he dropped the ball! Did he underestimate Jerzy in heat 8? You can see this for yourself on You-tube. One of the few races where all four were still and under starter's orders. When the tapes went up, Ivan bunny-hops while Jerzy traps from gate 4. This had to be THE worst gate in his 14 World Finals and Ivan is last behind Szczakiel, Waloszek and Valeri Gordeev. It takes Ivan well over a lap to catch Gordeev and soon is in a position to challenge the Poles. If you have your Maurice Jones book, 'World Speedway Final. A history from 1929', you will see on pages 88 & 89 just how close Ivan got to pulling it off. The caption in the book is wrong, this is heat 8 showing Ivan trying to round his opponents. And see Ole Olsen watching from the pits! His challenge however came to nothing. Trailing off, he drops two points and now has to graft harder than ever.
So, Jerzy has two wins and in the very next heat, has no trouble taking down Plech to be unbeaten at half time. After the round two near disaster, Mauger won his remaining races. Jerzy however would not. In round four, he faced Chlinovski, beaten only by Vladimir Paznikov and Mauger.
"I was afraid of Chlinovski and he beat me in heat 15. I was off gate one but I went for the outside line at the first corner and my bike couldn't find any grip because it was so slick on the outside. Chlinovski, off gate two made a good cut to the inside and got past me."
Jerzy was then taken by Ray Wilson but he regained his composure and clawed back second place. His last race was heat 18 and Ole Olsen gated with ease. Jerzy held off a spirited challenge from Vladimir Paznikov on the last turn to join Mauger in the Gold Medal run-off.
Now, both of these riders and others had broken the tapes and got away with it. As people who were there keep saying, 'the starts were a shambles.' Anders Michanek was the only rider excluded for that offence and says that was because Herr Transpurger did not like him! Jerzy continues,
"I let Ivan have first pick. He went for gate 1 and I was off gate 3. I wasn't aware that actually I should have had first choice but, never mind, I decided to let Mauger go first. He seemed happy and I think he was almost sure that he was going to win."
Go back to Wembley the year before. Ivan V Bernt Persson. After the toss, Ivan rode a full lap before the start. This time, Transpurger, same ref by the way, told Ivan not to do that again! This may explain why Ivan was first up to the tapes. Again, he drops the ball. This allowed Jerzy to beat him at his own game. The Pole slowly approaches and gets a magnificent flyer. Well that's what it was always called when Ivan did it! The defender was in trouble. I love it when I read, 'Ivan had the speed and should have waited for Jerzy to make a mistake.' Thing was, Jerzy had made no such mistake when they met in round two, why should he make one now? Jerzy rode on,
"I didn't hear Ivan approaching me on the inside on the second lap but I knew if I could keep close to the inside line, there was no way Ivan would pass me."
You have all seen the footage a hundred times. These quotes are from Ivan Mauger himself;
"I'd rather have scored 8 points than to get so close and lose it like that. It was nobody's fault but my own. All I can say is, had anybody seen him at Rybnik a couple of years earlier, they would not have been quite so shell-shocked. I made a mistake. It was the same mistake that Jason Crump made against Rune Holta in the 2003 GP decider. You are in a position to be World Champion but you are not in a position to shut the throttle off. Jason was about a yard ahead and took Rune's front wheel away, so Rune went down and Jason was excluded. I was a yard behind Szczakiel and hit the back of his bike. I was on a long-track engine so I was getting a lot of grip around the outside. I planned to pass him at the far end on the next lap around but I caught him quicker than I had anticipated. I was taking about a lap and a half to build up but there was a gigantic hole there and when he heard me coming up the inside, he moved to the inside. It was a bit slick there and I had no option but to run into him."
Yes, Jerzy slams the gate shut. Ivan slams into his opponent and topples over. Jerzy does well to hold on tight, regain his composure and become the Speedway Champion of the World!
"To be crowned World Champion, I just couldn't believe it had happened."
The 24 year-old from Opole had done the 'unthinkable' and ended the reign of the 33 year-old defender. Polish Motor Federation chief Zbigniew Puzio was quoted, "Nobody in Poland thought he would win." If he did say that, how wrong he was. As the years turned into decades, more and more Poles told a very different story.
There are still those today who have never forgiven him for doing so. Tragic! Yes, we all know that at the World Team Cup Final, a few weeks later at Wembley, he had a nightmare meeting. A crash in practice had seen his bike written off. Barry Briggs came to his aid but he was not even a shadow of what he was capable of. And shamefully, Dave Lanning was scathing in his attack, "From Champ to chump" "Just a Pole who got lucky" and even more shameful, so many believed him. Lanning was a master at his art but on this night, he got it so very, very wrong. It was on that night, Peter Collins became the 'Crown Prince' of Speedway.
More sadness was to follow for Jerzy. Ivan Mauger and Barry Briggs put together a 'World Troupe' to tour New Zealand, Australia and the USA. They invited Jerzy but he was not allowed to travel. Instead, they got to take Plech and Jancarz. It was later reported that Jerzy became ill and would not have been able to go. Donkey's years later, the truth of that was called into serious question.
Ivan Mauger never gave up on his quest to regain his World Title and as we all know, he re-wrote the record books and then re-wrote them again. Ending the 70s as quite possibly the greatest rider ever.
For all but the serious Speedway purist, Jerzy slipped into obscurity. His riding career continued until he was forced to retire in 1980. It was in 1986 that Mike Patrick shone a light that brightly shines to this day. With the World Final back at Chorzow, Mike took a photo on practice day. Five World Champions together. Barry Briggs, Ivan Mauger, Mike Lee, Ole Olsen and Jerzy Szczakiel. Here he was at last, taking his rightful place among Speedway Royalty. That photo went global. And the lid began to be lifted. For those who continued to give Jerzy the label of 'lucky', Ivan Mauger is again quoted,
"It is an unfortunate tag for a pleasant, unassuming man who not only was a whole lot better than that reputation suggests, but legitimately earned himself a place in the record books which hundreds of other supposedly better credentialled riders never achieved."
Jerzy's grandchildren will be heartbroken he is gone but will grow to be so proud of their hero Grandfather.
Now check this out. Between 1971 and 1973, Jerzy raced Ivan Mauger 13 times. The result? Mauger 7, Szczakiel 6. Not quite the unknown some actually believe.
1971. May 25. Leicester. Poland V Great Britain. 3rd Test.
Heat 1. MAUGER, SZCZAKIEL, Waloszek. N Boocock fall/ex.
1971. May 27. Sheffield. Poland V Great Britain. 4th Test.
Heat 1. MAUGER, N Boocock, Waloszek. SZCZAKIEL ef.
Heat 10. N Boocock, Waloszek, SZCZAKIEL. MAUGER fall.
1971. May 28. Glasgow. Poland V Great Britain. 5th Test.
Heat 10. MAUGER, Waloszek, SZCZAKIEL, Monk.
1971. May 29. Belle Vue. Poland V Great Britain. 6th Test.
Heat 1. MAUGER, SZCZAKIEL, Waloszek, Hedge.
Heat 10. MAUGER, SZCZAKIEL, Hemus, Waloszek.
1971. July 11. World Pairs Final. Rybnik.
Heat 15. SZCZAKIEL, Wyglenda, Briggs, MAUGER.
1971. August 21. European Final. Wembley.
Heat 12. MAUGER, SZCZAKIEL, Kurilenko. Ray Wilson ex.
1971. September 10. World Final. Gothenburg.
Heat 7. Wilson, Sjosten, MAUGER. SZCZAKIEL fall.
1972. Did not meet.
1973. June 17. Gorzow. Great Britain V Poland. 3rd Test.
Heat 7. Waloszek, SZCZAKIEL, MAUGER, Boulger.
Heat 16. SZCZAKIEL, MAUGER, Waloszek, Simmons.
1973. September 2. Chorzow. World Final.
Heat 8. SZCZAKIEL, Waloszek, MAUGER, Val Gordeev.
Gold Medal run-off. SZCZAKIEL. MAUGER fall.
Both of these Champions are now asleep in death. Whatever your personal belief, there is comfort to be taken in that. Jerzy remained loyal to his faith from childhood. On the morning of the 1973 World Final, he attended Mass. Did that give him a personal calm no-one else had? Maybees. Could not have done him any harm.
I have just viewed the snaps from his funeral. He was so loved. He was my hero and friend. I will miss him greatly. I think the Speedway world was all the richer for what he achieved despite injury plus the communist odds and officialdom so often against him. And Western followers who could not get their heads around it at all.
In 2020, it's a different world in many more ways than one. Lockdowns and facemasks the order of the day. And in the Speedway world too. But what has not changed are riders such as reigning World Champion, Bartosz Zmarzlik who like his fellow countryman, dared to dream and dream big. Worked hard and studied the greats. Got out there, put it all together and the rest is history.
Rest in peace Jerzy Szczakiel. 28.1.1949 - 1.9.2020
This article was first published on 13th September 2020
[ Use Desktop Version ]
---

Steve Haire:

"What an excellent article. I saw this World Final meeting on telly and remember the clash between Szczakiel and Mauger. I'd known nothing about the quality of Polish riders except Zenon Plech. At that meeting Ivan Mauger was the best rider on display and watching the run-off he had the speed and ability to pass Jerzy, however Mauger made a misjudged move resulting in him falling, it was Mauger's bad luck not Jerzy's good luck, especially as he was leading at the time.

It would have been argued that as it was in Poland he would have had an advantage because there was a lot of controversy at that time that riders from communist countries were said to be state sponsored with the best bikes and that track preparation would have been done to suit them. It been said about any sport that sometimes you need a bit of luck , he was in the right place at the right time and should be acknowledged on his merit for being World Championship.

There's been a few stories of riders where luck, both good and bad have played their part for World Champions, Dave Jessup when a 15p clip caused him to breakdown and lose the World Championship and Sam Ermolenko where if you watch the race when Hans Nielsen was excluded for bringing him down it appears just before the incident Ermolenko's bike seemed to be slowing/cutting out, whatever your view on what counts as luck you cannot take away that the people we've talked about deserved their Crown.

Another rider with a similar story to Jerzy's and perhaps by most to be a 'lucky' World Champion is Egon Muller, winner in 1983, won in his native country Germany, he did not win a medal in any other Individual Speedway World Championships. It is alleged that he had more practice than the other competitors and the track was prepared as a long track (he was World Long Track World Champion 3 times, an honour shared by Mauger). Unlike Jerzy, Egon Muller had some British League experience riding for Coatbridge and Hull.

A reason that people perceive Szczakiel and Muller as lucky/not worthy World Champions is that most World Champions would have been dominant in British Speedway the years they became World Champion. A good example of this is Anders Michanek, won practically every British tracks individual meeting in 1973, World Champion in 1974. R.I.P Jerzy "
David Cohen:

"Fantastic article, Tracy, one of your very best, clearly bringing your passion for your favourite, Jerzy, to the place that it deserves, and setting the record straight, once and for all. The record books will always say 1973 World Speedway Champion, and the story behind the story has done his career justice."

Comment on this Article | Contact Us | Go Back to Main Menu