Tai Deserves a Gong
By David Pickles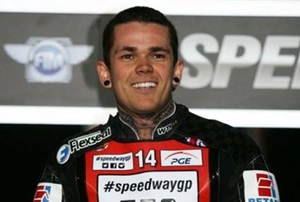 Tai Woffinden
I've written on this site before about my strong belief that Tai Woffinden's achievements, both on and off the track, are worthy of recognition by the British honours system.
I was told a few years back by the late John Chaplin, whom I met a few times, that there was very little chance of Tai or any rider being given a "gong" - but I'm not giving up. I still strongly feel it would be justice and would of course bring our sport back to national attention.
In October 2020, I wrote to Nick Brown MP, who is the chairman of the All-Parliamentary Group on Speedway in the House of Commons.
He said that he understood and sympathised with my concerns and that he would raise the issue with the rest of the group.
I was recently invited to send an email to the editor of the Daily Telegraph on a sporting topic.
Of course, I sent one about the disgraceful treatment of speedway and Tai once again being repeatedly ignored when the honours lists are brought up.
"Years back the Telegraph was very balanced with sports reporting, and had a regular column on speedway.
Speedway racing was the biggest spectator sport after the war, from 1946 until 1950, attendances surpassing football. It boomed again from around 1965 until 1981, and I was a regular reader of your paper then when it was covered very well.
In recent times however, as with the rest of the establishment, you have sadly chosen to almost ignore it.
Tai Woffinden has been the world champion for GB three times in the last 10 years. He has raised countless hundreds of thousands of pounds for Great Ormond Street hospital, and yet has never had a mention in either the Queen's Birthday Honours List or the New Year ones.
An utter disgrace, and sad as it is to say, I think typical of life today. The establishment which you represent ignores "working class" sports in favour of a select elite. Football, Cricket, Rugby, Horse racing, Golf, Tennis etc.
How about, as a person in a position of influence, campaigning for Tai Woffinden to get at least an OBE for not just services to speedway, but services to fundraising for worthy causes?"
I still try to get the ball rolling on it as I feel so very angry that he and our beloved sport are now totally ignored.
This article was first published on 17th January 2021
[ Use Desktop Version ]
Comment on this Article | Contact Us | Go Back to Main Menu