Book Review: Tigers at White City - Glasgow Speedway 1928 to 1968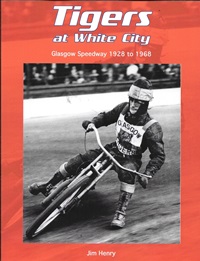 No other club can claim to have had as many homes as the Glasgow Tigers, having set up camp at eight different venues over the years, finally settling at their well-appointed home at Ashfield. Most of those tracks were happy homes for the club, but there can be little doubt that their true spiritual home was the White City Stadium.
Their time at that track is the subject of a new book from Jim Henry entitled "Tigers at White City - Glasgow Speedway 1928 to 1968". The publishers are London League Publications who have already brought us books covering subjects such as Wembley Lions, Dave Jessup, Bert Harkins, Motherwell Eagles and Freddie Williams.
Author Jim Henry is Scotland's top speedway historian, having spent many years performing deep-rooted research into all venues to have staged the sport. This is evident from this new work, which contains incredible detail of events that occurred many decades in the past. He has written extensively in the past about the many individual meetings that made up the earliest seasons at White City and elsewhere. There's a different focus in this book, concentrating in the main on the arrival of team racing and the characters who became the Glasgow Tigers.
It combines commentary, anecdote and quotes from contemporary publications to tell the story of each season in turn. This is not only the detail of what happened on track, there are also many off-beat tales about the people involved, the publicity stunts attempted and the general trials and tribulations of running a speedway club.
There are really four distinct eras within the White City story: The early years; the 1939/40 revival; the post-war boom and the Provincial League revival. Each of these is covered equally well within the pages of this book.
All of these eras had their own star names, the likes of Billy Galloway, Drew McQueen, Joe Crowther, Will Lowther, Tommy Miller, Ken McKinlay, Junior Bainbridge, Charlie Monk and Jim McMillan amongst them.
Although Ken McKinlay would go on to enjoy the most success, perhaps Tommy Miller was the greatest White City Tiger of them all. His astonishing breakthrough season in 1950 coming at the time that Scottish Speedway was at its peak. The book reminds us that as well as White City, regular speedway was being staged at Old Meadowbank, Ashfield and Motherwell. Not only that, but fans in Scotland were able to watch Miler, Jack Young and Ken Le Breton on a weekly basis.
Sadly, those early fifties glory days were short-lived as the dreaded entertainment tax forced many of the tracks out of business by the middle of the decade. Henry covers the brief revival in 1956 but the track then lay dormant until Ian Hoskins decided it was ripe for a rebirth in the 1964 Provincial League.
Those final five years at White City are fondly remembered by many fans who still follow the sport to this day. They will enjoy reading these chapters and the memories they bring back. Although the Tigers didn't achieve any real on-track success, there were many happy evenings at the track as Charlie Monk became one of the greatest Tigers of all time, Bluey Scott dished up entertainment and a number of Scandinavian imports added interest, if not always points.
In addition to Henry's text, there are a series of short rider profiles from Matt Jackson, a short appendix of statistics and a range of interesting photographs (courtesy of the John Somerville collection).
In an ideal world, every club would have a detailed written history like this one. It must be considered the definitive history of the Tigers and hopefully plans for future volumes will come to fruition.
The book is 306 pages long and includes over 70 photographs. Forewords are provided by Jim McMillan and Bert Harkins.
You can order your copy from London League Publications.
This article was first published on 14th May 2023
[ Use Desktop Version ]
Comment on this Article | Contact Us | Go Back to Main Menu