Dream Team: Trevor Kimberley
I have watched Speedway since 1950 at Leicester, hence this team of Hunters.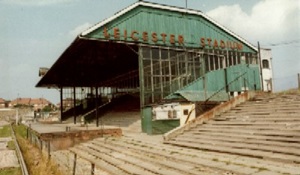 Blackbird Road - Leicester
Ken McKinlay
The best ever Scottish born rider and one of the few to challenge the so called big five (Briggs, Craven, Fundin, Knutsson, and Moore). Indeed, with Ken's achievements perhaps it should have been the big six, and only World Final ill luck prevented at least a top three finish.
Jack Geran
Most underrated Aussie campaigner who had his best years at Leicester. Exeter before and Oxford afterwards are often mentioned, but at Leicester Jack provided stunning support for Mckinlay throughout the late fifties. Even keeping the Midland Riders Championship at Leicester when it was held at McKinlay's Oxford bogey track, and a World Finalist too.
Len Williams
Leicester Hunter's number one before injury and the subsequent arrival of McKinlay, a dominant force in the then second Division. First winner of the Midland Riders Championship (a prestigious event in those days), and led Leicester to victory in the first Midland Cup Final against first division Birmingham.
Harwood Pike
Pipe smoking and looking like someone's grandfather, Harwood was a real battler. Not a young man when he became a Hunter, having ridden pre-war, Harwood became (in)famous for being banned after throwing the steward (referee) in the bath.
Rune Sormander
Classy Swede who served Leicester for just one season. Gave Hunters three genuine heat leaders at a time when four were necessary to win titles, but Hunters were no pushover with Rune on board.
Joe Bowkis
Joe arrived at Leicester after struggling at first division Harringay and immediately became a popular high scorer at a time when any of the top five could produce heatleader type scores. Sadly Joe had to retire prematurely with what was described at an " internal complaint". .
Ivor Brown
Ivor was a Leicester junior throughout the fifties, but he usually enlivened the second half. His later career with Yarmouth and especially Cradley Heath was developed at Blackbird Road, and Ivor was always well remembered in his home county.
Submit Your Own Dream Team
This article was first published on 17th May 2015
[ Use Desktop Version ]
Comment on this Article | Contact Us | Go Back to Main Menu