Riders to Remember: Wal Morton
By John Hyam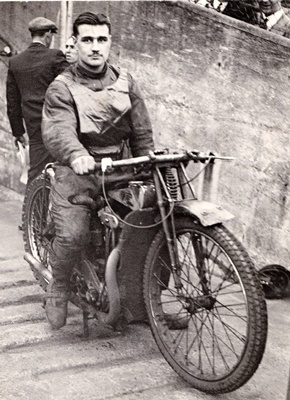 Wal at Wimbledon in 1936
WAL Morton was as enthusiastic about racing on the speedway when he retired in 1964 as he was when he had his first novice rides at Birmingham in May, 1931 more than three decades previously
In 1964, he was just a reserve and second-half rider at Hackney before moving down the grade to the junior Metropolitan League, where he turned out for Ipswich and Weymouth in their away matches at Rayleigh later that year.
It was much different to a career that had also seen him a team-mate of some of speedway's legends. Bluey Wilkinson, Vic Huxley, Max Grosskreutz, Vic Duggan, Jack Young and Ove Fundin were among the greats who Morton rubbed shoulders with.
Yet Morton originally had his sights set on an entirely different sporting career. Before he took to speedway Morton, who was born in Birmingham in 1912, was a competent amateur middleweight boxer and distinguished himself by winning the Midlands Championship.
But once he saw speedway, Morton became hooked on the bike sport and - apart from the war years between 1939 and 1945 - dedicated himself to his chosen career. He spent two years racing at Coventry, then in 1934 had his first links with promoter Johnnie Hoskins at West Ham. From there, Morton crossed London to Wimbledon in 1935, and it was there he started a long friendship with Geoff Pymar.
In the closing years of his career, Morton and Pymar were again to be team-mates at Bradford in 1961 and Middlesbrough in 1962. It was at Middlesbrough that both made a unique piece of speedway history when they formed a pairing where the total ages of the two riders exceeded 100 years.
While riding for Wimbledon, Morton travelled to West Australia and raced at Perth in the 1935-36 and 1936-37 seasons where he top scored for England in unofficial test series against Australia. In 1935-36 he was also the winner of the West Australian Championship, but lost the title to Australia's Mick Murphy the following season. Morton's West Australian title win emulated the success of another English rider Arthur Atkinson in 1928-29.
After two seasons at Wimbledon, in which time he was often team partner to the legendary Huxley, Morton started his long association with Norwich. Former Australian test star Max Grosskreutz itook Second Division speedway to The Firs, and Morton was among the riders introduced to East Anglian fans at a successful track where Grosskreutz made a handful of appearances in the years leading up to the start of World War Two in September 1939.
Morton's pre-war seasons at Norwich saw him emerge as one of the Second Division's top performers, Fittingly he was honoured with a place in the England side which clashed with The Dominions in a test series.
At the outbreak of war, Morton was very much one of Norwich's key riders, in a side that also included the spectacular Australian legtrailer Bert Spencer. The war brought an end to Morton's speedway career, as it did for so many riders. But he was back in action in a brief season of open meetings in the late summer of 1945, and took part in the first ever meeting at Bradford's Odsal Stadium. The Yorkshire track was to play a prominent role in Morton's career in future years.
When league racing was resumed in 1946, Morton was allocated to Norwich, while Spencer was sent northwards to White City Glasgow. The Australian protested at the posting and hinted at retirement. Sportingly, Morton agreed to swap postings. He scored well enough for White City, but was not a track entirely suited to his style of racing.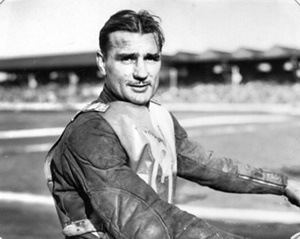 Wal the Harringay Racer in 1947
Then came a transfer to Harringay for 1947. The north London track paid £250 for Morton and added two Australians - Norman Lindsay and Bat Byrnes - in as makeweight. At Harringay, Morton found himself given one of the hardest jobs in speedway at the time - riding as partner to the semingly invincible Australian ace Vic Duggan. Years later, Morton conceded: "Duggan really flew and it was a hard job keeping pace with him. But we managed some good heat results."
After two seasons at Harringay, Morton was on the move again. After ending 1948 on loan to Norwich, the 1949 season saw him back at Harringay, then return to one of his pre-war tracks Wimbledon. During the 1949-50 winter, Morton was in the England team that toured South Africa. But the tour ended badly for him when in one of the last matches before the touring group returned to England, he crashed and broke an arm.
The following season he was rider-manager of the Belfast track in Northern Ireland, and he also crossed the border to compete at Chapelizoid in the Republic. The year ended with him back in Second Division racing at Motherwell.
He started 1951 with another spell at Wimbledon, had a few meetings at Ipswich when the Suffolk track entered the sport on a non-league basis, and saw out that campaign with ailing Second Division club Newcastle. At Brough Park, Morton was involved in what appeared to be a serious accident. In one race Morton fell and his following partner hit him and pushed him under the safety fence. His anxious team partner rushed over, expecting the worst. Surprisingly, Morton climbed to his feet, grinned and wisecracked, "An old champ may be put down, but he's never put out." He then strolled coolly away to take part in his next race.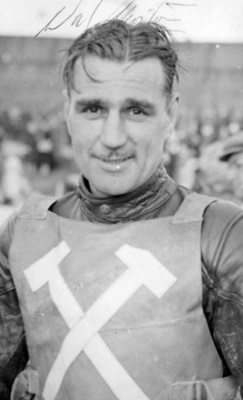 A West Ham Hammer in 1952
In 1952, Morton was back in the First Division at West Ham, racing and enjoying himself under the promotion of his pre-war boss Johnnie Hoskins. But at the end of the season, Hoskins left Custom House, and the new management released Morton. Eventually, he was signed by Bradford and in one match showed visiting West Ham what they had lost when he turned in a last heat winning ride to give Bradford victory.
And Morton also recalled: "It was at Bradford that I went through the whole card - team match and second-half unbeaten, I couldn't recall another meeting where I did this."
Towards the end of 1953 and on into 1954, speedway went into a decline. So many tracks closed in this period, some 500 riders were left without tracks. Morton was among them. And, as did so many riders at this time, Morton also dabbled in the new-fangled stock car racing that mushroomed, driving mainly at Norwich - along with such well known local riders as Ted Bravery, Sid Hipperson and Johnnie White. But Morton took a pseudonym for car racing and drove as Spencer Morton. The only speedway action Morton saw that year was some racing in Holland with the Phil Bishop Group and at Homburg-Saar on the French-German border.
Illness kept him away from motorsport in 1955, but in 1956 he was back in speedway, and in the years up to 1959 raced regularly at both Norwich and also for Ipswich in their brief 1959 Southern Area League campaign. In thie period, there was a revival of interested for midget car racing on British tracks. The car organiser, Dave Hughes, several times tried to persuade Morton to race midgets, but he declined a couple of lucrative offers to stay loyal to the bikes.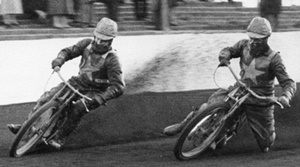 Wal (left) with Geoff Pymar at Norwich
Then came the 1960 season, the start of the Provincial League and a golden period for Morton. He was one of the few successes in a weak Liverpool team in 1960, where his experience justified him the role of captain. And he carried on as captain the following year when he moved to Middlesbrough, and was also at the helm when he was back at his mid-1950s club Bradford.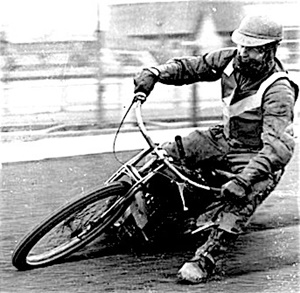 A Hackney Hawk in 1963
There was one last return to London for Morton over the next two seasons, when he joined a reopened Hackney. But the years were starting to catch up with the gallant old campaigner. He saw out the 1963 season, but after a handful of meetings the following year conceded that he could not beat Old Father Time and retired.
Even so, he made yet another return. His last appearance was for Weymouth in a Metropolitan League match at Rayleigh on August 1 1964.
Morton was born in Birmingham in 1912 and died in 1995 aged 83 years.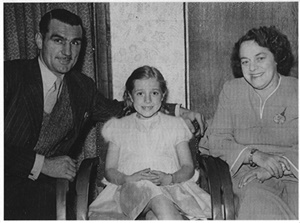 Wal with his family
This article was first published on 14th January 2018
[ Use Desktop Version ]
---

John Hyam:

"Further to the photos in the Wal Morton article: I would like to record my appreciation to the renowned photo collector MIKE KEMP for providing most of these."
John Hyam:

":A correction regarding the 1950s promotion at Belfast. Wal Morton was not involved. The rider linked to Belfast was Belle Vue's Val Morton."
Julian Bagley.:

"Wal Morton was my grandfather. I would like to say that I loved my grandfather more than you would ever know."

Comment on this Article | Contact Us | Go Back to Main Menu