Special Events at West Ham
By Ted Breed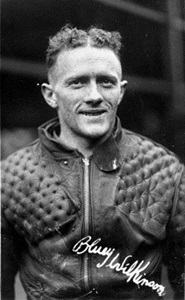 Bluey Wilkinson
Memories of West Ham Speedway continue to surface, thank goodness! However, there were two 'Special' extra events, one staged weekly and the other whenever the occasion demanded, which require an airing I would think!
During the 1946-8 period or there-abouts, Riders were selected, each weekly meeting, to attempt to beat Bluey Wilkinson's one lap track record from a 'rolling' start. Not sure if the challenge was open to only West Ham riders or those, also, from the visiting team, the latter I suspect. I'm sure that this special event was held before racing started and was an extremely attractive and popular event. I saw many riders attempt to beat the record, so many that it followed that most were unsuccessful.
Did some rider achieve the seemingly impossible task? I just can't remember. But any of those supporters still around who visited the Custom House track around that time might well be able to provide an answer.
And then, of course, there was the 'Golden Helmet' Challenge. This was not confined to West Ham, all the top league teams participated. It went something like this!
If the rider holding the 'Golden Helmet' was in the visiting team, then the leading West Ham (or home team) rider would challenge the holder over four laps. If the Home rider won, he become the new holder of the 'Golden Helmet' and would need to meet a challenge when West Ham were on an away fixture. On what rider the 'Golden Helmet' was first bestowed, I don't know, obviously nominated by some 'Speedway' entity.
The one lap record challenge was always popular and exciting. The 'Golden Helmet' not so. It was, after all, a race between two top riders and which one made the gate and headed the 'procession' usually won. Nothing at stake really for the fans to enthuse about.
Maybe the West Ham 'Rolling Start' one lap challenge was the brainchild of Arthur Atkinson and Stan Greatrex, the co-promoters at the time. It was, after all, a highly innovative and superb additive to an evenings racing.
---
Picture courtesy of West Ham Speedway website.
This article was first published on 27th September 2007
---

Bryan Tungate:

"I think the Golden Helmet events he mentions were a much watered down affair. The real Golden Helmet races at Custom House involved the likes of Aub Lawson, Jack Parker, Jack Young, Ronnie Moore and company up to the 1964 days when the National League finished. Those events were almost always a way of pulling extra people through the turnstiles. And there were already big crowds then as well. "
Geoff Langley:

"The one lap flying start record at West Ham was revived for a short spell in the 1960's and at the end was jointly held by Ken McKinlay and Sverre Harrfeldt at 17.4secs for the 415 yard circuit. Robert Rogers is right about Briggo's form at West Ham . He was "almost" unbeatable at West Ham but was beaten one memorable occasion. Whenever Briggo came to West Ham he would make even great riders like Fundin and Mauger look ordinary, nobody kept in front of him for more than about half a lap, but on one occasion in about 1967/8 West Ham's popular but erratic reserve Stan Stevens , who usually struggled to keep a regular team place, made the start and somehow managed to hold on for four laps with Briggo practically up his exhaust pipe but failing to find a way past. It could only happen in speedway!"
Ted Breed:

"Robert Rogers, as he usually does, has provided his many 'followers' with more fascinating facts. I have only my memories to rely upon. I did realise that I had omitted to say that the 'Golden Helmet' was a 'best of three races' event and was, as Robert reminds me, sponsored by the 'Sunday Pictorial'. This event was certainly staged in the immediate post-war years and, obviously, continued to be staged long after.

It would be nice to learn if Bluey Wilkinson's one lap rolling start record was beaten and by whom. When mention is made of Bluey Wilkinson then it immediately brings to mind that other great pre-war legend, Tiger Stevenson. I was taken, as a young lad, to the Custom House track, just before the outbreak of war, and vividly remember Tiger Stevenson being pushed from the Pits and onto the track, to the reverberations of the Tannoy System blaring out the Jazz hit 'Tiger Rag' and the chanting by the crowd of 'Hold that Tiger'. It was a brand of magic that has stayed with me all this time - but that's another story! I have that recording and play it from time to time if only to re-live that unforgettable era.

Little did I know that some 31 years later, Tiger and I would be involved on a project. As a result, Tiger loaned me two of his personal scrapbooks, one carrying a photo sequence of his challenge series with Frank Arthur in Australia, which I believe, Tiger lost by three to two. A great man in every respect. As a 'pre-war' kid, I was brought up on a diet of Bluey Wilkinson and Tiger Stevenson. I cannot adequately describe the impact of it all. It was as though their names were on everybody's lips. Not only were they real live heroes, they were also folk heroes. They will forever be recalled, certainly in the annuls of local West Ham sport, but wherever and whenever in the wider world, this unique sport that is Speedway Racing, is being discussed, documented, recorded or whatever. They are quite simply irremovable Speedway legends whose association with West Ham Speedway, is indelibly etched in the history of the sport and as such, we who followed West Ham Speedway through the years, should feel immensely privileged. "
Chris Gosling:

"Do the original Gold and Silver Helmets still exist, who has them? I would like to see the match race brought back, with the Elite League version raced on a monthly basis in front of the Sky camera's. The Premier League should revert to the old system where the holder races against the opposition top scorer after every league match."
Robert J Rogers:

"Another great item from Ted. I do not know which of the many Golden Helmets from the earlier days of speedway ended up as the match race helmet and there are photos of Eric Chitty in WW11 with a 'Golden' Helmet. Jack Parker held the record after WWII of holding the Golden Helmet for the longest, nearly three years, and it was nicknamed 'Parkers Pension'.

By the mid 1960's there was a challange once a month for the helmet and this was raced at tracks as a seperate item, with the Silver Sash (from the old P/L days, which I think in turn came from the days of a 2nd division in Speedway) replaced it as the event which would be raced for at every match the holder was at, vs the oppositions highest scorer. Briggo (Barry Briggs) always seem to win the Golden Helmet! Briggo was well known for his love of the West Ham track and was almost unbeatable on it. Malcome Simmons while riding for West Ham had taken the Silver Sash from Olly Nygren at Wimbledon, (not an easy task!), and in his first defence of it at West Ham, poor old Malcome had to get......Briggo as the challenger! Barry went home that night with the Silver Sash to add to his Golden Helmet.

I think in the days of the 3rd Divison in Speedway they rode for a Bronze Helmet. It may have gone monthly in the 1950's as from an old West Ham programme I have it shows that, On the 29th July 1952 at West Ham a certain very young looking Austrlian rider from Wimbledon called Ronnie Moore, challenged the holder for the Sunday Pictorial Golden Helmet Match Race Championship. Jack Young was the holder and he beat Ronnie twice, setting a track record in race one with a Speed of 49.09 miles per hour in a time of 73.4 secs, in race two he set the same time, beating the previous track record of 73.6 sec held by that young Mr Moore! And before you all write and complain, yes I know Ronnie is always classed as a New Zealander, but the programme said Australian, apart from a possible mis-print, does any one know why he may have changed countries as I though he was born in Tasmainia? "
Nigel Bird:

"Before the war riders often referred to the Golden Helmet as the 'Brass hat' "
Garry Breed:

" Such a wonderful thing, to still see, my dear departed Dad's article here still, he passed away in 2012. He loved West Ham, I'm 59 now and used to go in the early seventies, actually just before the ground at Custom House was redeveloped. He was passionate about letting people know about the old days and ways, I remember him telling me how Prince Regents Lane was crowded like a football match on race days in those times. Paints some many wonderful pictures. He was involved in the disaster fund for the West Ham team, when their van crashed in Belgian. I remember talking to Garry Hay on the phone, such a thrill for a young lad! We also met Len Silver at Hackney, when Dad did some advertising for him, I remember, the GO-Hackney pointers! Happy Days, keep up the good work."

[ Use Desktop Version ]

Comment on this Article | Contact Us | Go Back to Main Menu