Book Review: Speedway Yearbook 2020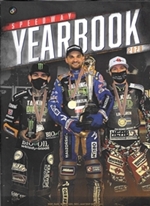 Speedway lends itself nicely to the collection and analysis of statistics, there are few aspects of the sport that can't be expressed in some numerical form or other. That in turn makes it an ideal subject for a yearbook that collates and records these for posterity. The Speedway Yearbook 2020 fills this gap perfectly, providing a comprehensive record of a season like no other.
The yearbook is produced by Slovenian based SpeedwayABC and covers all the top level speedway that managed to survive the various national shutdowns that were experienced last year.
The Grand Prix, Speedway of Nations and SEC are included, along with all the national championships and league racing in Poland and Sweden.
The level of detail is incredible, including statistics that we didn't even know we needed - average race times, rider positions at the end of each lap, and meeting start and end times. There are even weather related measures - including the temperature in both Celsius and Fahrenheit during the first and last heat. Whether that information will be useful to future historians is perhaps debatable, but certainly no harm in including it where it's available.
There are, of course, also more traditional statistics included - heat results, winning times and running totals are all present and correct. This mass of information is all presented in colour throughout, supplemented by a number of pictures of happy riders celebrating their successes in rostrum or presentation shots. It's definitely an attractive book to flick through and beautifully produced.
The book lets the facts and figures talk for themselves, there's no written commentary on the events, a clever move that presumably means this book can be sold throughout the different European markets.
Producing such a publication requires a considerable data collection operation, plus a keen eye for detail to ensure it all ends up correctly rendered in the final product. One imagines there are a number of cleverly programmed spreadsheets involved somewhere in the process.
One of the benefits of harvesting all this data is that you can the transform it into something else, in this case a bespoke set of world rankings based on performance over the full season. There are 200 riders listed in this year's rankings, with Bartosz Zmarzlik coming out on top and Avon Van Dyck being the final rider to scrape into the list. It's a purely statistical analysis, so there are obviously anomalies if you look closely enough, I doubt that even Drew Kemp's biggest fan would place him above Danny King in any merit list at this stage, but Drew's exploits on the continent result in a favourable position on the list.
As a reference book this publication more than meets expectations, if you ever need to know what happened in 2020 then it's almost certainly in here. On that basis alone it's an essential purchase for anyone with an interest in speedway stats or a likely future need to be able to access these. Speedway completists will also want a copy for their bookshelves.
You can order your copy from speedwayabc.com
This article was first published on 19th September 2021
[ Use Desktop Version ]
Comment on this Article | Contact Us | Go Back to Main Menu