It's All About You... Alan Pennington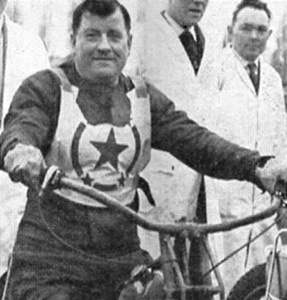 Ray Harris
Tell us about your introduction to speedway
My sister went to Stoke speedway in the fifties with a friend who lived in our street named Margaret Adams. When Stoke reopened in 1960 she had got married and left home. Margaret's brother Michael was my mate and she took us to Sun Street and I became a regular eventually going by my self when I was eleven. I used to go early to watch the riders arrive and hang around afterwards to watch them leave! I used to walk about 2 miles back home behind factories across pitch black spare ground and get home at about eleven, in October it was quite scary, I wouldn't dare do that now but I was hooked on this sport.
Tell us about your favourite meeting of all time
A Cup match 1961 Stoke v Cradley always sticks out in my mind, we lost however. The 1986 Second Division Riders Championship at Coventry when Stoke's Paul Thorp won was probably the best. Thorpy won it at a canter but every race had something going on, in the strongest field ever. I seem to recall the 1969 British Final at West Ham being very good also.
Tell us about your favourite rider of all time
Anybody who pulled on a Stoke race jacket was a favorite, except one. But Ray Harris was my favourite, I always looked forward to his races whether he was in team or not, a good solid middle order rider. When Stoke closed and Ray's career ended my new favorite became Ken McKinlay. I first saw him at Wolverhampton in 1965 when he raced Barry Briggs in the Golden Helmet, he lost but he stood out in shiny black leathers and gleaming bike, plus that lovely West Ham race jacket. I tried to see him as often as possible after that. I could not drive until 1973 so it was difficult, by the time I could drive his time was up, but I managed to see him at 14 tracks.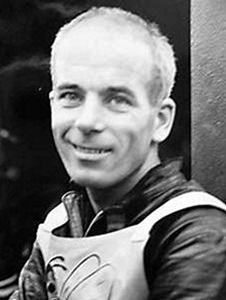 Ken McKinlay
Tell us about your favourite track/stadium
A tough one, I've seen speedway at 74 tracks in the UK mostly between 1965 and 1980, some only once or twice but Edinburgh, Powderhall, was always good. I have family up there so I have been about 10 times, every one had good racing no matter what the score or opposition. I always liked West Ham and Long Eaton plus the two Stoke tracks produced some good stuff I suppose! The worst was Holker Street Barrow, it was square.
What are the best things about speedway?
The smell of methanol, friendly people, meeting up with people you only ever see at speedway and have done for years. Big meetings with good crowds and good racing hopefully, and away matches if you have a good team and might win.
What are the worst things about speedway?
Where do you start! Over the years they have made a simple sport complicated with ridiculous changes every year, the whole structure of the sport makes you wonder if it actually is a sport. Guests, riders guesting for teams because their rider is riding for another team somewhere else. Guest riders for another team helping them win a match that might cost his own club a championship or play off place. Cramming everything, cup finals and play offs all into October when the weather is usually depressing and the same teams are usually in these competitions such as Leicester last year.
Tell us about a rider you wish you'd seen
Peter Craven, Jack Young, Bill Harris, Lindsay Mitchell and Gil Blake.
What one thing would you do to improve speedway?
Change the curent team line ups . How can it be right that the supposedly worst riders in a team , the reserves are the match winners time and time again, these Green Sheet averages are totally false which leads to a lot of legal explotation of the rules when it comes to the dreaded guests. Why two reserves anyway when one is enough?
What does the future hold for speedway?
Well for me, none. The closure of Stoke, Loomer Road after 43 years means it is unlikely I will ever go to speedway again, the thrill is not there anymore. Speedway was continuity every Saturday, 28 meetings a season at home now it's stop start. Stoke last season had twelve home meetings, people lose the habit, most fans only go to home meetings and not many travel, so if it is not every week they find others things to do. I cannot see any changes for the future that could make it more appealing to the public, most fans now are die hards and very few youngsters go.
Take part in this feature
This article was first published on 14th June 2020
[ Use Desktop Version ]
---

Bob Bath:

"Enjoyed your reminiscences Alan - just one thing Ray Harris -also one of my favourites did ride after Stoke closed, for Newport in 1964 and 1965. In fact Ray scored 7 points at Long Eaton for a Newport away win in 1965 I recall an older speedway fan at that meeting seeing a hectic race with Ray Harris against Ken Adams and saying how great it was to see two old timers giving it their all. I recall that particular race (hitch-hiked up to Long Eaton) - great days and great riders!!"
Steve Haire:

"Alan's is another sad story of a supporter lost to the sport. Like myself he tells a similar story, a relative or friend persuades you to go speedway and you become hooked. Living in London, Stoke was a track I enjoyed going to, paying many a visit, a couple of times stopping off at Alton Towers with Loomer Road rounding off a wonderful day.

His thoughts on why British Speedway has declined is shared by most of us but I think other factors have contributed, we are told there's not enough riders yet you have track sharing, air fences have reduced the widths of tracks thus reducing racing lines, an example Rye House the last track I was able to get to became poor racing once an air fence was introduced especially when they went Premiership, out to the fence and stay there, no passing unless mistakes were made, ironically Rye had a safer (collapsible) fence than the air fence.

Even if you watched Swedish Speedway on Freeview and Polish on You-tube you were watching the same riders in each league. Fortunately we have the internet with websites such as this where we can share our speedway memories of a time when it was enjoyable, great in these times of coronavirus with self isolating and thank goodness for Zoom and Facebook Messenger. "
David Pickles:

"A great article from Alan Pennington. Like him, I wonder now whether I'm going through the motions by watching live speedway. Sadly, the total destruction of Plough Lane, Wimbledon, is now complete and there isn't a track in London or within 50 miles now. This year thanks to the virus we haven't been able to showcase the sport on TV, and quite frankly the Polish stuff without a crowd has been lamentable. I grieve for the sport I love, having spent many happy Tuesday's at West Ham and Friday's at Hackney in the 60's and 70's.

Like Alan, I note the lack of the younger generation at the few meetings I do attend now. Maybe a return to the "old" rules (especially the nonsense at the start - What would Tony Lomas have made of those first out of the gate now?), and the freedom to choose handlebars (remember the wide sweeping cow horns that some used?) would give the sport some of its spectacle back. But, I won't hold my breath.

A once proud and magnificent sport now seems to be slowly dying on the back of political correctness (you aren't excluded now but disqualified), and ridiculous rules courtesy of the BSPA and the FIM which have slowly throttled the life out of it. I shall continue to attend meetings when and where I can, but each year they seem to get less and less important. Nobody though can take away the memories. Thank you speedway for everything."

Comment on this Article | Contact Us | Go Back to Main Menu