It's All About You... Bill Elliot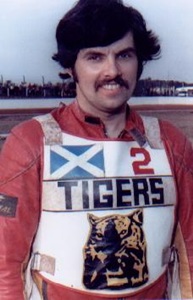 Colin Caffrey
Tell us about your introduction to speedway
First saw the sport at the old White City in 1966, now gone over by thousands of commuters every day as it's part of the M8. Started going regularly the following year as there was some guy called Charlie Monk who was virtually unbeatable around the place, defeeating World Champions and the like, but he never seemed to smile - an enigma, even if at 13 years of age I didn't know what the word meant!
Tell us about your favourite meeting of all time
1971 BLRC at Belle Vue. Usual end of season atmospheric meeting in Manchester under lights, seemingly thousands of Glasgow Tigers' fans in one wee section on the second bend, and Jimmy McMillan got on the rostrum that night alongside 2 unknowns-think they were Mauger and Briggs. Scottish fans have a tendency to make a bit of noise on their travels, and boy, were we loud that night!
Tell us about your favourite rider of all time
Had a lot of favourites between the Tigers and the Paisley Lions so as he rode for both, and he's still my buddy, I'll say Colin Caffrey. Still as daft as a brush, but he was good to watch-almsot willed him at times to miss the start, just so I could watch him perform his kamikaze passes! Had the pleasure of watching him take his first ride at a Brian Collins Training School at Coatbridge in late 1974, saw him take his first rides for the Paisley Lions, and saw him progress to near heat leader for the Tigers.
Tell us about your favourite track/stadium
Home tracks-Tigers-Shawfield-good track, great stadium Paisley-er....., Love St! Away tracks-Cradley Heath (terrific racing, in spite of minimal facilities) Leicester (only there the once, but lovely track and great memories of winding up Soldier Boy with fellow cohorts) "The" Belle Vue - if you were ever there, no reasons necessary-you know!)
What are the best things about speedway?
Family atmosphere still there, approachability of most riders, usually and quite simply a good day/night out.
What are the worst things about speedway?
The rules are beginning to get beyond the understanding of casual supporters and there is a certain artificiality about some of them (eg Elite League semis-Swindon getting an 8 pt start on Coventry, Wolves 4pts on Arena Essex). Cost-speedway projects itself as a family sport, but current prices put it beyond the reach of too many families on a budget to attend on a weekly basis - it's maybe becoming a once a fortnight/month luxury for many, in which case actual hard core able to go every week is reducing, thus revenue decreases. Think this is already showing in next generation of fans not attending in same numbers as we saw maybe 20/30 years ago. World Championship - best advert for the casual sports punter watching on tv, yet formula is growing stale (see my comments a few weeks ago on features!)
What one thing would you do to improve speedway?
Emphasis on chucking riders displaying dangerous riding out of meetings - think the rules are already there, but we know there are riders out there who should not have finished particular meetings because of their tactics, and in doing so have ensured other riders didn't finish. Start putting them out and they MIGHT learn a lesson if their points-generated income goes down, or their club decides they don't need a guy who isn't scoring points because he's not finishing races/meetings. None of this wishy washy "oh, how do you decide if a rider has gone over the score?". Appoint referees with the experience and guts to exclude them!
Tell us about a rider you wish you'd seen
Peter Craven-haven't read anything, or spoken to anyone, which didn't verify the impression that he was a real world class rider with the ability to entertain. Nearest I've sees to my impression of him is Tony Rickardsson.
What does the future hold for speedway?
Have real fears for the long term future of the sport.I wonder sometimes if promoters, who I admit have a difficult job to do, actually imagine what it's like to be a punter. As I suggested, prices appear to put the sport out of the financial range of most families on a weekly basis. Tracks with no dirt, and poorly prepared (saw a few meets on Sky last year which fit that description), help disassociate people from a fantastic sport - less entertaining, and more expensive to watch, equals less spectators. Don't have a magic wand, but then, as a mere fan, I don't need one!
Take part in this feature
This article was first published on 25th February 2010
[ Use Desktop Version ]
Comment on this Article | Contact Us | Go Back to Main Menu