It's All About You... Dave Beecroft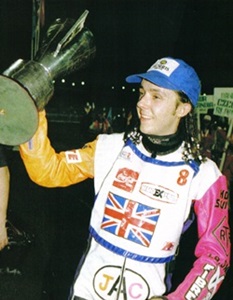 Gary Havelock
Tell us about your introduction to speedway
As an inquisitive 12 year old I discovered a stash of 40s/50s Odsal Speedway programmes from when my mum and dad were "courting" and was intrigued. Pestered a relative to take me to the Shay to see the Dukes, then British League champions. I loved it from the moment the tapes went up on the first race but regretted standing up to the fence on the fourth bend and went home happy but with a face full of blue pock marks!
Tell us about your favourite meeting of all time
On the 24th June 1970, Odsal Speedway finally re-opened after a ten year wait, with a British League Division Two match between Bradford Northern and Eastbourne. I had gone along to the supporters meeting a week before and secured a pushers job and was completely star struck in the old Odsal pits amongst the noise, the smell and the bustle. On the terraces were 10,000 people as I marched in my first parade, rubbed shoulders with the guest of honour, Boomerangs and Tudors legend Oliver Hart and was allowed, all by myself, to wheel real speedway bikes on to the track. That Northern won 44-34 seemed hardly conseqential to me. I had been to so many rugby league matches there before mainly to imagine the smell of methanol and the roar of bikes that to be there and it actually happening was more than enough.
Tell us about your favourite rider of all time
T ough one this, there are so many candidates, at Halifax it has to be Eric Boocock, so consistent, so cool, so good. I always loved watching Briggs, Mauger and Fundin but my favourite "other track" rider would have to be Peter Collins whom I last saw in an excellent specially constructed team to individual meeting along with his brothers at Powderhall. Such a great team and England man too. Gary Peterson from the Odsal "middle ages" in the 70s. So sad when he paid the ultimate price, I'm sure there were greater things to come. My overall favourite has to be Gary Havelock though, a World Champion when riding for Bradford has to be special, but I just like Gary's style anyway and watch for him still on Redcar's visits to Armadale.
Tell us about your favourite track/stadium
In case you haven't guessed, Odsal! I loved the old 1970 onwards track, pretty much the same as it was when Eddie Rigg re-laid it for the Bradford Panthers in 1960. I was shattered when it closed and dubious when I heard of the re-siting of starting gate and pits for the new 1985 version but what a track when it was finished! Great racing, lots of passing, a great view wherever you were in the stadium. How is it possible that we have to speak of one of British speedway's crown jewels in the past tense? Shame on you Bradford Council and much as I love the Bradford Bulls, was it entirely necessary to build the VIP Lounge or whatever it is over half of the third and fourth bends? Hurts me to write about it.
What are the best things about speedway?
The atmosphere at a speedway meeting is unique. A friendly crowd ready to cheer, laugh and welcome you in. The smells; hot dogs, chips and, of course the perfume that is methanol. That wonderful bass noise that builds as the bikes rev at the gate and explode into action. The music that you hear broken and re-started at announcments and race start and end. The colourful supporters with programme boards, jackets, caps and scarves fll of badges. put it together with good racing and it all makes for a wonderful night.
What are the worst things about speedway?
Has to be the way our sport is held to ridicule because of stupid regulation changes. Try as I may to entice fellow football supporters into the speedway fold, it all breaks down when I tell them about the double points tactical substitute. Everybody immediately mentions Stuart Hall, Eddie Waring and "It's a Knockout" and its playing of the Joker rule. If a team is winning, even if the margin is expanding, it is usually because they are better than the opposition, at least around their own track. Differential match points scoring systems with greater rewards for scoring higher race point totals are sufficient.
What one thing would you do to improve speedway?
Obviously remove the Double Point system, should go without saying. On the positive side though I would ask the Daily Mail if we can borrow the National Trophy back and re-institute the competition from the lowest team up. I wouldn't go back to home and away until the semi-finals but I would seed a lower league team to ride at home against a higher team and I would, as an essential, have the final at Cardiff (or better still a rebuilt Odsal!) as part of a slightly longer British GP weekend. Might it then finally become our FA Cup Final?
Tell us about a rider you wish you'd seen
I spend so much time researching old time speedway, particularly Odsal, that I wish I could have seen the riders I read about, particularly Eddie Rigg, Ron Clarke, Oliver Hart and Joe Abbott. I actually have seen Arthur Forrest ride but only in a Mechanics race at the Shay but would have loved to have seen him in his pomp. of course, like so many of my age I was just too late to see Peter Craven. That would have been something else.
What does the future hold for speedway?
I'm not as gloomy as some others. There are lots of issues to be resolved but the product is healthy. We have to accept that interest in our sport is of a cyclical nature. We will never have the huge crowds of the post war boom again when the top division teams were from much bigger stadia: Wembley, West Ham, Odsal, Harringay, Belle Vue. In those days promoters looked for stadia to adapt, it's different these days, we have to look for land, build a track and primitive facilities in many instances. if the crowds come, then great, more facilities can be added. The crowds may be much smaller but they are spread far and wide. We all just have to pull together.
Take part in this feature
This article was first published on 1st July 2010
[ Use Desktop Version ]
Comment on this Article | Contact Us | Go Back to Main Menu