It's All About You: David Lewis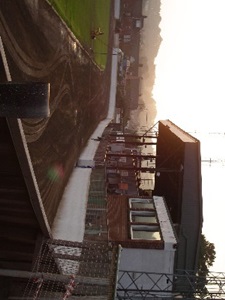 The Unmistakable County Ground
Tell us about your introduction to speedway
1975. Exeter v Reading. Bank Holiday Monday. Scorching hot day, travelled to Exeter by bus from the village I lived in with other kids from the village. I was 9 and all the kids used to go to this "speedway" so I asked Mum if I could go. What I saw had me hooked for life. Noise, colour, smell, dirt, speed. I'll never forget that day as long as I live.
Tell us about your favourite meeting of all time
That's a difficult one. Have enjoyed many a meeting for lots of reasons. '92 World Final seeing Havvy win was special, being at Workington seeing Exeter clinch the PL in 2000 was fabulous too, as was the '91 British Final. The one that stands out, though was a cup match at Swindon when the leagues merged in the mid 90's. it had everything. Wiggy was late back from a meeting in Russia and Exeter fans were worried he wouldn't make it. Rosco in the Exeter team, pumping the Exeter fans up as he tried to put one over his home town team, atmosphere with banter between the two sets of fans as lots of Exeter fans made the trip, Mark Thorpe colliding with the tractor, the lesser lights in the Exeter team, like Peter Jeffery and Graeme Gordon riding out of their skins, a grandstand finish with the match ending in a draw and just the most unbelievable race between Jimmy Nilsen and Mark Loram that anyone who saw it will never forget.
Tell us about your favourite rider of all time
Easy. Peter Collins. Made it look so easy. I loved watching him race.
Tell us about your favourite track/stadium ;
Quite a few stand out. Wembley was a fabulous place for speedway and a fitting venue for a great sport. Atmosphere on World Final night was unreal. I liked Coventry before it was changed and Hyde Road too. Somerset is one of the best tracks around today. Good shape, length and width and usually well prepared makes for great racing. But what about Exeter. Every week from 1975 until it closed and a host of memories that could fill several books. It was a great place to watch speedway and has a truly special and unique place in speedway history.
What are the best things about speedway?
So many!! Noise, speed, that amazing smell too. Some fantastic characters over the years (sadly not these days) and some of the nicest and bravest competitors in any sport anywhere, ever. 60 seconds at a time of pure adrenaline. Nothing like it. Great fans as well. Always friendly, enthusiastic, dedicated and knowledgable. There are none better.
What are the worst things about speedway?
Rain offs. Promoters who are no better than second hand car salesman and a governing body that couldn't run a bath
What one thing would you do to improve speedway?
Put an independent body in charge of the sport and get them to revamp it.
Tell us about a rider you wish you'd seen
Briggo. I did see him once at Exeter in 1976 when he raced for Hull, but I would have liked to have seen him in his pomp. I have met him and he's such a great guy. I would imagine he would be a great friend, but a great competitor too.
What does the future hold for speedway?
In this country it's on it's knees and will, I fear, soon become an amateur sport that is even more minority than it is now. The advent of the GP has caused so many problems and the lack of English talent hasn't helped either.
Take part in this feature
This article was first published on 9th June 2013
---

John Carry:

"Absolutely agree, Elite League is on its knees, the vested interest the promoters' have in running the sport has to be removed and an independant body with a viable mission statement to grow the sport and British talent should be established. Also, in my view, Britain should adopt the Polish and Swedish models with a single race night and only one home and away match against the other teams in the league. This would hopefully encourage larger crowds and reduce the fixed costs such as stadium rent etc. I note that Poole were due to race Lakeside on consecutive weeks before the dubious postponment; this probably sums up the chaos in the administration of sport."

[ Use Desktop Version ]

Comment on this Article | Contact Us | Go Back to Main Menu