It's All About You... Ian Graham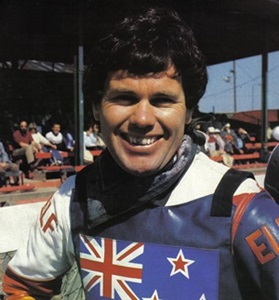 Larry Ross
Tell us about your introduction to speedway
My first meeting was Young England vs Young Czechoslovakia at Rayleigh Weir in 1969, when I was aged 5. We lived in Wickford, Essex at that time, and my mum (a Southampton Saints fan from the 1950s) noticed we had the Rayleigh track only just down the road from us. I was hooked at first sight. We then went to Rayleith Weir every Saturday night until it closed in 1973, then on to Hackney, then Rye House until their closure in 1993 (I introduced my girlfriend Kay to speedway at Rye House in April 1984...it was only our second date and fortunately she liked it. We have now been married for 22yrs and I wonder what might have been if she hadn't liked speedway....???!!). As from 1994, Kay and I have lived near Christchurch on New Zealand's beautiful South Island.
Tell us about your favourite meeting of all time
Rye House vs Mildenhall - NL KO Cup Semi Final 1979. Rye House won the first leg at Mildenhall 38-40, but were 16-20 down half way through the second leg and were without Ted Hubbard, plus Kevin Smith had only scored 2 from 3 rides at no5. Fortunately, great rides later in the meeting from Karl Fiala and Bob Garrad got us through. Mildenhall were without Ray Bales, and Mick Hines crashed out too, but they were always in it thanks to Rob Henry and Mel Taylor. I think Rye House won 44-34 in the end, but the reality was much closer.
Tell us about your favourite rider of all time
Difficult one....there have been several. Geoff Maloney at Rayleigh, Zenon Plech at Hackney, and Bob Garrad at Rye House. There are many I've really enjoyed watching for their track craft - Barry Thomas (Hackney and Crayford) and Larry Ross would be two. I saw Larry ride for Wimbledon in the UK in his younger days and again now in his 50's out here in NZ. I had the pleasure of having Larry in the team (Canterbury) that won the NZ 4TT Championship last year - I was team manager and he scored a 12pt max and never looked like being beaten all night.
Tell us about your favourite track/stadium
It has to be Rayleigh Weir. I might only have been junior school age and so you see everything through a child's eyes, but the atmosphere at Rayleigh was just so much better than I've ever experienced anywhere else. The riders were so friendly too - we used to go into the pits afterwards as the riders were packing up and they'd always wipe their oily hands, sign your autograph book and have a chat.
What are the best things about speedway?
Family at mosphere and the commitment of the riders. SGPs in big stadiums, in front of big crowds, on proper speedway tracks like Bydgosczcz.
What are the worst things about speedway?
I can't answer directly as I only see what we have in NZ these days, although family and friends in the UK send me all the SGP and EL matches on dvd. In NZ we only have three proper bike tracks so that would be one of my 'worst things' now. How about another SGP in Australia, or better still how about one in NZ..??
What one thing would you do to improve speedway?
For good racing, you need a banked track with dirt on it, that has several passing lines...... not a flat, slick motorway that has only one racing line.
Tell us about a rider you wish you'd seen
Ronnie Moore. I have never seen him ride but have got to know him through my involvement as team manager at his track, Moore Park in Christchurch, NZ. Ronnie isn't around so much these days, but he still passes on the benefit of his knowledge to any youngster willing to listen.
What does the future hold for speedway?
Again, I can only speak from an NZ perspective. We have some good young riders starting to come through now so I hope this means we'll be back in the World Team Cup before too much longer. Grant Tregoning is one youngster of ours who is going places. Andy Aldridge is another, but he hasn't really fulfilled his promise in two seasons in the UK despite his natural talent. On the other end of the scale we have Jade Mudgway, who makes up for natural talent with sheer determination. Finally there's Dale Finch. I have tried to find an NL place for him in the UK this season, but no one wanted to take a chance on him which will untimately be their loss - he has Aldridge's natural talent and Mudgway's determination all wrapped in to one.
Take part in this feature
[ Use Desktop Version ]
Comment on this Article | Contact Us | Go Back to Main Menu