It's All About You... Norman Chadwick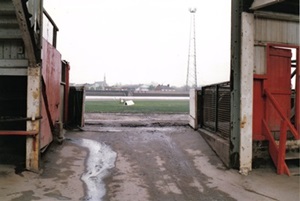 Where it began for Norman
Tell us about your introduction to speedway
A school chum at Bamford Road Secondary School called "Jet" Harrison was a Belle Vue fan and in 1964 took me to Hyde Road. It was they days of Dick Fisher, Gordon MacGregor and Norman Nevitt. When I left school and bought my first motor cycle this gave me the chance to go to Belle Vue and Halifax speedway under my own steam. 1968 was the high point for me with Belle Vue Colts running Wednesdays and the Aces on Saturday. I saw more than 60 meetings that year and well remember it cost just half a crown (2s/6d) to watch the Colts with 6d for a programme. The Mauger years were magic with PC and Mort figuring later.
Hyde Road was a magical place and I know from all the comments that most think it was the best track ever in the whole speedway world. Viewing was great particularly in the early years when you could literally hang over the fence and touch the riders as they approached the starting gate. The noise was great and the smell of Castrol R was even more addictive. I even bought some and added it to the petrol in my BSA but of course it didn't smell at all like the JAP's and ESO machines of that time. BLRC would come round in October and everyone would pile in to watch yet another win for Barry Briggs. If only someone would build a modern day replica of that track that would be heaven!
Tell us about your favourite meeting of all time
Belle Vue versus Reading and that run-off between Peter Collins and Anders Michanek. It must rank amongst the best ever, how can you better passing and re-passing on every bend of every lap?
Tell us about your favourite rider of all time
Chris Morton was the best rider to watch at Belle Vue where his 4th bend swoops to win were literally unstoppable.
Tell us about your favourite track/stadium
Belle Vue Hyde Road, built for the job
What are the best things about speedway?
The dicing for places, the processions are boring.
What are the worst things about speedway?
Its vunerability to our wet weather when potentially great meetings are often reduced to processional races won from the gate.
What one thing would you do to improve speedway?
Bring back the old tactical substitute rule. At least this manipulation of the potential score is down to changing the personnel in the race and therefore the race winning order. Jokers and the like where the same line-up involves a double points score is farcical. You wouldn't get Soccer or Rugby matches saying the next score is worth double the normal value would you?
Tell us about a rider you wish you'd seen
Peter Craven, sadly he had died a few years before my introduction to the sport.
What does the future hold for speedway?
It is always going to be a battle for professional speedway to survive. I hope the Sky coverage will continue and the money it brings and perhaps a few new faces to the terraces. We need some more Elite league teams if that is possible to increase the variety of opposition. The revivial of Scunthorpe, Redcar and now Leicester is good together with the success of Somerset as a new venue. What a pity the Leeds/Bradford/Halifax conurbation hasn't it's own speedway venue any more.
Take part in this feature
This article was first published on 17th September 2009
[ Use Desktop Version ]
Comment on this Article | Contact Us | Go Back to Main Menu