It's All About You....Phil Rice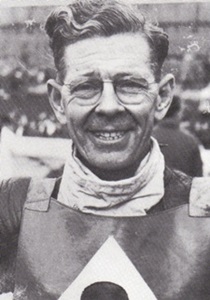 Jack Parker
Tell us about your introduction to speedway
in 1960 I saw an advertisement for speedway on a hoarding near St Helens for the re-opened track in the Provincial League at Liverpool. I must have known something was going to happen as I kept a scrap book from before my first meeting! Stoke beat Liverpool 38-34 but the home team's Brian Craven got a 12 point maximum.
Tell us about your favourite meeting of all time
Probably have two. The first is Peter Craven winning his second world title at Wembley in 1962 and the second fellow Belle Vue rider Peter Collins winning his only title at Katowice in 1976. I recall at the latter meeting I bought all the programmes I could (for about 4p each) and sold them all at 50p each! We went to Poland by coach and in those days it was quite an adventure.
But a vivid memory was from a scratch race in the second half of a Liverpool v Edinburgh match in 1960. In it Dave Dodd and Willie Templeton battled for three laps and the race was called at that premature point. In the rerun the two battled and battled over four laps but I now cannot recall the winner!
Tell us about your favourite rider of all time
So difficult but I'll go for Peter Craven whose premature death in 1963 really meant he did not fulfil his complete potential. Others include Brian Craven, Wal Morton, Bryce Subritsky (all at Liverpool), Cyril Maidment and his controlled bursts from the back out of turn four at Hyde Road. Having moved away from the north in 1982 to eventually settle just outside Swindon, I've generally failed to have favourites since then but I do like Simon Stead of the current Swindon team.
Tell us about your favourite track/stadium
Hyde Road of course. I've been fortunate in recent years to travel quite a bit abroad for speedway and I do like the new Torun.
What are the best things about speedway?
The people who follow the sport and generally the riders who are very approachable.
What are the worst things about speedway?
Guests. My way forward consists of two words "no guests". I know it's not an easy thing to implement but it could be done. I do appreciate if my team were without its two main heat leaders, things could be very difficult. The sport loses so much credibility using guests.
What one thing would you do to improve speedway?
See above. The sport also needs a cohesive strategy to take it forward headlined by a strong leader who is not involved with a track. He or she should move the sport forward and help the existing duo of Phil Morris and Neil Vacher by putting the infrastructure in place to support the work they do. We may need to put in place a British riders policy. I note that recently Poland have said that each side has to have two young Polish riders and two other mature Poles in their sides. That could close the door on some of our riders riding in Poland but perhaps open the door for the odd foreign top liner to return to the UK.
Tell us about a rider you wish you'd seen
Jack Parker. Some 30 years ago I was at a function and was, along with others, able to talk to him for about 20 minutes. What a character!
What does the future hold for speedway?
I think many professional sports are struggling so we have to realise that a minority sport like ours could suffer more. But we spend too much time on the negative aspects and unless we can all help to "big" it up the decline could continue. A leader is thus needed.
Which rider did you dislike the most and why ?
None. But I am not keen on those riders who don't value the sport and take it for a ride.
Take part in this feature
This article was first published on 3rd February 2013
[ Use Desktop Version ]
Comment on this Article | Contact Us | Go Back to Main Menu