An interview with....Dave Gifford - Part One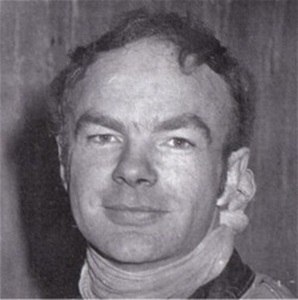 Dave Gifford
As far as I can tell, you first raced in the UK in 1965. How had your career progressed prior to that?
As a small child, maybe 8 or 9 years old, I had been taken to the local Waiwakaiho Speedway to see the legendary midget car driver Frank 'Satan' Brewer when he made one of his rare visits to this part of the world and from that moment on I knew what I wanted to become. As soon as I turned 15 I began racing scrambles and motocross on an old plunger BSAB31 but I wasn't very good at it, all the braking and gearshifting was a bit too much for my limited mental resources to deal with I think. I still had hopes of racing cars but when I turned 16 and could race at the speedway I was earning about 5 pound a week as an Automotive Machinist apprentice and a midget car was out of the question.
The bike section at the local speedway at that time was made up of stockbikes, just our old scramble bikes with the brakes and left footrest removed, and so I raced these for two seasons before proper speedway bikes were introduced in 1963 and I started to make a bit of headway.
I was fortunate enough to win the local championship three years running and at one time I held track records at Auckland's Western Springs, at Napier and at my home track. The truth was of course that all the tracks in New Zealand were big open quarter milers and you didn't have to be very clever to ride them and as long as you could go fast you could do O.K.
During your spell at Newcastle you progressed from reserve to heat leader. What are your strongest recollections of that time?
My strongest recollections of my time at Newcastle are of the people and the weather and oh yes, I nearly forgot, the track was a bit bumpy in places. Actually I have no negative memories of Newcastle, most of the guys I rode with were a lot of fun and easy to get along with, people like Brian Brett, Mike Watkin, Georgie Hunter, Alfie Wells and Ivan of course, they all made my time at Brough Park a wonderful experience. Of course for most of my time there the promoter was Mike Parker whom I had the utmost respect for, he was always dead straight with me and always called a spade a spade. I know other riders may have an opinion of Mike that differs from mine but they're entitled, you can only judge people as you find them.
All good things come to an end, so they say, and so it was with my days on Tyneside. Allied Promotions shafted the greatest speedway fans in Britain by closing Brough and taking the license to some completely forgettable backwater called Reading. The Geordie fans deserved much better!
Your team mates at Newcastle included Mauger, Olsen and Michanek. How did they compare?
The questions get tougher don't they? Well nobody compared with Ivan during my time at Newcastle but there is an aspect of his career that is never mentioned, probably because he achieved so much as an individual rider and that is that he was a very good team man and didn't just ride for himself. I partnered Ivan for a season or two, nobody else wanted to because it was so hard to pick up bonus points but in truth as long as you made a reasonable gate he would take care of things and I always considered myself lucky to ride with him. Another thing about Ivan that most people won't know about is how unselfish he was when it came to the choice of gates, he had enough confidence in himself on many occasions to take the worst gate even when it was his turn to pick.
Where does bring us to, ah, the Dane! Well Ole was pretty good to be with at Newcastle although maybe he thought more about himself than the team, who knows, perhaps that was what we all should have done. It was interesting though, I remember one night at Brough going out to ride in heat twelve or thirteen with Ole and he asked me to let him cross the line first if we were on a five one. Well I couldn't have cared less as long as I got paid for a win but I was curious why he wanted it that way and his reply was that in the newspaper results the next day they wouldn't include the bonus points!
I never got to know Mich that well, he seemed to keep pretty much to himself and didn't have a lot to say but he was a straight up sort of bloke and always gave it 100%. I wouldn't have picked him to win a world championship though. Probably wrong to generalize but by and large I considered the Swedes a bit aloof, maybe it was a language thing, the one exception was Torbjorn Harryson who was a real character and always very good company, it was a pity his career was cut short.
When Newcastle closed it seems that you sat out the 1971 season. What were the circumstances behind that?
At the end of the 1970 season at Newcastle I had called into California on the way back to New Zealand and had ridden in a number of meetings at Costa Mesa, Bakersfield and Indio and I really enjoyed the experience. The lifestyle and money available on the American circuits appealed to me and I decided to race there for the whole 1971 season. Besides, Allied had done their asset stripping hatchet job at Newcastle and there was no way I was going to ride for Fearman at Reading so it wasn't a difficult decision really.
In America I had everything I needed supplied by Norm Reeves Honda, a large outfit even by their standards, and I kept every cent I earned unlike most of the American riders who rode on a percentage system with the bike owner. I lived near Anaheim and rode at Ventura on Tuesdays, Bakersfield on Wednesday, up to Reno in Nevada on Thursday and either Sacremento or Costa Mesa on Friday, a round trip of 1000 miles.
There were some very good American riders at that time, the Bast brothers Steve and Mike were pretty swift and so were Rick Woods and Wild Bill Cody so it wasn't easy racing by any means. To make a living there you had to make sure you got through the heats and semis and into the main events, that is where the money was and as long as you could get into one each night you did okay. The programme was split into a handicap section and a scratch section and they only ever stopped a race if more than half the field fell on the first lap. There were, I believe, one hundred and forty riders in California at that time, all trying just to get on the programme that listed about forty riders and most of them were only sure of one race.
Although it did have an effect on my riding when I returned to Britain I'm still pleased I raced there, the Americans were such warm and generous people and I have nothing but the fondest memories of my time there.
You joined Wolverhampton in 1972 but never seemed to recapture your best form. Tell us about your time with Wolves.
At first I thought this was a trick question so I emailed Rob Adlington and he said I had indeed ridden for Wolverhampton, funny how the memory can block out certain unpleasant things.
Apparently when I decided to race in the States some of the British League promoters had tried to impose a ban on me riding in Britain again but Kiwi Trevor Redmond, who was running Wembley at the time, had fought the issue on my behalf and it came to nothing. I think they were scared a whole lot of riders would skip the British League to race in the States and they wanted to use me as an example. Anyway, against my better judgement I let the Dane talk me into riding for the "W" place. I hadn't got on well with Bill Bridget in the past and nothing really changed.
It took me a while to get back into the pace of British Speedway and I'm not sure if my heart was really in it at that particular time. I was involved in a bit of a spill with Dag Lovas' brother, I think his name was Oaf, who forgot to turn left at the end of the main straight at Monmore which resulted in chipped and cracked vertebrae and a whole heap of damaged ligament thingys in my back. I really should have stopped for a while but I kept racing and never let the injuries heal, it was no wonder my form fell off I suppose.
Anyway things never really improved at Monmore, Bill continued to run about holding Ole's hand and ignoring everyone else in the team. This was the guy who would tell you, when you were going out to ride against Briggo and Martin Ashby in a heat, that "This one's a doddle Daveyboy, you're up against a couple of scrubbers". What a jerk!
The end came when a World Championship qualifying round I had at Coventry was rained off one Saturday night and we were not told of a new date for the meeting. The following Friday we had a home meeting and on the Saturday we had a league match at the Belle Vue and I told my team mates after the meeting on Friday that I'd see them at the zoo. So I'm on my way out of the dressing room when Bill comes in and tells me I'm not to go to Belle Vue because I had to ride at Coventry, he'd been too busy to tell me earlier in the week. Besides that we weren't getting paid at the right time and I'd had a right gutsfull by this time so I gave him both barrels and quit. I think I got a round of applause from everyone in the dressing room!
The one pleasant memory I have of that place is of the team manager Bob Wasley who did his utmost to make things work. He was a really neat guy.
Continues in Part Two
This article was first published on 23rd January 2005
---

Former Berwick rider Ian Darling:

"As a former team mate of Giffy at Berwick I have some happy memories sharing car journeys with him. Many a good laugh driving up the hard shoulder on motorways. Nice to hear he's getting on okay. He was always good for a story and always helpful with advice to younger riders.

p.s. Dick Barrie never brought me drink, all he ever did was cadge lifts off me."
Graeme Bow:

"The site is excellent and does a superb job bringing together the old and the new. The article by Dave Gifford is excellent and brings back memories of seeing him ride at Coatbridge, Berwick and Edinburgh, as well as for the Wolves. Strive on Dave."
Grant Crawford:

"As Dave himself would have said 'pure b****y brilliant mate'. He's right the past was better - better because of guys like him. This article has brought back lots of happy memories of the early 70's at Coatbridge for me. There is only one bad memory I have of Dave - where the hell did he ever get those horrible grey and black leathers he used to wear? Thanks for the article and memories."
Ken Nicholson:

"This is arguably the best interview with a speedway rider that I have ever read. Witty, factual and by an exceptional character who was an old favourite!"
Bill Elliot:

"Great to read about Dave Gifford after a year or twenty, particularly as I think I was one of the Tigers' fans he was referring to immediately after his recruitment by the Bandits! Remember him as a genuine character who was quite capable of going out and beating anyone in either league on any night, usually depending on whether the tapes suffered any of the little faults he referred to, or whether they managed to go skywards milliseconds before he had already decided to let his clutch go! Seem to remember we never had any difficulty figuring out what he was thinking either!"
Lawrence Heppell:

"Simply excellent"
Tom Marriott:

"This interview was a hoot! Can't wait for the next installment. I watched Dave at Sheffield and he was always good at giving autographs, I never knew he had such a good sense of humour! Keep up the good work. My only complaint is that I could do with even more updates. I can't wait for your next one. Keep up the good work on one of my favorite web sites."
Martin Jacks:

"My favourite Dave Gifford memory as a Wolves fan was Exeter away. Heat 1 was hugely anticipated: Mauger v Olsen. As many will know, in those days in the 13 heat formula this was the only programmed meeting between the teams' best riders. All eyes were on Ole and Ivan as the green light came on. Giffo streaked from the start and led the two home for an unlikely, if welcome, heat win. The other thing I remember were his grey overalls worn over his leathers. At least, they looked like overalls! Thanks for the interview and best wishes to Dave."
Cary Cotterman:

"It was great to read your interview with Dave Gifford, whose comments brought back fond memories of his sense of humor. In 1971, when he spent the season racing in California, Dave worked at my dad's Triumph/Norton shop and lived with us in our spare room. I was a 16-year-old aspiring novice speedway rider who idolized him and probably tested his patience hanging about all the time, but he was always friendly and spent a couple of practice sessions on the dry lake beds coaching me at speedway. I never made good as a rider, but I'll always remember his kindness in putting up with me! I'm really happy to hear he's doing well today."
Ron Butters:

" I worked at Coatbridge as Dave Gifford's mechanic while he was there, I have went to Wimbledon with him for the National League Riders championship. I remember going on Jimmy Beaton's bus to Wimbledon, they had taken some of the seats out of the bus and we went to Giffy's house to collect him and the bike we loaded the bike into the bus and off to Wimbledon. If I remember right I think we went to Eastbourne to race on the Sunday. Some of the good times we had at the speedway as Giffy says looking back at the past speedway days were great days. If you can will you pass on my best wishes to Dave. I also remember him riding on a long track meeting with Ivan and Garry Middleton at Motherwell on a cold wet I think it was January."
Ian (Tich) McLean:

"Re Giffy. When the coach entered the salubrious Holmes Chapel estate with it's manicured lawns to pick up Giffy, he had all his gear spread out in front of the house, God knows what the neighbours thought. There was a no alcohol rule on the coach but Giffy came out with a couple of crates of beer. Driver Jim Hunter,also Coatbridge starting marshall, didn't know what to say. When anyone was opening a bottle everyone shouted 1...2...3 then "cough""

[ Use Desktop Version ]

Comment on this Article | Contact Us | Go Back to Main Menu