Updated on 27th December 2003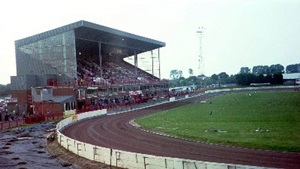 The Hull Vikings will be racing at New Craven Park next season under yet another new promotion. It's been their home base since they returned to the sport in 1995. View pictures of the stadium here.
Workington Comets finally have an official website. The address is www.workingtonspeedway.com.
Updated on 20th December 2003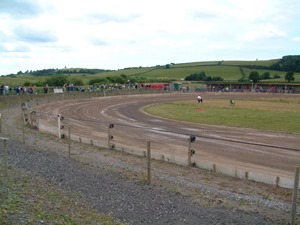 More track photographs courtesy of Richard Hollingsworth. These ones are of the Carmarthen circuit in Wales.
Sheffield and Peterborough rider Ricky Ashworth now has a website. It's another well designed effort from GPNetMedia and the address is rickyashworth.com.
There's also a new site dedicated to Ben Barker. Click here to visit.
Both Peterborough Panthers and Belle Vue Aces are the subject of new unofficial sites.
Final new site is elitespeedway.com which, as the name suggests, is dedicated to top-flight speedway.
Updated on 13th December 2003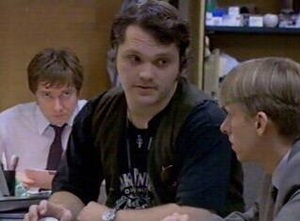 We're always interested in Speedway references in movies or telly programmes. Cult BBC sitcom The Office includes a brief conversation related to the sport. Read the transcript here. This has been added to our Speedway on Screen feature.
Robert Greenwood used to follow Bradford Dukes and this influences his Dream Team selection.
The Swindon Robins have a new official website. The address is www.swindon-speedway.co.uk.
Updated on 9th December 2003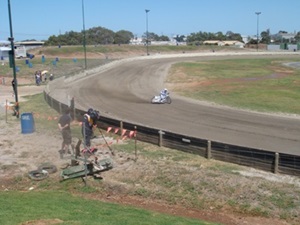 We have some pictures of the Gillman circuit in Adelaide. These come to us courtesy of Mark Martin.
Glasgow photographer Ian Adam has launched a website to showcase his work. The address is www.ianadam.co.uk.
It's been a few years since we last saw the Milton Keynes Knights. You can now relive some of those memories at www.miltonkeynesknights.co.uk.
Liz Fleming has asked us to point out that Aidan Collins has a personal website. We're more than delighted to do so.
Another new site of particular interest to Workington fans will be Liam Hodgson's homepage. Liam is taking his first steps in the sport.
Updated on 30th November 2003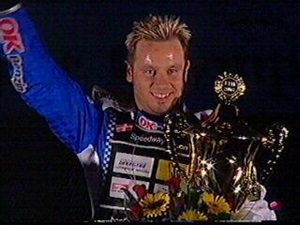 The 2003 season has already been consigned to the record books. Our contribution is 2003 - A Season in Summary.
Sheffield fan Kath Smith has nominated her Dream Team. She includes both of the Moran brothers in her selection.
A new unofficial Glasgow website has appeared. Check it out by clicking here.
Jamie Courtney of the Rye House Raiders now has a personal website. Jamie is the son of Mark and brother of Scott.
One of the liveliest message boards on the web has not appeared on our list of links until now. The Monarchs Chatzone can boast some of the Monarchs' directors amongst its membership.
Updated on 22nd November 2003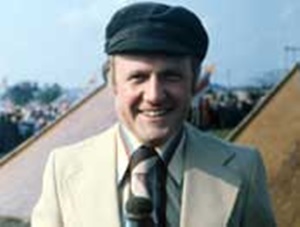 BSPA Chairman Stuart Hall (pictured) has always been a friend of this site. Thanks to this special relationship we are able to EXCLUSIVELY bring you the first look at the 2004 rule book. In view of the week's events we feel it best to start with Section 3.12.3 - Farcical Substitutions.
We're going to knock Dream Team on the head shortly but we've still a few to get through. One of these is Alun Chapple's side. Alun is a Poole fan is actually named after Alun Rossiter.
John Lowe of the Official Edinburgh Website is so upset at the outcome of the BSPA conference that he's closed the site. Visit the site to read his views.
The indoor meetings in Brighton are always good value. There are now two websites dedicated to this event. These are Speedway Indoors and BrightonBonanza.co.uk.
Updated on 8th November 2003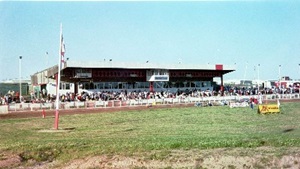 Loomer Road first staged Speedway back in 1973 when the Chesterton Potters were the home side. They became the Stoke Potters the following year and, with the exception of 1993, the track has staged Speedway every season since. The track was also home to the 'Cradley and Stoke Heathens' in 1996. Richard Hollingsworth visited the track during the summer, view his pictures here.
Updated on 1st November 2003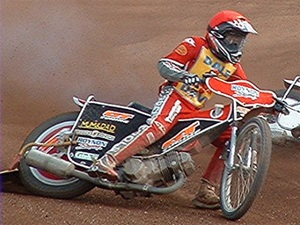 Adam Roynon (above) of the Swindon Sprockets has a new website. Check it out at roynonracing.co.uk. Adam is the son of former Barrow and Paisley rider Chris. Chris promoted the Barrow Blackhawks at Park Road in 1984 and 1985.
Frank Whitby has come up with an addition to our Speedway on Screen feature. He remembers a 1950 film called "Wall of Death". The movie starred Laurence Harvey and Maxwell Read and included some footage from Walthamstow Speedway.
Our appeal for info on Sean Murtough brought a response from Chris Cooper. He tells us that Sean was a second-halfer at Swindon during the 60's and 70's. Records show that Sean never made the Robins side.
Newcastle and Peterborough rider Kenneth Bjerre's website was missing from our links page - it's now been added. Let us know of any other sites that we don't have listed.
Updated on 26th October 2003
Do you remember the stories that made the news in March 1999? Our Flashback feature will remind you that a team returned after a long absence, an important deal was signed with a television company and that a young Dane made his Elite League debut.
Martyn Cornwell has set up a new fans forum for the Mildenhall Fen Tigers. All the chat on the champions can be found at www.fentigers.com
Canadian champion Kyle Legault has a new website.
---
ARCHIVE
[ Use Desktop Version ]
Comment on this Article | Contact Us | Go Back to Main Menu