Dream Team : Martin Wilkins
I've supported the Newport Wasps / No nickname / Dragons, since 1964. During the barren years 1978-1996 I used to travel around a lot especially to Reading & Swindon. I enjoyed it but it's not quite the same as having your own team to support. It was great news when Tim Stone reopened Newport in 1997.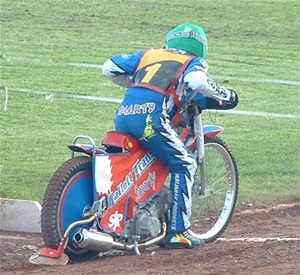 Frank Smart
Gote Nordin
Brilliant stylist at the time he rode for the Wasps probably one of the top four or five in the world. Turned up at Hackney one night with just a pair of handlebars, stuck them on the Newport track spare, scored a 15 point max and beat Colin Pratt for the Silver Sash. His team riding with Bob Hughes around Somerton park was pure class.
Sandor Levai
Allocated to the Wasps in 1969 by the then Rider control comittee. The Wasps fans weren't overjoyed as he was the replacement for Toby Harrysson. After a shaky start he was top scorer for 3 years 69-71, and very often during those years was the only effective rider away from Somerton Park.
Toby Harrysson
A very exciting rider, amazing balance, produced some real hair raising stuff. Who knows what he might have achieved but for that terrible crash at Wembley in 1969.
Frank Smart
No Wasps all time team would be complete without Frankie, some of his rides have to be seen to be believed. I've closed my eyes on many occasions. Wasps fans were very saddened by the news that he's quitting at the end of the season, in our eyes he's irreplaceable.
Phil Crump
I'm not sure who was the greatest Wasps rider, Gote Nordin or Crumpie, I guess we'll never know. But from 1974 to 1976 he was almost unbeatable around Somerton Park. He could pass inside or out, always seemed to find grip. In 1975 he wasn't beaten by an opponent around Newport untill mid-August. I used to watch Crumpie ride for Swindon after Newport's closure, he was still a great rider, but I always used to tell the Swindon fans they never saw the best of Phil Crump.
Neil Street
Along with Bob Kilby one of the fastest gaters I've ever seen. His knowledge and experience helped many youngsters in the team, he was responsible for helping bring riders like Phil Crump and Phil Herne to Newport.
Alby Golden
First Wasps skipper in 1964 and crowd hero, skippered the team to K.O. cup glory in that first season. Sadly towards the end of his carreer, he was a passenger away from home. When Bob Radford dropped him in 1969 he scored a home maximum in between two away ducks. This upset some of the older fans but I think Bob had no choice. But I'll remember him as the fist idol of Somerton Park.
This article was first published on 13/09/2003
---

Bob Radford:

"its a good team Martin! For me I think Reidar Eide led the revival in the early 70's - the first top liner to agree to come to Somerton Park for a while. Anders Henriksson was pretty sensational at the new stadium, less injury prone than Craig Watson. And of the originals Jon Erskine and Peter Vandenberg were good, both ironically stayed with Mike Parker in moving to Wolves. Its hard to pick just 7. And you are right it was heartbreaking to drop Alby Golden but he had become a liability away from Somerton."

[ Use Desktop Version ]

Comment on this Article | Contact Us | Go Back to Main Menu