King's Lynn - Part Two
By Ian Davey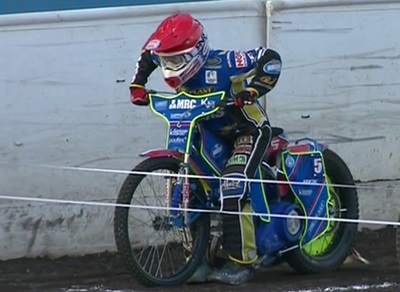 Robert Lambert
In part one I described my return to my Speedway roots. Two years later I was back at the Adrian Flux Arena for a "double-header" between the Stars and Wolverhampton. Promoter Buster Chapman promised us a "bumper night of racing". In the evening's programme he said:-
"It's never easy doing a double header. It takes it out on men and machines, it's a hectic event and everything needs to go like clockwork". Ah, yes.
A bit of a strange concept this, two matches in one night. Imagine going to watch Man United play Liverpool and then watch the same two teams play one another again immediately afterwards. How would it all turn out? The answer is that we had a cameo of all that is good and bad about British Speedway in this one evening.
At the start of proceedings both teams were relying on Rider Replacement, plus it was already known that home star Robert Lambert was nursing an injury and it was touch and go as to whether he would ride at all.
Wolves were the current champions and had a strong team with their captain, Freddie Lindgren, outstanding, showing all his class by coming from last to first in one race. The Stars were on the receiving end of a fairly heavy defeat on their home territory but we were treated to some terrific racing with passing and repassing in some heats. Full marks for the entertainment value in Speedway terms.
Unfortunately It took two hours to complete the 15 heats of the first match. Partly understandable because of crashes, stoppages for fence repairs etc but it was painfully slow nevertheless. At this rate we would be lucky to finish before midnight. Two heavy falls saw two King's Lynn riders having to pull out. Then it was declared Stars' captain Robert Lambert would be unable to compete in the second match leaving the King's Lynn team with just three fit riders. At this point proceedings descended into complete farce.
Stars' junior rider, Ryan Kinsley, happened to be in the crowd so he was roped in for the second match because if not we would end up with no King's Lynn rider in some races! Not surprisingly poor Ryan didn't score a single point and as it was we had three races with a lone King's Lynn representative. Again if we compare this with professional Football, would anyone believe it if you said that Man United had to call on a spectator to make up the numbers in the team?
The hapless announcer was profoundly apologetic. We had never faced such a situation, "it could not have been anticipated" etc. The reality was that such a scenario was very likely from the outset. Both teams had a rider down before tapes up. Robert Lambert was far from fully fit. Any further incident of rider withdrawal would put the second match in jeopardy. The King's Lynn management had embarked on a high risk strategy which had failed embarrassingly.
As soon as Wolverhampton had amassed enough points in the second match the lady referee put an end to this pantomime and declared Wolves the winners. Sad that an evening which had gone so well at the beginning should end in fiasco. And that is one of the reasons why Speedway is in its current state in the UK. It has too often been associated with amateurishness. What had I heard on my previous visit two years ago, that Buster Chapman was going to "sort out" British Speedway? Two years ago Sky Sports were still covering the "Elite" League but had since not renewed their contract with the sport. Had they had enough of presenting matches which were essentially meaningless? I would be back because Speedway is in my blood but any newcomer at the Adrian Flux Arena that night must have left in a state of complete bemusement.
This article was first published on 27th June 2021
[ Use Desktop Version ]
---

Barry:

"Brilliant stuff Ian! I read Ian's piece when it first appeared and a few days later (yesterday) went to Kings Lynn for a match against Ipswich. There was rider replacement but this was expected and was fine. However, the overall situation was something of a shambles from a spectator view and it seems that the reason was because the meeting was being shown on TV.

Whilst accepting that TV fees are essential to finance the sport at the moment there has to be some regard for the paying public who attend. I recall in the past that it was quite usual for televised meetings to have substantially reduced entrance charges, no doubt encouraged by the TV operator who preferred to show a crowded rather than empty stadium. On this occasion there was no concession and the whole meeting seemed quite obviously to be operated for the convenience of the TV schedule. The meeting started some 20+ minutes late for no apparent reason (as it happens there were three attempts to run heat 1, although in part due to what at first sight seemed a very serious injury, in the event it was bad but not life threatening).

It was also noted that the track seemed at the start to be rather a ploughed field and after heat 4/5 a water sprayer and two raking tractors raced on to comments as to whether we were going to have tractor races, although the racing surface certainly improved from that point. The time spent spent seemed to suggest there had been little thought about this earlier, odd for Kings Lynn. What was extremely annoying was long delays (up to ten minutes) between some heats when we were told afterwards that this was to fit TV breaks and then having the two minute warning on almost as a race finished.

Frankly no one seemed to know what was going on even to the extent that at one point a TV interview was blocking the path of the ambulance leaving the track, fortunately not on its way to a hospital but I doubt that was known. All of this made for a very disjointed meeting despite the efforts of some and some good racing which, if the process had been sharper would have added even more to the entertainment value. It seems to me another symptom of a lack of organisation and thought. Let's be fair TV presents cricket with regular breaks that do not hold up end changes etc. so it does not have to interrupt the flow for the live audience. On the other hand if everyone had been aware and offered a reduction then the problems might be expected and accepted but that was not the case.

As for Ian's report - a double header against the same team? - what he says goes to the heart of how our sport is run and puts things simply as they are. As it happens the very best meeting I ever saw (in over 50+ years) was the second part of a double header on a Bank Holiday afternoon at Custom House (West Ham), which, coincidently, was against Kings Lynn. Fantastic racing (four abreast in many heats) with the final heat (13 in those days) starting at level pegging and the late Dave Lanning saying that there would be no winners and losers with the only winner being speedway racing, and if anyone had ever seen or ever saw a meeting as good as this they would be the luckiest spectator on earth. Does anyone else remember this (the first match was against, I think Edinburgh Monarchs - I do recall Reider Eide was riding. P.S. West Ham "won" the match. "
Jim Henry:

"Re double headers v same team. Leeds raced against Glasgow twice on the same night in 1931 and Edinburgh raced twice against Stoke in 1952. See Speedway Researcher for details."

Comment on this Article | Contact Us | Go Back to Main Menu