Updated on 30th April 2004
| | |
| --- | --- |
| | |
| Sullivan | Nicholls |
"He was awesome. If you've got any spare cash, put it on him to be World champion this year"
Just one of the many quotes from around the country in Soundbites.
Bob Ferry took issue with one aspect of J.Maxwell's Dream Team. "How could you not include the greatest "racer" of them all? He used every inch of the track, every line, he was Mr Excitement on two wheels! That was Peter Collins, memorable speedway."
We're still accepting your Dream Teams, drop us an email with your selection and we'll add them to the site. Please note that we only add teams where a reason for selection is given for each rider. This should ideally be at least a couple of sentences of your memories of the rider or explaining why you admire them so much.
We've been asked a number of times if we have a video copy of the King Cinder television series. Alas we don't - do you? Please get in touch if you're able to help us get some copies of the programme into circulation. There certainly seems to be a real demand for it.
The Belle Vue Aces have a new official website. The address is www.bellevue-speedway.co.uk.
Edinburgh's promising Matthew 'Stormy' Wethers has teamed up with GPNetMedia to launch a personal website. The red and yellow pages match his racing colours.
Updated on 24th April 2004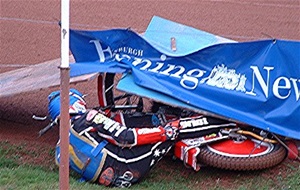 Cameron Woodward discovers one of the occupational hazards
We've comment from John Campbell, Alun Rossiter and others in the latest installment of Soundbites
Ipswich fan J.Maxwell's Dream Team has been added to the site. There are two father and son partnerships in his side.
London club New Cross Rangers were last in action way back in 1963. You can now relive those far off days at a new website dedicated to the club.
Updated on 19th April 2004
Tony Rickardsson quits British Speedway. Find out why in today's Soundbites.
Armadale Dale Devils now have an official website. It features comprehensive rider profiles, match reports and a gallery of action pictures. It can be found at www.daledevils.co.uk.
Matej Zagar has been an excellent addition to the Premier League in the last couple of seasons. Find out more about the Slovenian sensation at the brand new matejzagarracing.net.
Jamie Smith is another Premier Leaguer with a new website. It can be accessed at www.jamiesmithracing.tk.
Websites have been launched for former Glasgow riders Trent Leverington and Kevin Doolan. The sites don't seem to consist of anything more than a single page at present. Interestingly both feature pictures 'taken' from this site, an increasingly familiar occurrence it seems.
Updated on 10th April 2004
Which Premier League rider admitted this week that he used to hate Speedway? Find out as, after a long absence, we welcome back Soundbites.
Bill Gibbs got in touch after seeing our (now larger) pictures of Berrington Lough and passed on the following info: "I have just visited Berrington on 8th April, 2004 and it is really derelict now although you can still make out the beer pumps and the white stone on the inside of the track!".
We've had some reports that the Programme Generator is producing a scorecard that's going over onto two pages. As a result a new setting has been added that allows you to reduce the size of the generated page.
Updated on 5th April 2004
Added shots from Sunday's abandoned Glasgow v Stoke clash.
A small problem with the Match Report Generator has now been fixed. The detailed race results were sometimes incorrect when a T/S or T/R was in use. Any further bug reports are welcome.
Updated on 3rd April 2004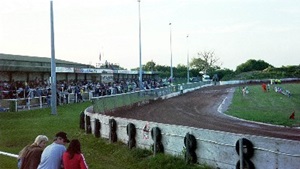 Richard Hollingsworth has supplied a couple of new pictures of The Islanders Smallbrook Stadium home. These have now been added to the five we received previously from RunTrackDir.com.
Apologies for the problems we experienced this week with the Programme Generator. One of the servers we use appears to have disappeared completely, the other was obscuring the generated programme with adverts. The service should be much more reliable from here on in. Thanks for all the positive comments made about this service.
A new web forum has been set up to carry race-by-race updates on many meetings. It can be found at www.liveupdates.co.uk.
Ewan Todd has happy memories of Powderhall Stadium the former home of the Edinburgh Monarchs. He asks "Remember the smell of the chocolate factory next door and your mouth drooling ?". Ewan is also looking for pictures of George Hunter from any era, he can be contacted at ewanhottoddy @ hotmail.com.
Updated on 29th March 2004
Action shots from yesterday's Glasgow v Berwick meeting at Ashfield have been added.
Updated on 28th March 2004
The Original and Best Match Report Generator has been given its (sadly necessary) annual upgrade and will now support the new 2004 regulations. It now differentiates between the new 'Tactical Rides' and 'Tactical Substitutes'. The Match Report generator can be used to produce a text scorecard and result list for use on emails, message boards or for your personal records. A backup service is also available.
The 2004 Programme Generator is also now available. Gate positions have been added to this for the first time. Ths Programme Generator allows you to produce your own A4 scorecard, fully populated with rider details, for meetings at the track or on the box. It's best suited to landscape use so remember to change your "print setup" before printing.
Ken McKinlay's son Adrian got in touch after reading our article on Scunthorpe. He said "I've fond memories of the Saints when Dad rode for a couple of seasons. The fans were great, always saying 'hello' and always swamping dad's Mercedes 220s when he drove into Quibell Park with his JAP hanging out of the boot! Big thrills for a 10 year old."
Peter Robertson offered the following comment on Ellesmere Port. "They should bring back Speedway to Stanney Grange, when Mervyn Porter lost Joe Owen due to his accident in '85 the Port died. I was a bike pusher there in the season of '85. Every Friday night the place was full, there were quite a few people there for the training on Saturday morning as well. Bring it back."
Glasgow Tigers new official website can be found at www.glasgowspeedway.co.uk. Some sections are still in progress but we like the clean and uncomplicated design.
The Tigers' main rivals, the Monarchs, are the subject of a new unofficial website. It features profiles of the riders, results and some familiar pictures of the Monarchs various circuits.
Sadly the Unofficial Rye House website has now closed down. It seems that this decision follows pressure from the Rockets' promotion.
Updated on 20th March 2004
Harry Gregory has discovered another movie that features Speedway in the plotline. It's a Slovenian film named 'Spare Parts'. One of the characters is former Speedway champion Ludvik who develops a sideline in people trafficking. There are further details on the movie here. We've also added this to our Speedway on Screen page.
The query on snowed-off meetings was answered by both Derek and David. Apparently a Scottish Triangle meeting at Berrington Lough was abandoned due to snow in 1983. Any others ?
Guy Keeley has suggested that we add links to all online radio stations that cover Speedway. He suggests Ipswich Local Radio as a starting point. Let us know if your local station provides coverage, the more details you can provide the better.
Congratulations to all involved with the Conference League Website. This informative site has now been given 'official' status by the BSPA.
Matthew Wright of Mildenhall can now boast one of the most impressive Speedway sites on the net. This site is a must see, the address is www.matthewwright.co.uk.
The Official Wimbledon Dons Website has been given a facelift. It looks all the better for the changes.
It's been eighteen years since Speedway was last staged in the City of Birmingham. Despite repeated efforts, and regular rumours, a return for the sport seems to be as far away as ever. Keep up to date with all the latest rumours at the new Birmingham Brummies website.
Third generation racer Adam Allott is one of the latest riders to launch a personal website. You can find it at www.adamallott.co.uk.
Tom Haine's new site will be of interest to all statisticians out there. His averages website aims to track the performance of all riders in this season's Elite and Premier Leagues. Should prove to be a valuable resource if it's maintained on a regular basis.
Updated on 13th March 2004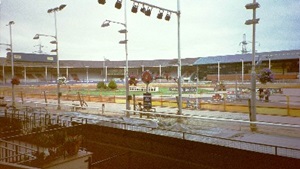 Plough Lane Stadium in Wimbledon has played a big part in the history of the sport. It presently plays host to Conference League racing but in years gone by it was the home to World Champions such as Ronnie Moore and Barry Briggs. It remains one of the sport's best appointed venues, as can be seen from these pictures taken by Richard Hollingsworth.
John Carry poses the following question: "I went to Swindon last night to watch Poole in the second leg of their pre-season challenge, is this the first match ever to be abandoned because of a snow storm ?". I can recall a meeting at Berwick in the early eighties being postponed because of snow, but not one that was abandoned. Is this is indeed a first ?
Can anyone help Mark Cadley with the following query: "I was wondering what you could tell me about Sid Sheldrick. I have found out that between 1970 and 73 he raced for Nelson Admirals, Bradford Northern and Barrow Bombers also later on for Paisley Lions and spent about 3 years in Germany in the late 70s. I'd really like to know more about his England career and general achievements. All (I think) I know is that he was capped during 70s, was in the first England team to race v Sweden in Sweden and won "Pride of the North" in 1974. Would love to know more."
So our prediction last week was wrong, Paul Cooper will not be joining Berwick. Tom Brown has actually been confirmed as the final Bandit for 2004. It seems that Cooper's commitments to grasstrack and longtrack would make it difficult for him to ride full time Speedway. Perhaps another club could use in him in a 'shared' reserve spot ?
Thanks to master historian Jim Henry for pointing out an error in our feature on Linlithgow. The article stated that Neil Hewitt's tragic crash back in 1997 happened at Reading, Jim points out that it actually occurred at Armadale. The article has now been corrected.
The new Middlesbrough Bears website has moved. The new address is www.borobears.com. The webmaster will now be Ron "Too Small" McNeil.
The new official King's Lynn Stars website can be found at www.norfolkarena.co.uk. This new site covers all activities at the stadium, and as a result the coverage of Speedway is not as good as it was on the old site.
Updated on 7th March 2004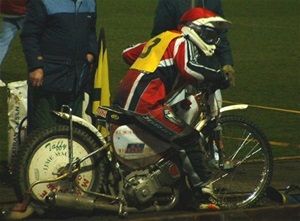 David Meldrum at the Villar Benefit
The tapes rose on the 2004 season at Berwick's Shielfield Park last night. The occasion was the Carlos Villar Benefit meeting and a crowd in excess of 2000 turned out to raise funds for the unlucky youngster. Indeed such was the interest in the meeting, a queue had formed outside the turnstiles a full hour and a half before the published start time. An early evening downpour threatened to disrupt proceedings but thankfully the rain stopped and the racing was able to proceed.
Biggest surprise of the night was a highly impressive performance from Paul Cooper. The grasstracker is now having a serious crack at Speedway and on this showing could do very well indeed. Whether his leg-trailing style will work as well on smaller circuits remains to be seen. Presumably Paul will now fill the remaining slot in the Berwick side, it would be a surprise if he didn't at least double his assessed three point average.
Those of you with Sky Digital may be interested to know that the 'Motors TV' channel (416) is showing all three rounds of the Australian Championship. Check out their website for schedule details. It will be listed as "Australian Solo Bikes". Can't help feeling that the channel is missing out on a large potential audience by not publicising these meetings in the Speedway press.
Ellesmere Port fan Steve Trickett is looking for Gunners memorabilia. Get in touch if you can help and we'll pass on your contact details.
Travel Plus Tours have organized Speedway trips abroad for many years and they've now gone online. Check out www.tptours.co.uk for full details.
Trevor Harding has now launched a personal website. The address is www.hardingracing.co.uk.
Another new website can be found at www.speedwayhistory.com.
---
ARCHIVE
[ Use Desktop Version ]
Comment on this Article | Contact Us | Go Back to Main Menu