Updated on 25th June 2004
Even a decent debut from Jason Lyons couldn't stop Newcastle taking a thrashing at Edinburgh tonight. See action pictures here.
Cradley fan Andrew Bradley is the latest to feature in our Dream Team series. Surprisingly there's no place for Hamill or Hancock in his side.
No soundbites this week as there's been so little live action. All previous weeks are still available.
Updated on 19th June 2004
The Monarchs defeated the Stars at a very wet Lothian Arena last night. See pictures from the meeting here.
Speedway riders and promoters are never short of an opinion. Catch up with their latest thoughts in this week's Soundbites.
Ken Burnett of T2TV Videos has a special offer exclusive to visitors to Speedway Plus. Ken films at Eastbourne, Reading and on the Isle of Wight. If you mention Speedway Plus when ordering he'll sell you a video containing any three successive matches, from any one of these tracks, for the bargain price of £20 (twenty pounds). That price includes postage and packing. That represents a healthy saving of £6.50 on normal prices.
You can see meetings filmed by T2TV each Wednesday night at 7.45pm on www.solent.tv. They also supply clips to the Eastbourne website.
Ken can be contacted on 01323 469105 or via email at ken_t2tv @ hotmail.com
Alternatively you can snail mail him at:
K.Burnett 23 Eastbourne Road, WESTHAM, Pevensey, East Sussex BN24 5NE
Cheques should be payable to K.Burnett
Updated on 12th June 2004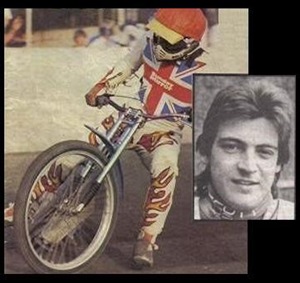 Our recent feature on Scunthorpe proved to be popular so we're delighted to be able to bring you another 'Scunny' related article. This takes the form of an interview with Julian Parr. Julian came through the ranks at Scunthorpe to become the club's number one. He subsequently rode for Birmingham Brummies and Rye House Rockets.
There's been no shortage of talking points again this week. The most up to date comments on events can be found in Soundbites. Andreas Jonsson, Craig Watson and Emiliano Sanchez are amongst those speaking out.
Ellesmere Port fan Phil Harding got in touch with the following comments:
Sad to see Thornton Road in decline (and indeed Dudley Wood). As a local I was a Gunners fan for many years and remember epic battles between JJ and the Owen brothers, Stevie Wilcock and many others, the hugely entertaining second halves with the novices and juniors (many of who went on to greater things) and who could forget 82 (Fours Champions) and 85 - both happy and sad memories for obvious reasons. Hard to believe it's nearly 20 years ago. Remember the re-launch sticker "Gunners come alive in 85". How I wish it could be "Gunners come alive in 2005". All the best to Speedway fans everywhere but especially those up and down the UK who I met on my travels with the Gunners.
P Casey got in touch after reading J.Maxwells' Dream Team:
Good to read about your Dream Team . I was able to call Billy Sanders a friend, I met him when he first came to ipswich. At the time I was working for Willhire so I also knew John Louis from the sponsorship. I also rode against Chris Louis when he was riding motocross. It's good that people remember the past.
Updated on 7th June 2004
Pictures from last night's Glasgow v Isle of Wight clash are now on the site. The match saw Eric Carillo make his debut for the home side.
Updated on 5th June 2004
"There was a bit of tension between myself and Scott. This happens in the heat of the battle sometimes. We have talked about it together and we are both professional in our approach. We have the best interests of Ipswich at heart. We both want to win races and we both want Ipswich to do well."
Hans Andersen on Scotty Nicholls
Andersen
Just one of the 15 quotes from riders and promoters in this week's Soundbites
Coventry fan Roger Heydon is the latest to have his Dream Team featured on the site. Tom includes four Bees in his selection.
Updated on 29th May 2004
| | |
| --- | --- |
| | |
| Janke | Lawson |
Andy Baillie has recently returned to follow the sport after a long absence. He's submitted a Dream Team of the riders he remembers watching at Coatbridge and Blantyre a couple of decades ago. The team includes former Halifax favourites Merv Janke and Mick McKeon, as well as the legendary Stevie Lawson.
It's been another exciting week in the world of speedway. As ever all the reaction to events can be found in this week's Soundbites.
Our recent feature on The Barrow Blackhawks brought back happy memories for some of our visitors.
James Culbert commented:
"Nostalgia!!!!!!!!! I have a few relatives in Barrow, infact my father was born there. Apart from collecting a few badges fron Barrow I missed out on all their action. Eric Broadbelt raced for my team The Monarchs but never recovered fully from a horrific crash at Powderhall. My friend who was a policeman and was onsite at the time made sure that an ambulance was on it's way PDQ. Eric was back a week later spectating and in a lot of pain. Very good but unlucky rider."
Darren Riley, who runs a website dedicated to Barrow Speedway wrote:
"Nice to read your article about Barrow Speedway. I was really gutted that Chris Roynon couldn't make a go of Speedway in Barrow but he didn't seem to have the money to finance it properly. While the Blackhawks were suspended he was offered the Scunthorpe Stags team to buy as they had just stopped running early in the season but no funds were available for the purchase of riders. "
One of the most obscure names to ever feature in one of our Dream Teams is Gianni Famari. He was included in the selection of Gerard Lynch and at the time we had to admit that we'd never heard of him. Andrew Bradley stumbled across the article and took time to share his own special memory of the Italian.
"I remember Gianni Famari, he took out Erik Gundersen, Lance King and Doug Wyer in a 1983 match at Cradley Heath in April I think. Only Doug Wyer could continue and Gundersen and King missed a couple of matches. He's folklore down Dudley Wood way!!"
Glasgow Tiger Corey Blackman is the latest rider to launch a personal website. You can find it at www.coreyblackman.co.uk. The colour scheme leaves no room for doubt about Corey's origins.
Young Dane Henrik MOller has also got a website that we were unaware of until now. Henrik has an association with the Peterborough Panthers.
Updated on 23rd May 2004
Pictures from last night's Dale Devils v Mildenhall Fen Tigers clash are now on the site. The Fen Tigers kept up their winning run with a narrow victory over the home side.
Josef Franc has launched his first official website. Developed by GPNetMedia.com, the site will contain information about the Czech rider as he takes his place within the line-ups of the Berwick Bandits (UK) and Olymp Praha (CZ). Franc is the latest in a series of professional riders to team up with GPNetMedia.com, and said "I am really happy that my website has now been launched. Hopefully I will be able to keep everything up to date during this season!"
Updated on 22nd May 2004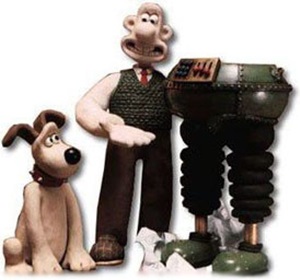 Colin Pratt - Still battling with The Wrong Trousers
(Thanks to Mike Manning for that one)
You can find all the best comments on the week's events in Soundbites. This week it includes the likes of Chris Louis, Rory Schlein, Andreas Jonsson and Peter Oakes.
More memories of Ellesmere Port, this time from Steve Trickett:
"I was taken to watch speedway at Thornton Road home of the now defunct Ellesmere Port Gunners by my parents in the mid seventies. I have many happy memories watching the Gunners with such stars as John Jackson, Paul Tyrer and Graham Drury. It should be brought back but it seems there are many hurdles to jump, mainly the council as they are not interested. Long live the Gunners."
Newcastle Speedway celebrates its 75th Anniversary in 2004. To mark this milestone a new website has been launched to reflect on that rich history. The site includes profiles of many of the Diamonds' all-time greats. The History of Speedway on Tyneside.
Updated on 19th May 2004
Action pictures from last night's Glasgow v Hull meeting have been added. The under-strength Vikings were unlucky to not take something from a closely contested meeting.
Updated on 15th May 2004
The Barrow Blackhawks were one of the least successful clubs in the modern era of the sport. It's around 20 years since the club was formed so we felt a retrospective was in order. Read it here.
Colin Pratt discussing ill-fitting trousers is just one of the highlights in our latest selection of Soundbites.
Dominic Floyd was surprised to see his mate Rob Tilbury included in the Dream Team of Midge Taylor. Dominic tells us that Rob, something of a pin up during his racing career, is still living in Canterbury and these days concentrates on the more leisurely pursuits of Angling and Pool.
Neil Carman was struck by our pictures of Thornton Road the former home of the Ellesmere Port Gunners. He recalls:
"My late father was one of the 3 promoters who established speedway originally in 1972 and I remember being taken along to the very first meeting. Sad to see that speedway stopped there so long ago, but brings back many memories."
---
ARCHIVE
[ Use Desktop Version ]
Comment on this Article | Contact Us | Go Back to Main Menu