Updated on 30th October 2004
More track pictures this week, although we only have one picture of each of them.
Somerton Park was the original home of the Newport Wasps. The Wasps competed in the British League from 1965 until 1976, Phil Crump being their circuit's undisputed master. The track closed after a single season in the National League in 1977, the club carried the nickname of Dragons in that final year. The stadium, which was shared with Newport County FC, has now been demolished.
Odsal Stadium in Bradford was first used for speedway back in the immediate post-war era. The stadium hosted the 1985 and 1990 World Finals, won by Erik Gundersen and Per Jonsson respectively. The stadium continues to host Rugby League matches but much of the speedway track has been lost to development.
Old Meadowbank was home to the Edinburgh Monarchs from 1948 until 1967. The stadium was demolished to make way for a new stadium to host the 1970 Commonwealth Games. The legendary Peter Craven lost his life after a crash at the track.
Owlerton Stadium, unlike the three tracks above, still stages speedway. It's one of the best appointed tracks in the country and the Sheffield Tigers have used it as a home since 1929.
We've featured West Ham quite a lot in recent weeks. We were therefore delighted to find out that there's now a website dedicated to the Hammers. It's been developed by Ray Bysouth and is a very welcome addition to the 'net.
Recent feedback includes:
Vic Norris on Chris Gosling's Dream Team:
"Brilliant. I'm 50 now and my father started me watching speedway at King's Lynn, we'd stand on the second bend, he still goes at 78. I was there the very first night, the traffic was tailed back down the A47!"
Gaz Butcher on Scunthorpe:
"I go past the new track every day! Can't wait for them to get going again, it will be very emotional after all these years."
Scott White on our features on Lokeren:
"Gosh what a horrible sight to see that photo of the camper van in which people died, it is good that you put this article up in the people's memory, not sure about the picture though to be honest. Love the site, every week something new and of interest, really is superb, keep up the good work."
Apologies if anyone was upset by the picture of the mini-bus, the picture was not intended to shock or offend. We felt, and feel, that our use of the picture was justified in our attempt to tell the story of the tragic events of 14th July 1970.
Dave Parkinson on Speedway on Screen:
"I believe that my father, John Harvey, was a rider in 'The Wall of Death' film in the early '50s. Do you know of anyone who could confirm this? John passed away last year."
If you can help with Dave's query then please drop us an email.
Updated on 22nd October 2004 - Lokeren Special
The 14th of July 1970 has gone down in history as one of the sport's darkest days. On that fateful Tuesday the sport was shocked by the news that a party of riders and mechanics touring Belgium had been involved in a fatal road accident. The minibus (above) they were travelling in was involved in a horrific crash that saw it hit two lorries, a petrol tanker and a house.
The accident claimed the lives of riders Peter Bradshaw, Martyn Piddock, Gary Everett and Malcolm Carmichael. Team manager Phil Bishop and driver Henrikus Rommoes were also killed.
Those 'lucky' enough to only suffer injuries were riders Colin Pratt, Stan Stevens, Garry Hay and mechanic Roy Sullivan. Pratt suffered a broken neck and severe internal injuries that ended his riding career. It was later discovered that the minibus had not been insured against an accident and it took three years, and a lengthy court battle, before those involved received compensation for their suffering.
The majority of those involved were associated with West Ham and as such their loss was most greatly felt at Custom House. The manager's notes in the programme for their next meeting, a league match against Wolverhampton the following Tuesday, made for emotional reading. We reproduce the notes here.
Harry Ward was just a teenager at the time of the tragedy but he retains vivid memories of those dark days. Read his recollections here.
Robert J. Rogers was another West Ham fan who remembers the cruel events of July 1970. Read Robert's article here.
On September 20th 1970 a memorial meeting was staged at West Ham for those who lost their lives in the accident. Ivan Mauger won the inaugural Lokeren Memorial Trophy with a 15 point maximum. The programme for the meeting included a tribute to 'those who failed to return from Lokeren'. This excellent article was written by Paul Parish the editor of Speedway Star magazine. Read the article here.
Special thanks to Robert J. Rogers for all his help in producing this week's Speedway Plus.
---
T2TV have videos available of Scott Robson's testimonial. It features plenty of interviews including Scott, Stuart, Len Silver, Billy Hamill, John Sampford and Craig Boyce plus all the action including the Men in Black. It's 90 mins long and retails for £15 including p&p. Contact details can be found here.
The website for the Telford Ice meeting has received its annual makeover. David Crane is now looking after the site. The address is www.telfordice.co.uk.
Edinburgh's promising reserve Sean Stoddart now boasts a personal website. It features the usual profile, news and gallery links.
Updated on 16th October 2004
Steve Harland's Tribute to Scott Robson was too late to make it into Scott's testimonial programme. We're happy to feature it here.
Who was the youngest rider to ever captain a professional speedway side? We think we know. Find out who we think it was in Speedway's Youngest Ever Captain.
The Official Newcastle website is no more. You can find a new fans forum here.
Vince Brown wrote in after seeing our pictures of the Weymouth circuit:
"Great to see Weymouth back. The lovely people of Weymouth deserve a track and will enrich Speedway again. I`m now 38 and rode Saturday sessions with Lou. Weymouth was the place where dreams were made and realised and the people were a model example to all in any sport. Good luck to you and thank you for the love and kindness you always showed to a bunch of louts from Swindon."
Updated on 9th October 2004
Weymouth are celebrating the 50th Anniversary of their first meeting today. They re-opened at their new purpose built stadium last season. Richard Hollingsworth's pictures give those of us of who've not yet visited a look at the stadium.
Poole fan Bob Cole includes his all-time hero Christer Lofqvist in his Dream Team.
Quotes from Jason Crump, Ryan Sullivan, Magnus Karlsson and Nigel Wagstaff are all included in this week's Soundbites
The first ever female only speedway team has been formed at Sheffield. Find out more at the Sheffield Angelz website.
Mr. D. Harrington left the following feedback on When the Rangers Roared:
"I have wonderful memories of speedway at New Cross. I lived for Wednesday nights. I attended ever home match in 1946 and 1947. The magnificent team of 1947 still lives in my memory. Here it is, Ron Johnson, Eric French, Jeff Lloyd, Lionel Van Pragg, Geoff Pymar, Bill Longley, Frank Lawrence and Ray Moore. In 1948 I went to Wimbledon for the Wembley v New Cross match as owing to the Olympic Games at Wembley Stadium the Lions had to ride their home matches at Wimbledon. Another memory of 1948 was of Ron finishing runner up in the British Riders championship to Vic Duggan. I still on occasions, when I feel nostalgic, go to the old stadium site and relive the old days in my mind. Speedway is not the same now with all the adverts on the riders leathers and the different helmets but I suppose everything changes. Even the old Millwall Football ground is now a housing estate. Still they can't take our memories away can they? One last time - Up the Rangers!"
Grant Crawford was happy to see Andy Baillie's Dream Team:
"Memories of Tigers at Coatbridge came flooding back. I remember Pogo team-riding with 'Trapper' John Wilson - real team riding. I particulary recall the Tigers v Eastbourne match when Wilson was incredible scoring his first max and the night he broke the tapes with the visor on his helmet he was so fast out the gate. Whatever happened to Jimmy Gallacher?"
Updated on 3rd October 2004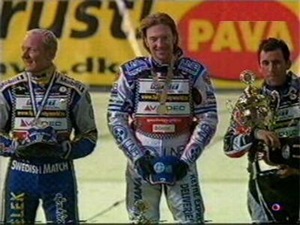 Jason Crump - World Champion 2004
Ireland's never been a hotbed of speedway activity, but there have been numerous attempts to introduce the sport over the years. Stuart Cosgrave was one of those brave enough to try his hand at promoting there. You can read a very honest account of his adventures in an article we've entitled 'Promoting in Shelbourne'.
Even when a rider is recovering from injury there's usually still room for a bit of humour. Chris Gosling recalls an amusing incident from the past in Tiddler's Trip to Hospital.
Crump, Rickardsson and Hancock share their thoughts on the GP in this week's Soundbites. There's also plenty of comment on domestic issues from the likes of Mikael Max, Shane Parker, Rory Schlein and Paul Clews.
The dulcet tones of Mike Bennett have returned to Saddlebow Road in recent weeks. He got in touch to explain why:
"After the interview appeared on your site, I had a great many emails and phone calls from people saying how much they enjoyed it etc. By coincidence, around the same time, Keith Chapman had contacted me to plug a meeting at Kings Lynn on my radio show. I suggested doing a live interview with him and at the end of it, he invited me and the family to that nights' meeting as his guests.
I duly turned up, was chatting to him in the pits around 7.30pm. Somebody asked him who was presenting that night, he looked around and realised there was nobody to do it and promptly placed the radio mic in my hand!!
I didn't do the parade as I really didn't know the riders but by the 3rd or 4th heat, I was back in to it and the reaction was very positive. It felt like I had never been away if truth be told and, apart from a few rule changes, it hasn't been too difficult to come back.
I have said to Keith I'll do as many as I can this season and then have a serious chat during the winter about 2005."
Dave Stewart includes many action pictures from recent Boston meetings in his xtreme-action-images.com website. Follow the 'Speedway' links to see the pictures.
Robert J. Rogers passed comment on our articles on West Ham:
"How nice to see the old names and faces. I am suprised with West Ham Speedway`s great history, that nobody has set a web site for them. You may be interested to know that the Canadian Vintage Motorcycle association has just had Eric Chitty added to the Canadian sport hall of fame."
And New Cross:
"Bob Dugard and Stan Stevens were both ex-rangers who joined West Ham when they re-opened in 1964. There was quite a following by the Rangers fans, and in 1965 when the Hammers took the championship, New Cross sent a coach of supporters to cheer us along on that wonderful night in October 1965 at Cradley Heath.
Talking of Cradley that night, we were with one of about 25 coaches of suppoters who made their way up to the midlands, but owing to fog, the lead coach got lost, the convoy broke up and we ended up with two groups of coaches full of supporters passing each other going in opposite directions!
Somebody decide to wave a Police car down and ask the way. When it was explained to the police, they put an `all car` call out and our various coaches were rounded up like a sheep dog trial, and escorted in convoy with police at back and front into the Cradley stadium. I dread to think what the Cradley fans must have thought!".
Updated on 25th September 2004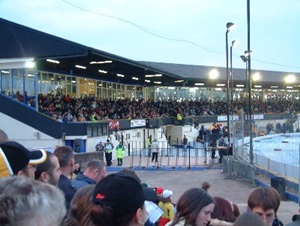 Coventry's Brandon Stadium is one of the few tracks that has been staging speedway since 1928. It was also home to the British Grand Prix prior to the event's move to Cardiff.
Dave Green makes his Speedway Plus debut this week. His interesting article, We are the Champions?, highlights what appears to be a discrepancy in the finanical rewards associated with this year's Elite League. Be aware that reading this article may affect your enjoyment of the play-offs!
Soundbites this week has comments from Ross Brady, Carl Stonehewer, Mick Horton, Graham Drury and many others.
Janet Hunter got in touch with some interesting feedback on Harry's article on West Ham.
"Great reading your report on 'Growing up with the Hammers' especially the paragraph about Norm the Storm, my ex-husband, whom I am in constant contact with. I remember with much affection the years we spent with Norm riding at West Ham, it was a great 'family' that team, everyone got on so well, the riders and 'us' wives. Norm and I got married in 1965, that was certainly a great year when they won everything. All the best to you."
Nero Frost passed comment on our pictures of Park Road.
"I remember going to Barrow with the Comets, several times to Holker St and latterly Park Road. I remember Park Road as a neat little track with decent racing. Shame any track has to close really. There's always someone who'll support their team and enjoy Speedway. I know a couple of Barrovians who follow the Comets. (I know a few Comets fans who supported Bandits during the Workington wilderness years)"
Updated on 18th September 2004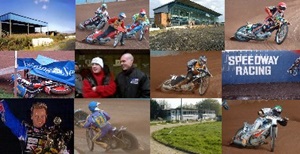 Happy Birthday Speedway Plus
Believe it or not, this week marks the fifth anniversary of Speedway Plus first hitting the internet. Thanks to everybody who has helped to keep the site going over the years and we hope you'll stick with us in the years to come. We look back on our first five years in a special retrospective - nothing wrong with the odd bit of self-promotion!
So what was happening on the speedway scene when Speedway Plus first appeared? Find out in our Flashback to September 1999.
Harry Ward returns to the site today and he's a concerned man. Have you spotted a subtle change to the conditions of entry at your local track? Harry has! Read his thoughts here.
Tony Dart, Jan Staechmann, Magda Louis and Craig Watson are amongst those sharing their views in this week's Soundbites.
Middlesbrough Bears are currently running their Rider of the Year award for 2004. Nine riders have qualified by riding in a minimum three matches for the club. You can cast your vote at www.borobears.com. This season the Bears have ridden in 12 matches and used 18 British riders. The matches have been against the Ashfield Giants (twice), Berwick, Crewe (twice), Hull Angels (twice), Oxford, Sheffield, West Lothian Wildcats (twice) & Workington Juniors.
Krister Marsh is the latest rider to sign up with Black Diamonds Web Design. You can check out his new website at www.kristermarsh.co.uk.
Updated on 11th September 2004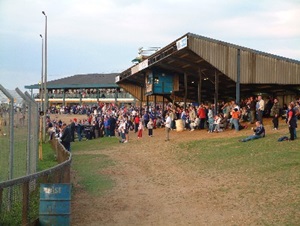 We're still as keen as ever on the track photographs here at Speedway Plus. The stats suggest that they remain popular with our visitors as well. This latest set are of the Arena Essex Raceway. These come to us courtesy of, good friend of the site, Richard Hollingsworth.
This week's Soundbites includes comments from Alun Rossiter, Garry Stead, Matej Ferjan, Jon Cook, John Perrin and Denise Drury.
Somerset's Glenn Cunningham stages his testimonial at the Oak Tree Arena on 24th September. The impressive line up includes Jason Crump, Leigh Adams, Magnus Zetterstrom, Leigh Lanham, Craig Boyce. There will also be a special guest appearance by Phil Crump. You can find out more at Glenn's new website.
Comeback man Peter Collyer has also launched a new website. You can follow his return to the sport at pjcracing.co.uk.
GlasgowSpeedway.com appears to have been around for a few months without anybody noticing. Surprising, as it's a very nice site indeed. It's an unofficial site and covers the Tigers' affairs in great depth.
In other 'Web News', the ever-popular Speedway Forum is now sponsored by the excellent retro magazine Backtrack. Both are well worth a look.
Updated on 4th September 2004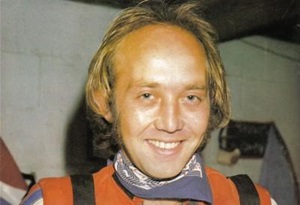 We catch up with another 'blast from the past' this week with an An Interview with Les Rumsey. Les was one of the top National League performers in the seventies and eighties. His clubs included Canterbury, Crayford and Exeter.
This week's Soundbites includes comments from Alan Dick, Leigh Adams, Matt Ford, Peter Carr and Dingle Brown.
John Dickerson has fond memories of Ken McKinlay:
"Ken was one of the all time greats. The best 'Jock' that ever sat on a speedway bike. I Will always remember him and the battles with Terry Betts at King's Lynn. A true sportsman that will go down in history."
John Myers made the following comments on New Cross:
"Excellent stuff, I was a Rangers supporter from 1960 till the end, best night - when Split Waterman beat Ove Fundin twice in one night, the roar must have been heard all over South London. How many hats did Johnnie Hoskins lose in all those season?
Best riders - Barry Briggs, Eric Williams.
Best triers - Leo Mcauliffe, Reg Luckhurst, Jimmy Gooch and Split.
Thanks for the memories."
Steve Trickett is looking for a copy of "The History of the Ellesmere Port Gunners" by Howard Jones of Speed-Away promotions. He's willing to pay a good price for it. He can be contacted at Tricky871 @ aol.com
---
ARCHIVE
[ Use Desktop Version ]
Comment on this Article | Contact Us | Go Back to Main Menu