DVD Review: 101 BIG World Championship Moments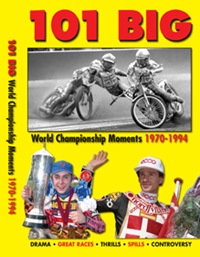 From 1936 until 1994 contenders for the speedway world championship had to negotiate a series of ruthless knock-out rounds to reach the one-off world final in September. There was little margin for error and riders planned their whole season to ensure they peaked on the big night. You can now relive many of those great championships through a new double-DVD boxset from Retro Speedway.
101 BIG World Championship moments is a chronologically ordered run through of the best races and biggest controversies in the World Championship between 1970 and 1994. With four hours of footage there's plenty packed in to keep you entertained on these long winter evenings.
As you would expect, Ivan Mauger features heavily in the 1970s section of the film. His dominance of the sport in the decade is reason enough, but we are also reminded that he was often heavily involved in any controversy that arose.
One great example is his 1976 clash with John Davis in the Inter-continental final. Davis is rather harshly excluded and it's clear that Mauger's experience plays a part and infuriates Davis. The inclusion of interviews offering the contrasting viewpoints, such as this one with JD, is a definite plus for this DVD.
Mauger is also candid enough to admit in another interview that he has deliberately given up on prize money to ensure a better place in the riding order for the World Final one year - a year in which he goes on to win the title.
The seventies were also the heyday of Ole Olsen and Peter Collins. We see them both lift the crown, with Collins in particularly reminding us of how brilliantly talented a rider he was. There's also plenty of footage of other seventies icons - such as Phil Crump and the perpetually unlucky Dave Jessup.
The World Championships of 1981 and 1982 will never be forgotten and are both given generous coverage here. We see the beginnings of the Carter/Penhall rivalry in the 1981 Overseas Final; the incredible Penhall/Olsen race from Wembley; Penhall popping wheelies in the '82 Overseas Final to help his compatriots and all the drama of the Penhall/Carter incident in the LA Coliseum. Two incredible years and a real high-point in World Final history and indeed on this DVD.
The World Championships in the remainder of the decade definitely suffered from comparison. Starting with Muller's win on home soil at Norden, then the Danish domination that never captured the public's imagination in the same way as Penhall and Mauger had in the past.
Highlights of the 80s include:
Kenny Carter riding with a broken leg to keep his World Championship dream alive.
The track staff at Norden standing inches from the white line, unimaginable in these more safety conscious times.
The unique 1987 final that was staged over two days in Amsterdam.
An all-Danish 1-2-3 in 1988 as Jan O'Pedersen joins the more celebrated Gundersen and Nielsen on the rostrum.

The 1990 final was back in Britain at Odsal for the second (and last) time. There's excellent coverage of some of the qualifying rounds that year, plus another chance to see the run-off between Jonsson and Shawn Moran.

For the last four world finals the footage is sourced from foreign tv coverage, an indication of how far down the priority list the sport had fallen for television by then. Indeed many people may never have seen these finals at all as a result.

We see four different winners pick up their first title - Jan O. Pedersen, Gary Havelock, Sam Ermolenko and Tony Rickardsson. Tony went on to add another five titles under the GP system, but the others had to content themselves with a single championship.

Of the four finals the 1992 and 1994 ones are perhaps the most interesting.

1992 sees Havelock recover from a heavy fall to clinch the title in the pouring Polish rain at Katowice.

1994, the very last world final, features a number of riders who would go on to dominate the sport in the years ahead - Rickardsson, Crump, Hancock and Loram. It feels like the beginning of a new era in every sense.

This production (split over two discs) is a great mix of nostalgia, controversy and fantastic racing.

Watch a trailer for the DVD
---
How To Order
By Phone : 01708 734 502
By Post : Send a cheque for £16 (payable to Retro Speedway) (add £2.50 if outside UK) to:

Retro Speedway
9 Nursery Close
Glossop
SK13 8PQ
Online : At Retro-Speedway.com
This article was first published on 26th November 2017
[ Use Mobile Version ]
---

Barry Pickering:

"Great article, but there are a couple of minor corrections. The Mauger-Davis clash happened at London White City in 1977 and Gary Havelock was victorious in Wroclaw in 1992."

Comment on this Article | Contact Us | Go Back to Main Menu