DVD Review: The Ole Olsen Tapes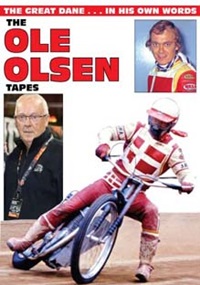 It may have closed its magazine publication arm, but Retro Speedway continues to produce its excellent range of historical speedway DVDs.
Their latest release is The Ole Olsen tapes, a double-disc set that features two detailed interviews with the great Danish rider. The first interview was recorded at Ole's home in 2008 and is in audio only, though interesting photographs and video clips are played throughout it to keep your eyes entertained. The second interview is on video and dates from 2016.
These interviews are a real deep-dive into a life spent almost entirely in speedway. Covering everything from his first sight of speedway, right through to his days as the supremo of the Grand Prix series.
It was at Newcastle that he first came to the attention of British fans, joining up with the Diamonds at the behest of promoter Mike Parker. Ole speaks very fondly of his time at Brough Park and remembers Parker as a "great man" and a "fantastic promoter". The Newcastle fans also clearly hold a special place in his heart, he remembers that they always treated him well.
It was at Newcastle that he first met Ivan Mauger, who would become his mentor and life-long friend. Ole shares many great memories of their relationship, recalling that they would travel together which afforded him the chance to pick the Kiwi's brains. His sophisticated technique was to ask Ivan the same question three times (over a period of time) and if he got the same answer twice he concluded he could trust Ivan's response!
Those early days spent with Ivan were critical to Ole's later success, teaching him the value of professionalism and attention to detail. Even when they became competitors for the world title, the respect and friendship endured. Ole recalls that before a big meeting he would always tell Ivan - "If I don't win it, then I hope that you do". A sentiment that was reciprocated.
Another legend that influenced Ole was Ove Fundin the great Swedish rider. As a legendary figure from Scandinavia he was someone that Ole looked up to and was delighted to get to know, often sharing flights as they traveled around Europe together.
As the 1960s drew to a close, Ole decided that he needed a change of scene and that it would be beneficial to move to a track in the Midlands, very much the beating heart of British speedway at that time. Mike Parker was keen to continue their association and persuaded him to become a Wolverhampton Wolf.
His time at Monmore Green coincided with the tragic passing of Gary Peterson, who Ole takes time to remember in these interviews.
It was in his second season at Wolves that he won the first of his three world titles, triumphing in Ullevi with an immaculate 15 point maximum. Needless to the say the meeting is covered in detail on these DVDs, including black and white film of all of his races.
His record in the finals of the 70s was remarkable, never being out of the top four from that initial win in 1971 right through to his third and final win in 1978. His other win coming at Wembley in 1975, which in contemporary interviews he tells us was particularly special. It's noticeable that old friend Ivan Mauger is one of those giving him the bumps after his final race. There's excellent coverage of Ole's World Finals included here, provide vivid reminders of exactly how top-level speedway looked a few decades ago.
By 1975 Ole had decided that it was time to move to pastures new, angling for a move to join the Coventry Bees. At that point the dreaded rider control committee were still allocating riders to tracks, so forcing through his preferred move proved to be difficult. He was initially allocated to Hull Vikings, despite making it clear he had no intention of joining the Humberside club. After much bad feeling and complex negotiation it was decided that Hull could sell him to Wolverhampton. Interviewer Tony McDonald reminds us that Hull boss Ian Thomas said this was the easiest money he ever made.
McDonald conducts both interviews on the DVDs, demonstrating his own remarkable knowledge and love of the sport.
Olsen's time at Coventry brought him into contact with Peter Adams who would become a significant influence on his career, acting as an advisor and organiser. Adams has gone on to enjoy the same kind of longevity as Olsen has, still very much involved in speedway now as manager of Wolves and advisor to Tai Woffinden.
By this time Ole had begun to spread his wings, opening up his Vojens Speedway Center in Denmark and launching the Masters of Speedway series. His track at Vojens gave him the chance to present and ride in top class speedway in his homeland. It's proven to be an enduring success, still staging Grand Prix meetings almost fifty years after it opened.
The Masters of Speedway series was launched despite opposition from both the B.S.P.A and F.I.M. Ole appreciates the irony of him running the official Speedway Grand Prix series for the F.I.M. many years later, given the obvious similarities with his own competition.
Ole's years at Coventry coincided with the peak interest of broadcaster ITV in the sport, allowing us to see some marvelous footage of league meetings between the Bees and Cradley Heath. Reporter Gary Newbon clearly had a great relationship with Ole, sharing some good natured banter. Dave Lanning was on his usual commentary duties observing - "Who said speedway is a dying sport? It's a very lively corpse".
Olsen called time on his racing career at the end of the 1983 season, revealing that he decided he needed to do it in a year in which he'd been in the World Final. While he could certainly have remained a force for several years to come, he seems happy to have moved onto the next stage of his speedway life.
That next step proved to be taking over as team manager of the Danish national team. Given the talent at his disposal that should have been the easiest gig going. In reality it proved to be a very controversial time, mainly due to a perceived conflict of interest with Ole's other role as advisor to Erik Gundersen.
Ole offers many candid reflections on that time. His perception was that while Erik was very receptive to advice, Hans Nielsen was much more likely to question it. Tommy Knudsen was the third wheel in the Danish dominance and he was another that upset that Ole was in Erik's camp, given their shared history at Coventry.
Although there was bad feeling at the time, Ole firmly believes that the rivalries that developed were good for all of the riders, lifting them all to greater heights in a fight for dominance.
He's a very interesting man and these interviews draw out many great anecdotes and some inspirational quotes that wouldn't look out of place on Instagram.
Particular highlights are: "If you want to get up the mountain, then ask someone who has been up there" and a great tale about the time he drunk a fuel additive in front of a disbelieving machine examiner.
There's nearly four hours to enjoy, the interviews intertwining with archive racing and interview footage. You'll definitely come away having learned something and with an even greater respect for a man who has devoted his life to speedway and clearly doesn't regret a second of it.
The Ole Olsen Tapes is available now from retro-speedway.com
This article was first published on 17th September 2023
[ Use Mobile Version ]
Comment on this Article | Contact Us | Go Back to Main Menu