When the Rangers Roared....by John Hyam
Jack Milne
SPEEDWAY racing down the Old Kent Road in South East London is just a long-distant but fond memory.
New Cross Stadium is now parkland, but for thousands of 'Wednesday nighters', great names like Ron Johnson, George Newton, Jack Milne and Tommy Farndon still roar round the 262-yard speedway, one of the smallest-ever tracks to be built in Britain.
Speedway started at New Cross on April 18, 1934, when promoter Freddie Mockford moved the Crystal Palace team into the new stadium at Hornshay Street, just off the Old Kent Road. New Cross beat West Ham 32-21 in a National League match in front of 15,000 fans. The team were initially known as The Lambs, but soon became The Rangers.
Ron Johnson
Australian rider Ron Johnson, who lost the tops of two fingers on his right hand when he bent down to adjust a clip on his bike's primary chain, was one of the top men until well into the 1940s. And losing parts of the hand didn't worry the old-timers. American ace Jack Milne lost his right thumb in a track accident in 1937, and practiced a new-style throttle control on his hospital bed rail. He came out and carried on the season in brilliant form, ending the year as World Champion. He took the crown from the Australian Lionel Van Praag, who rode for Wembley.
Tommy Farndon was the only rider die after an accident at New Cross. It happened in 1935, during an unimportant second-half race, after Farndon had raced unbeaten in the preceding league match. Farndon's machine locked with close rival Ron Johnson's bike as they went into the pits bend. He was thrown into the safety fence, and taken unconscious to the Miller General Hospital at Greenwich.
Crowds waited for days outside the hospital for news of Farndon's condition, and when it was announced he had died, many fell to their knees, crying in anguish.
Another favourite was the wildly spectacular George Newton, who like Farndon was a legtrailer. Newton's best pre-war season was 1938, when he set a track record of 58 seconds that stood for 10 years. But at the end of 1938, he was forced to retire because of a lung infection.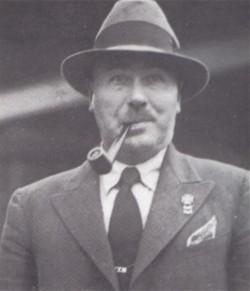 Freddie Mockford
In 1948, Newton made a comeback, minus one lung. His first meeting proved a disaster. He fell in every race, twice on the starting gate. But Newton persisted and by mid-season was hitting big scores, until he was rushed to hospital with peritonitis. In 1949, he came back for a few meetings, then went into the second division and rode until the end of 1953.
The 1938 season was New Cross' best pre-war effort, when they won the National League First Division title by five points from West Ham. Ten years later they had their only other title when they finished in front of Harringay.
New Cross closed in September 1939 when World War Two started, and were among the first to reopen in 1945. They ran a series of open meetings before the league restarted in 1946. Ron Johnson, Geoff Pymar, Les Wotton and Eric French were the backbone of the 1946 team.
An interesting addition to the team that season was the veteran South African rider Keith Harvey, who made a return to racing in May, just a few months short of his 50th birthday.
The end of speedway in a big way at New Cross came on June 10, 1953, when Freddie Mockford withdrew them from the National League. In the last match they drew 42-42 against Bradford. Johnnie Hoskins reopened the track on August 19, 1959. He relinquished his interest at the end of 1961. Speedway was back on April 12, 1963, when Wally Mawdsley entered the team in the Provincial League, but they folded in mid-season.
---
This article first appeared in the South London Press in August 2004.


http://www.icsouthlondon.co.uk

This article was first published on 9th October 2004
---

John Myers made the following comments:
"Excellent stuff, I was a Rangers supporter from 1960 till the end, best night - when Split Waterman beat Ove Fundin twice in one night, the roar must have been heard all over South London. How many hats did Johnnie Hoskins lose in all those season?
Best riders - Barry Briggs, Eric Williams.
Best triers - Leo Mcauliffe, Reg Luckhurst, Jimmy Gooch and Split.
Thanks for the memories."
Brian Read:

"I am pleased to have found your site. I attended New Cross from 1946 until the early 50's, and saw all the greats of that time. Besides Ron Johnson there was Bill Kitchen/Eric Chitty/Jack Parker/Ken Le Breton etc. etc.

I still have Les Wotten's and Chalky White's autographs and an almost complete set of pre-war cigarette cards.

I have very fond memories of speedway at that time."
Derek Fey:

"I was at a Meeting at New Cross, when Bronco Wilson (Wembley Lions) fell awkwardly (he was a big man) and was killed almost instantly. I was also there when Ron Johnson lowered the track record from 58.0 to 57.8 seconds."
John Hyam:

"Re Bronco Wilson: The Wembley rider died from injuries sustained in a crash at Harringay in August 1947 and not as suggested following an accident at New Cross."

[ Use Mobile Version ]

Comment on this Article | Contact Us | Go Back to Main Menu