The 2020 British Speedway Season - Month by Month Review - Part Five
By Arnie Gibbons
July was a rollercoaster month with hopes of a return to racing action in front of crowds alternately being raised and then dashed through the month.
July
Oliver Dowden MP, Secretary of State for Digital, Culture, Media and Sport, revealed how grassroots team sports could resume from the following weekend. Sports will need to publish specific guidance approved by government officials (9 July). The British Speedway Promoters Ltd, encouraged by this news, issue a statement the following day:
"we believe we are within touching distance of our sport being able to start a reduced season. However, we acknowledge the clock is ticking and if we cannot begin league racing in August there is every chance the season will run out of time."
News of a planned resumption of stock car racing at Ipswich (on 25 July) with a crowd in attendance (face masks compulsory) has lifted hopes for speedway's resumption. Speedway Star reports that Rob Godfrey is 90% confident that league racing will resume following the next set of Government pronouncements, due within the week.
Crowds could be able to return to sports stadiums in England in October, prime minister Boris Johnson announced in a press conference on 17 July. Mass gatherings at sports events have been banned since March as part of social distancing measures brought in to combat the coronavirus pandemic. But as Johnson set out the next stage of the recovery road map, he said the government were working towards crowds returning after some test events. "We will pilot larger gatherings in venues such as sports stadia with a view to a wider reopening in the autumn," he said at a Downing Street briefing. "From October we intend to bring back audiences in stadia and allow conferences and other business events to recommence, again these changes must be done in a covid-secure way subject to the successful outcome of pilots." The four pilots are: the upcoming World Snooker Championships (Sheffield from 31 July), Glorious Goodwood horse racing festival (starting 1 August) and two county cricket matches.
Scunthorpe stage an amateur meeting, won by Jamie Halder, the first speedway event in the UK since March. (19 July)
Championship newcomers Kent have confirmed they are seeking a replacement for heat leader Nico Covatti regardless of when the sport is able to resume. Covatti, who was also set to race in the top-flight with Ipswich, is working for one of his main sponsors in a large factory back in Italy, which he plans to continue whilst racing in his home country at weekends. Promoter Len Silver stated "he will not ride in UK in 2021, having already ruled out a return if we race this year three weeks ago."
The following day (22 July) Len Silver's announcement becomes redundant, as the BSPL confirm the cancellation of league speedway in Britain for 2020
IT can now be confirmed with great reluctance and disappointment that professional league speedway in the UK has been cancelled for 2020.
This news comes following the announcements made by Prime Minister Boris Johnson last Friday which stated October as the target date for crowds to return to sporting stadia. This does not give enough time for a full season of league racing to be staged.
In the meantime work will continue on the grassroots level of the sport and clubs have been invited to gain the necessary permission from their local council to stage some form of racing before the end of October.
Rob Godfrey, Chairman of British Speedway Promoters Ltd, said: "We would like to offer our sincere appreciation for the supportive attitude shown to us from our broadcast partners Eurosport, they have been very understanding of this most difficult situation for the sport.
"Promoters up and down the country have worked 24/7 to try and give themselves every opportunity to stage league racing this season and I take my hat off to all those who have shown a positive attitude throughout. We have never given up and it is only the announcement from the Prime Minister on Friday that has left us with no choice.
"It is also important for us to thank all the riders who have remained patient throughout all of this, they have been left in an extremely difficult situation and our thoughts are with them all. In addition, the loyal sponsors throughout the country must also be acknowledged , their support is much appreciated by clubs. And we must also thank all supporters of this wonderful sport in this country. We must now embrace the future and look forward with a positive attitude as we look to grow British Speedway.
Note several club press releases reported this development the previous day, some such as Swindon, Sheffield and Newcastle added that there would be no racing of any sort at their tracks in 2020. Others, including Mildenhall, Kent and Isle of Wight make similar announcements in the days that followed. Kent, optimistically, also announced a reopening date of 31 March for 2021. Some tracks indicated that they might still stage meetings - Ipswich, King's Lynn and Wolverhampton among them.
18-year-old Anders Rowe signs for Unia Leszno. The young Brit is confirmed by the PZM as a starter in the 2nd league, where he will represent Unia's farm team Kolejarz Rawicz. (23 July)
Finally, the first post-lockdown speedway meeting in Britain is announced. Scunthorpe will stage the first round of the British Youth Championship on Sunday August 9. The venue, has local council permission to run speedway at grassroots level with restricted crowds.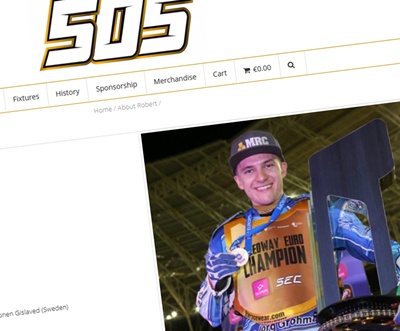 Robert Lambert - European Champion
Rob Lambert wins the European Speedway Championship over Leon Madsen and Grigory Laguta, securing his 2021 Grand Prix place in the process. He is the first British winner of the competition in its 20 year history. (29 July).
The month ends gloomily, with local lockdown for Manchester and confirmation that there will be no National Development League this season. Given that by then Belle Vue & Leicester were in local lockdowns, Armadale was subject to separate Scottish rules, while four other tracks had already said there would be no racing in 2020 - leaving only Plymouth still capable of participating, this was not really news.
And in a further blow to the hopes of a return to normalcy the pilot of spectators at sporting events collapses amid a Government u-turn with spectators already inside the Crucible for the opening day of snooker's world championships. With infection rates rising once more (particularly in the north) spectators were allowed to remain present on the first day, but banned from the remainder of the tournament. (31 July)
Part One - Part Two - Part Three - Part Four - Part Five - Part Six - Part Seven - Part Eight
This article was first published on 7th March 2021
[ Use Mobile Version ]
Comment on this Article | Contact Us | Go Back to Main Menu