Book Review:
26 Shades of Shale by Jeff Scott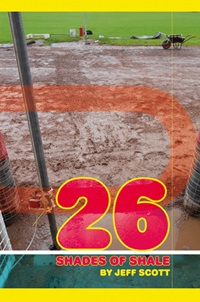 After seven seasons travelling the nation's tracks, Jeff Scott has hung up his notebook and opted for less frustrating ways of spending his time and cash. 26 Shades of Shale is the seventh and final part in his 'trilogy gone wrong'.
The 180 pages follow him to 26 meetings from early May until the end of September during the 2011 season. Most tracks are covered, including the non-league circuit at Sittingbourne, though he doesn't seem to have made it down to Plymouth and Eastbourne (given his connections with the club) is another surprising omission.
It's the familiar format that we've come to expect from Scott's travelogues. Some pre-meeting banter with other early arrivals, commentary on the evening as it unfolds and a permanent record of the conversations around him. It's a style that still works well, allowing him to go off on numerous tangents but retaining a structure with a beginning, middle and end.
Some of the conversations are definitely worth capturing for posterity, one early example being the chance encounter with Kelvin Mullarkey's daughter, who is strangely reticent to say who her father is. Another is the guessing game with Charles McKay that eventually reveals that Stoke issue refunds via Postal Orders.
There's little doubt that the books have become a little predictable, often featuring the same characters from each track he visits, meaning that the brilliant freshness of his original book has never been recaptured. His own perspective has changed from outsider to insider, meaning that he's probably more reluctant to ruffle feathers than he was initially, though I'm sure there will still be some who manage to be offended by something in this one.
As always, his affection for the sport (and those involved in it) is evident throughout, he gently pokes fun at well-chosen targets, rather than criticising for the sake of it. His ability to capture the whole speedway experience is unrivalled, his eye for detail incredible and his way with words something to be admired.
His own website describes him as "arguably the most persistent Speedway author in a generation", a self-deprecating but entirely accurate description of the likeable Jeff. I'm sure his presence has been missed by his many friends around the tracks this year and it's a shame that his off-beat chronicling of the speedway experience will not continue in future years. Perhaps after a hiatus he may return in a few years to see how things have changed?
This book is available from www.methanolpress.com
This article was first published on 9th December 2012
---

C. Hodgson:

"180 pages - £24.50??"

[ Use Mobile Version ]

Comment on this Article | Contact Us | Go Back to Main Menu