DVD Review: Speedway in the 70s - A to Z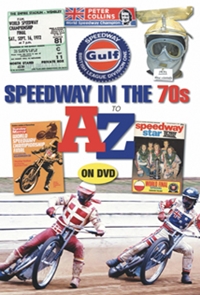 Tony McDonald from Retro-Speedway has collected a huge amount of speedway video whilst compiling his vast range of Speedway DVDs. He's put this to good use in his company's latest release "Speedway in the 70s - A to Z".
Running to nearly six hours the treble DVD boxset brings back glorious memories of the sport's last truly boom decade. As suggested by the title, it's organized into alphabetically ordered sections, running from Ashby, Australia and Autrey right through to World Team Cup, Young England and Zoological Gardens (the famous grounds at Hyde Road home of the Belle Vue Aces).
Along the way there any many fantastic pieces of speedway footage, sourced from cine film, television coverage and even the odd newsreel. Much of the cine film has not been seen before and offers the opportunity to see racing from many circuits that have long since been greedily gobbled up for other purposes.
Tony McDonald himself is our guide, linking the clips together with his warm and informed narration. You can tell that he was around the sport during the 70s and got to know many of the characters involved.
And what characters there were in 1970s speedway - Ivan Mauger and Ole Olsen at their peak, Ronnie Moore and Barry Briggs still well to the fore and newcomers like Anders Michanek and Peter Collins making their names. All of these greats have their own dedicated section on the DVDs, plus many of the other biggest names of the decade: Terry Betts; John Davis; John Boulger; John Louis; Bernie Persson; Zenon Plech; Eddie Jancarz; Tommy Jansson; Billy Sanders and Ray Wilson to name but a few.
There are also tributes to some of the great speedway families - the Owens, Collins and Kennetts, plus testimonial meeting film from the Boocock brothers' big days, the first riders to be granted such a long-service reward.
It wasn't just the riders that were an essential part of the speedway scene in the 70s, there were also the off track characters. Promoters such as John Berry and Len Silver are included and there's a very fitting tribute to Dave Lanning, the legendary speedway commentator whose speedway legacy continues to this day through the media contributions of son Phil and grandson Taylor.
The speedway tracks themselves are also part of the A to Z run down. Whether it's the humble surroundings at the tiny Castleford circuit or the classic luxury of the twin towers at Wembley. We see Keith White riding round Crewe; Jack Bywater and Malcolm Ballard at Eastbourne; Mildenhall hosting big rivals Rye House; 14 year old Michael Lee catching the eye at Iwade; Mike Watkin in action at Brough Park; Rochdale Hornets tackling Long Eaton and so many other long-lost pieces of speedway action. It's not HD quality of course, so expectations do need to be managed, but it's undoubtedly classic speedway action.
There's also time for some lighthearted nostalgia - looking at items like monkey masks, rosettes, car stickers and the magazines and books we were reading in the 70s. Guaranteed to bring back happy memories for those of old enough to remember them.
We've only really scratched the surface of this box of delights, there's plenty for everyone to enjoy, no matter their age or speedway allegiance.
If you'd like to order your copy then head over to Retro-Speedway.com
This article was first published on 23rd November 2022
[ Use Mobile Version ]
Comment on this Article | Contact Us | Go Back to Main Menu