Riders to Remember....Alan Mason
By Tracy Holmes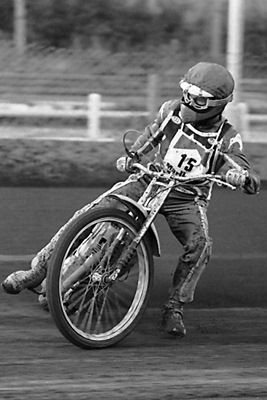 Alan Mason
(pic: Helen Jobson)
Alan had his first taste of Speedway when he visited the Templeton track near his home town of Christchurch, New Zealand. His passion for motorcycles continued through Highschool, where he gained work experience that lead to a mechanics apprenticeship at Norjo Motors, owned by Graeme Stapleton and Ronnie Moore.
His first speedway bike was an ex Stape 2 valve Jawa. The 76/77 season was spent 'mostly on my ass!' But trips away to Wellington and Invercargill helped knock off a lot of rough edges. The Ronnie Moore training schools however were the biggest influence in fine tuning. The next season saw a regular B grader 'start winning the battle of nerves' and the odd A grade appearance showed much promise. 78/79 saw Alan on a 4 valve Jawa riding with ever increasing confidence. While Graeme Beardsley and Tony Briggs were highlighting behind the established guns, Alan was building on a more solid foundation.
In 1981, his talent was spotted by Norrie Allen who was on a working holiday as crew for Ivan Mauger. He was recommended to 2nd division Glasgow. The 'apprenticeship' approach had paid off and Alan paid his own fare to Scotland. The 1981 UK season saw, 'Culture shock hit hard and Speedway was even harder.' Alan spent all year as reserve but his 38 rides from 14 matches saw an average of 2.7 and this was rewarded with a contract for 82.
Returning to NZ, Alan worked during the week as a mechanic and on the weekends, thrilled his hometown crowd with a matured, full-on style. Larry Ross won the South Island Final from Roger Wright with Alan 3rd. The NZ Final was held at Western Springs, Auckland. Poor Alan was back on his ass, literally. He fell in round one, scoring 2 points in the second but that was his final score for the night. A place in the Australasian Final just a dream.
HOWEVER, the Australasian Final was cancelled, replaced by seperate qualifying rounds for NZ and Australaia. The NZ round was at Templeton and Alan's true potential was finally realized, he scored 11 points for 5th place behind Larry Ross, Ivan Mauger, Mitch Shirra and David Bargh. 'Speedway is a confidence thing' and with the pieces firmly in place, he returned to Scotland where he shared digs with Wayne Brown, held a regular team place with Glasgow, 139 rides from 34 matches for a 3.6 average. Also getting to enjoy 2nd halves at Sheffield. 'It was a good year' and Alan returned to NZ with Kenny McKinna.
Together, they thoroughly entertained the Templeton crowd, taking on allcomers with hard polish and lots of wheelies. The 83 South Island Final ended, 1st Ivan Mauger 15, 2nd Larry Ross 14, Alan Mason 13. Shortly after, the 1983 NZ Final, World Championship Q round, saw the same result as last year, 11 points behind Shirra, Ross, Bargh and Mauger.
Back to the UK and it was 1st Division racing for Sheffield. 33 matches for a 3.2 average. He also got to enjoy riding in Germany, Holland and Sweden. The icing on the cake was being selected for the NZ World Cup team as reserve. Alan returned home to NZ and headlined alongside Larry Ross.
Yet another 11 points at the 84 NZ Final saw yet another 5th place. The 1984 UK season for Sheffield proved 'not a good time!' 23 matches saw an average of 2.9. Later in the year, a move to Newcastle made for happier times reflected in 13 matches netting a 3.9 average. He was again reserve for NZ at the World Cup and when Ivan Mauger failed to score, Alan got to ride and got a point.
The 84/85 NZ season was embroiled in controversy and Alan got caught up in the 'hillbillie circus'. Larry Ross won the NZ Final at Templeton unbeaten with 15 points, Alan 2nd on 14. At last, he was on the podium but the joy of this soon turned to bollocks. The meeting was declared 'black'. Larry and Alan were fined 500 dollars before getting their International licences back!
It was back to Scotland for 85 and 2nd Division Edinburgh. 19 matches gave him an average of 3.7. After leaving Edinburgh, he moved to Long Eaton and after an early couple of great scores at his new home, was generally a tail-ender. His 30 matches gave him an avearge of 4.4.
The World Cup saw Alan get to ride again and at Bradford, he scored 2 points. One of the highlights that year was attending the World Final at Bradford. But after also seeing the 81 Final at Wembley, 'this was more like an International at Sheffield.'
By now, Alan had come to know that being a speedway rider really wasn't for him. He had given it his best shot and could happily live with that. He was also in love with Joanne and planning to marry. So after wintering in the UK, married he got and in 86, went to work for Kelly Moran. All was fine until Kelly's confrontation with a glass door in Poland. Chris Morton combined with Kelly's alcohol intake probably saved his life, but his season was over. Alan found work as a mechanic. But he did ride for NZ in the World Cup. He got 2 rounds in Finland and Hungary. The Finland round saw Mitch Shirra do a 'no-show'. Alan, Larry Ross and David Bargh were joined by Derek McKay, who was on holiday with David, and had only ridden in the country back home!!
Back in the UK, a call from Bruce Cribb saw Alan talked into riding again. He teamed up with Exeter and did 15 matches netting a 5.2 average. Alan was now father to James and the family travelled to NZ.
The 87 NZ Final at Western Springs was meant to be his farewell, scoring 10 points equal with local legend, Mike Fullerton, behind the big 3 of Bargh, Shirra and Ross. Adamant that he was retired, Alan was talked into returning to the UK where he rode 5 matches for Exeter. Averageing 3.1. When Larry Ross decided against riding in the Commonwealth Final, Alan lined up with Shirra and Bargh. At the big Belle Vue day, Alan scored one point but 'what a buzz!'
The Mason family returned to NZ to settle and the lure to ride proved too strong, Alan doing two seasons for the Christchurch Cheetahs plus a few gigs at the Ellesmere country days. He also did one more NZ Final, 1990 at Templeton but it wasnt a happy night, scoring just 3 points.
Alan's marriage to Joanne ended and she returned to the UK with James. But they stayed in regular contact and still do today. James is now 19. Today, Alan at 48, is married to Jackie and they have a 6 year old daughter, Jesse. Alan is a boat builder with his current hobby after years of jet skis being classic trials. You never see Alan at Moore Park. Perhaps the risk is too great that he could be tempted back on to the track, look at what's happened to Larry Ross!! But Alan Mason is one of the dozens of Kiwis over the decades who got to live the dream, riding in the UK, representing his country and seeing the world. He worked hard and today can reflect on a job so very well done.
We want to feature similar articles on riders from any era of the sport's rich history. If you'd like to contribute a piece then email us at speedwayplus@hotmail.com or fill out our form here.
This article was first published on 17th July 2008
---

Mark Wilson:

"I remember Alan well from his time in Britain, always seemed to have a lot of natural talent but didn't always get the points he should have."
Ken Jones:

"I was a lorry driver with A&E transport at the time Alan was riding for Sheffield and knew him quite well we had a few meet ups sat on curb just outside Berwick on tweed drinking tea and talking bollocks, what a nice bloke he was."

[ Use Mobile Version ]

Comment on this Article | Contact Us | Go Back to Main Menu