Riders to Remember: Alf Kaines
By John Hyam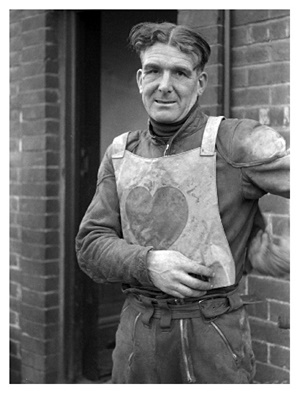 Alf Kaines
Alf Kaines was a hard riding speedway character who, pre-WW2, was associated with Harringay, Hackney and Lea Bridge.
Post-war he was briefly a reserve rider with Belle Vue in the 1946 season. That campaign came to a halt when he had a starting area crash and sustained a broken jaw. Kaines' best time in speedway was post-war at Southampton between 1947 and 1950 where he turned in many crucial match winning rides.
He looks the sort of rider not to raise a dispute with? But an old rider friend of mine, the late George Bason, who also rode for Southampton with Kaines, insisted he was a very nice cheerful chap.
It appears that Kaines was a proficient if an accident prone rider particularly at the start of his post war riding career when he only managed to complete four matches for Belle Vue before losing his team place due to injury. This was in 1946.
He then joined Southampton and rode for them for three seasons -
1947 riding 23 meetings and achieving a points average of 6.47.
1948 riding in 48 meetings and again with success achieving a points average of 5.98.
But in 1949 when Southampton moved up from National League Three to National League Two Alf's totals fell. He rode in 43 meetings but only managed a points average of 3.46.
In 1950 he rode in two matches for Exeter before calling it a day.
This article was first published on 8th April 2018
[ Use Mobile Version ]
Comment on this Article | Contact Us | Go Back to Main Menu