New Book: Among the Cinders
By Allan Batt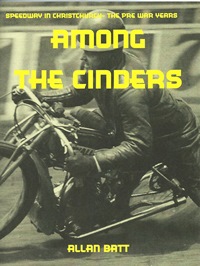 Christchurch is well known in the Speedway world for the legacy set by the big three- Ronnie Moore, Barry Briggs and Ivan Mauger, but not so well documented has been the pre war history of the sport in New Zealand's 'Garden City'.
Allan Batt's latest book - 'Among the Cinders' provides a season-by-season review of the racing, and off track dramas covering the period 1929 through 1938 when the Monica Park track operated.
Many of speedways pre-war legends rode there - Lionel Van Praag, Dicky Case, Squib Burton, Eric Langton and Putt Mossman to name but a few of them.
The limited edition comprising 56 A4 pages has plenty of rare, and crisply reproduced images.
Copies are available exclusively from: Speedway Classics, PO Box 19-687, Woolston, Christchurch, New Zealand 8241
or email to speedwayclassics@hotmail.com
The cover price is $30NZ with airmail being an additional $14NZ. Paypal, or cheques are acceptable.
This article was first published on 1st February 2015
[ Use Mobile Version ]
Comment on this Article | Contact Us | Go Back to Main Menu