Dream Team: Andrew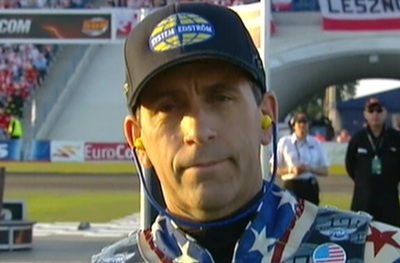 Greg Hancock
Been a speedway fan for many years. I supported the might Cradley Heathens until their sad demise. Did follow Coventry Bees for a while, but they just ain't Cradley!
Greg Hancock
Awesome out of the gate, he knows how to win a speedway race. Certainly knew the shortest way round Dudley Wood. 'The number one, the top of the shop, the creamof the crop' as the old Cradley announcer used to say. In my opinion he certainly is.
Ole Olsen
Another fast gater. Knew his way round Monmore.Very hard to beat once in the lead. Always aboard top class machinery. Surprisingly 'only' won thee wolrd championships.
Ivan Mauger
I think very little needs to be said about this phenomenal rider. Very classy and stylish. Such an engaging character as well. I remember seeing him ride for Belle Vue on many occasions. Such a thrilling, entertaining rider.
Tony Rickardsson
Outstanding ability on a speedway machine. Six world titles says it all. Very classy and always well presented. Very exciting to watch.
Hans Nielsen
Another fast gater. Ultra competitive rider who never knew when he was beaten. Excellent career at Wolves and later Coventry. Winner of four world titles during his oustanding career.
Billy Hamill
The one and only 'Bullet' So stylish on a speedway machine. Not known as a 'gater', but more often than not he would go from last to first, providing some thrilling racing. He certainly endeared himself to the Dudley Wood crowd with his all action style. Surprisingly, only ever won the one world title.
Jason Crump
Such an accomplished rider on a speedway machine. Ultra competitive. Always entertaining. Used to love to watch him ride the Dudley Wood circuit as he certainly gave the home riders something to think about. Three world championships in his career. In my opinion, retired much too early.
Submit Your Own Dream Team
This article was first published on 24th April 2016
[ Use Mobile Version ]
Comment on this Article | Contact Us | Go Back to Main Menu