Andrew Aldridge
By Tracy Holmes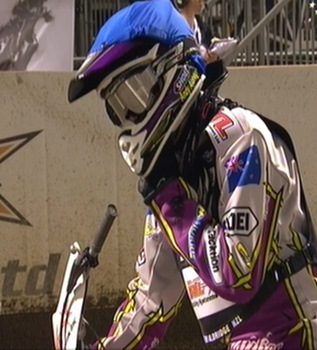 Andrew Aldridge in GP action
It's year 20 for the World Championship Speedway Grand Prix and at last, a Kiwi gets a ride.
On April 5, 2014, Western Springs, Auckland, New Zealand, heat 18 of the NZ GP, Christchurch's Andrew Aldridge lined up as reserve alongside Greg Hancock, Tai Woffinden and Chris Holder. Three World Speedway Champions! Darcy Ward was injured and unable to take his place.
It looks like 27 year old Andrew forgot the 'no brakes' bit when the tapes went up. But he thoroughly enjoyed the ride of his life. He told 'The Christchurch Press',
"My start cost me but I was pleased that I still stayed in touch and they were not pulling away from me with each lap."
Result; Hancock, Woffinden, Holder, Aldridge.
It was a little piece of history that will go down well in this part of the world. And especially here in Christchurch, home of Ronnie Moore, Geoff Mardon, Trevor Redmond, Barry Briggs, Ivan Mauger, Larry Ross and Roger Abel. It's made even more impressive as frightening injuries from 2012 nearly ended his career altogether! He surprised many by even thinking of coming back. Probably not family and friends though.
Now, before I am verbally savaged by Jason Bunyan supporters, I will put it straight. Yes, Jason has been the Kiwi representative in all 3 NZ GPs, AND RIGHTLY SO!!!
2012 Number 16 Jason Bunyan. 17 Grant Tregoning, dnr. 18 Sean Mason dnr. Andrew Aldridge injured, unable to take his reserve position.
2013 Number 16 Jason Bunyan. 17 Sean Mason, dnr. 18 Dale Finch, dnr.
2014 Number 16 Jason Bunyan. 17 Andrew Aldridge, 1 ride. 18 Grant Tregoning, dnr.
Jason is a modern day 'legend' in Kiwiland. Never has he given anything less than 100% on the track and off it. No 'exhibition rides' for this bloke, it's all or nothing and his 9 NZ Titles pay tribute to his exploits. And he would be a Kiwi by now if only Red Tape would allow it. Jason's efforts for NZ Speedway over the last decade are truly magnificent, "Good on ya mate!" We are looking forward to the day he owns a NZ passport. [ Has that happened already ? ]
Now Andrew Aldridge needs to pull finger out and win the NZ Championship. He has won everything else here but none of it reaches the speedway world's radar. The Kiwi Title maybe the bottom of the ladder, but at least it's on the ladder. Here is his tally so far;
2005 Gisborne, 8 points, 8th.
2006 Auckland, Semi 3rd. 6th
2007 Christchurch, 11 points, 5th
2008 Invercargill, 7 points, 9th
2009 Palmerston North, 10 points, 4th
2010 Invercargill, 9 points, 6th
2011 Auckland, 10 points, 6th
2012 Christchurch, inj dnr -
2013 Auckland, Final 4th. 4th
2014 Invercargill, Final 4th. 4th
Andrew's best shot will be next season and that's because Jason Bunyan wins the NZ Champs in lots of 3;
2004 1st
2005 1st
2006 1st
2007 3rd behind Andrew Bargh and Dale Finch.
2008 1st
2009 1st
2010 1st
2011 2nd behind Grant Tregoning.
2012 1st
2013 1st
2014 1st
Winning this year, Jason equalled the record of Larry Ross. Much as I would love to see him get number 10, I'm hoping Andrew can, at last, get the one that really matters!
IF and I believe it's a big IF, NZ hosts another SGP, Andrew would love to get that Number 16 jacket.
This article was first published on 13th April 2014
---

Dave Bush:

"Nicely written article Tracy and very interesting - let's see if you are right next year - good luck Andrew - go for it !"
Mike Wilson:

"Nice article Tracy. Andy possibly got the biggest cheer of the night when I announced he was coming out for heat 18. I think more than a few were impressed with his race pace and he has cemented his place in the Speedway GP history books. "

[ Use Mobile Version ]

Comment on this Article | Contact Us | Go Back to Main Menu