Another Oval Gone
By David Pickles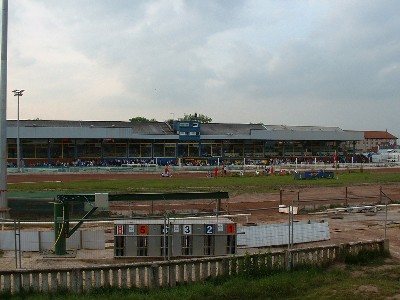 Kirky Lane - Belle Vue
Hot on the heels of the latest forced closure of Stoke, comes news that the original Belle Vue Stadium in Gorton is to close and be demolished. A further oval gone, and the death also of Greyhound Racing in Manchester and the North West.
Whilst speedway is now firmly catered for at the National Stadium, just up the road, the growing list of demolished stadia and the threat of closure by residents complaints, intransigent councils and greedy property developers continues. Granted, there is a bright ray of hope where Oxford is concerned, but the trend is towards wiping away stadiums that hold motorsports in favour of more lucrative housing opportunities.
In the past couple of years the sport has lost Lakeside, and Wimbledon Stadium is now but a memory. The disgraceful sight that has sprouted in Plough Lane is an affront to our great sport, and the rights of thousands of people that still attended in the form of Greyhound or Stock Car meetings. The great days of the Internationale and Test Matches with full houses are long gone.
Sadly, with exceedingly few exceptions, the parlous financial state of our sport means that promoters will always be on the hook for rent, and third parties or stadium owners will always have the upper hand. Rye House stadium is still there, but it doesn't look as though someone will take up the reins anytime soon, and the site itself is plum for redevelopment given it's particularly attractive position next to a river and a station.
I did some research recently on the financial aspect of the sport, plus the value of stadia back in 1974. Unbelievably back then the shares of the GRA, who owned many London dog tracks, and Wembley Stadium itself, could be purchased for a mere 16p each, and the whole company was valued at around £2m. The average speedway crowd was many times today's levels and with some foresight the then promoters could (and should) have formed a cartel and a new company and considered taking stakes in companies such as the GRA to cement the financial future of speedway. It could have been done, but was an opportunity lost forever, leaving us in the position we are in today.
Sadly thanks to government policies and councillors (I was one for 8 years once), with no interest at all in motorsports the die seems cast. What a great shame our sport is at the mercy of such events.
This article was first published on 29th December 2019
[ Use Mobile Version ]
---

Dave Hobson:

"I will always be grateful that Belle Vue Aces were saved by returning to the dog track when Hyde Road closed but after going to the inaugural meeting and being so disappointed with the stadium I didn't go again until 2015!

Yes I was spoiled by Belle Vue itself in its heyday, stadium, fun fair, zoo, music venues, beer Keller, all of this was replaced by a car auction and a bowling alley and housing.

My hero Ivan Mauger had retired by the time Hyde Road was demolished and although I remember at the time he did consider buying it, I'm more pleased he decided to retire to Australia's Gold Coast as after the Bradford City fire an all wooden stadium would have cost a fortune to upgrade and time has rolled on, Speedways crowds are now a fraction of what they were in the 1970's so the stadium would have closed.

Peter Collins and Chris Morton don't get the recognition they deserve, PC for saving the Aces and moving to the dog track and Mort along side Dave Gordon building the NSS, I went there many times to the site hut as the stadium was under construction and I was there at the opening meeting, we all know what happened that night and the failures of others that caused a chain of events that again the Aces were lucky to survive.

I'm a fairly regular visitor now to the new Belle Vue and was thrilled to be present when Dan Bewley broke the track record towards the end of this season. "

Comment on this Article | Contact Us | Go Back to Main Menu