Brisbane's Speedway Antique Roadshow
By Tony Webb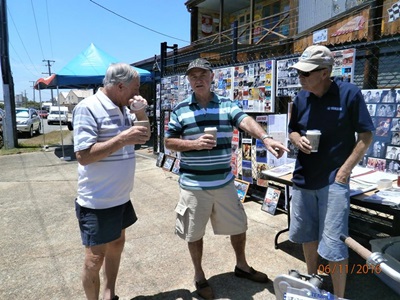 Ron Langdon, Les Bentzen and Malcolm Littler
The second annual Nigel Boocock and Jack White speedway bike show held at the Australian Indian Motor cycle Museum on November 6 developed into a version of the popular TV series - Antiques Road Show. From the start there was a steady stream of visitors with photos, memorbilia and even bike parts.
The VSCAQ sponsored event, hosted by Museum owners Darryl and Donna White, had 23 bikes on display and a Vintage .Go Kart display organised by Malcolm and Richard Littler, former Poole speedway supporters. The bikes included John Lennon's Peter Collins Weslake, 1926 Batros AJS, 1948 replica Laydown JAP, and a JAP Rotrax barn find. Ex Sydney riders Graeme Gardiner and Jon Cleary had 5 Jawas between them, two were for sale. Graham Lane had the immaculate John Titman Weslake. Tony Webb had his Ove Fundin Jawa/JAP replica and Russell Osbaldiston displayed his Jawa/JAP.
A beautifully restored Comet owned by Ric Choules took the Nigel Boocock award, this would delight Gordon May. An original USA imported Jawa with a 2 speed gearbox, owned by the Nicol family took the Jack White trophy, both presented by Cynthia Boocock who also present Webby with a carved Nigel Boocock plaque for the museum. Former Queensland rider Darryl McLean had three bikes and a display of his quality RTK products including a replica 2v chainguard. Two immaculate Goddens were on show from former Mt. Isa rider Ian Procter and Graham Taylor. Of sidecar background.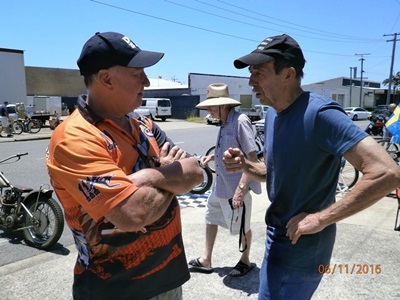 Kevin Torpie and Darryl McLean
But it was the procession of momentos that got the historians drooling. First in line was Reg Warry 1950-1960 short circuit rider with a box of hundreds of photos from long forgotten places like Coopers Plains Jerry's Downfall and Bardon, Reg then met a fellow competitor he had not seen for 50 years!
Next up was Graham Turner relative of the legendary Speedcar driver Bill Jeffers with a port full of rare sepia original Courier Mail photos from 1927. Paul Spencer son of Bert Spencer and Old Bike correspondent Gavin Dall'Osto and Mr Lennon were most impressed with the Jeffers collection. Peter Fields arrived with some pristine 5 stud JAP crankcases and Rod Buckland brother of Allan bought a pair of Fundin type bow saw handlebars.
Brother of former Victorian and Romford rider Bruce Edgar was seeking details of Bruce's time in London and Tony Webb caught up with former Ipswich UK junior Andy Nightingale and his father who Tony had not seen for 35 years. Webb was disappointed that yet another production problem with his publisher had thwarted his plan to have the Ekka book on sale. But he was over joyed to get a message from Ove Fundin that evening to congratulate the show.
Then there were the riders and fans, Kev Torpie, Tony Hart, Les Bentzen, Ron Langdon, Kev Beasley and Des Leitch were just a few that were spotted. This was by far the best gathering staged in Brisbane and augurs well for the future as Darryl and Donna are keen for the event to continue. Organiser supremo Darren Sonnenberg is already mulling over ideas for next time including an official invitation list
This article was first published on 13th November 2016
[ Use Mobile Version ]
Comment on this Article | Contact Us | Go Back to Main Menu