Ash Suttor's Speedway Museum
By Margaret Yule
Ash Suttor's Speedway Museum is located in Bathurst (New South Wales) and holds the largest collection of speedway memorabilia in the Southern Hemisphere and the exhibits continue to grow. The museum has over 30 bikes and sidecars on display as well as over 700 jackets, kevlars, leathers, trophies, DVD's, pennants, medals, programmes, caps and other memories.
The newest exhibit includes 12 of Ivan Mauger's bikes, golden helmets, programmes, jackets and poster boards. The museum, 800sq mts in total, is home to Gordon Guasco's Jap, as well as bikes ridden by Billy Sanders, Chum Taylor, Kozza Smith, Dennis King, Vic McTaggart and many more.
The museum is holding a Swap'N Show day on Sunday 9th June at 8am with BBQ, drinks and lots of exhibits.
For a Speedway trip down memory lane be sure to pop in, you will be amazed at this collection. Ash has been a passionate speedway collector for many years and it shows in his museum.
Contact Ash on email - asu17024@bigpond.net.au
Click on the pictures to see a larger version of the image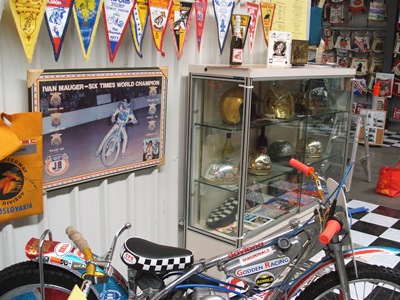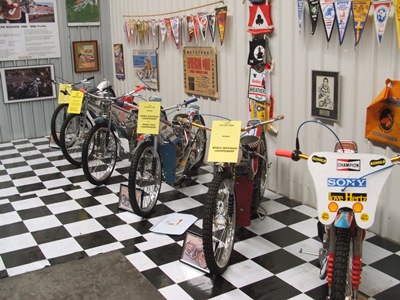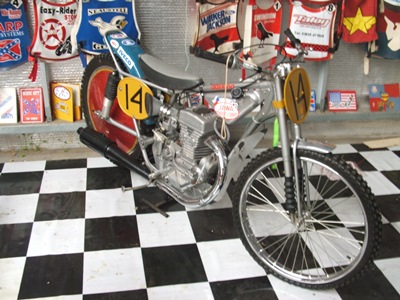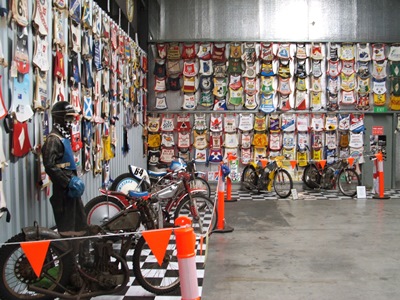 With thanks to Tony Webb and John Hyam
This article was first published on 21st April 2013
[ Use Mobile Version ]
Comment on this Article | Contact Us | Go Back to Main Menu