Auf Wiedersehen Pet
By Tracy Holmes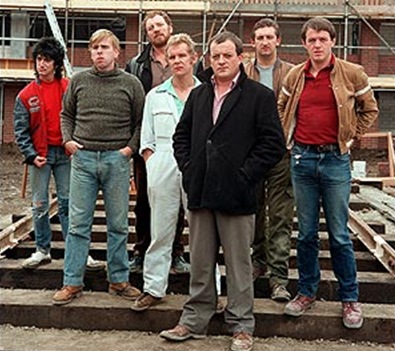 The Magnificent Seven
My all time favourite TV show is the CLASSIC Auf Wiedersehen Pet, Series 1 & 2. [ see www.auf-pet.com ] The Magnificent 7 were Dennis [Tim Healy], Oz [Jimmy Nail], Neville [Kevin Whately], Bomber [Pat Roach], Barry [Timothy Spall], Wayne [Gary Holton] and Moxey [Christopher Fairbank]. The story lines fresh, fun and FAB !!! Well I would say that. But for me, these series captured the 80s and personally saved my interest in Speedway as that decade crashed all around us.
In the 70s, we could go out of our minds with choice! Barry Briggs, Ivan Mauger, Ole Olsen, Anders Michanek, John Louis, Malcolm Simmons, Peter Collins, Chris Morton, Tommy Jansson, Dave Jessup, Billy Sanders, Phil Crump, Mike Lee and Bruce Penhall all spearheaded their craft like brickies off to Dusseldorf. The British League, 1st and 2nd divisions oozed with excitement week after week after week. TV and newspapers dripping with the stuff. Dramas, controversies and tragedies left, right and wholesale. None more so than the death of Tommy Jansson in 1976.
There were glamour meetings like The Internationale, The Daily Express Spring Classic, Northern Riders Finals, Midland Riders Finals and Southern Riders Finals, The British League Riders Final with the biggest of all, The World Speedway Final. That one being held at the most prestigious of venues; Wroclaw and Katowice (Poland), Gothenburg (Sweden) and the magic Wembley (England). A decade of delight that would be followed by a decade of decadence. Later in the 70s, a drug culture emerged that would have a lasting nastiness and like a terminal cancer, would eat away all who allowed it in.
The 80s began full of hope. The brightest star, Ivan Mauger was fading fast BUT, he started the new decade just as he had started the last one, as Speedway Champion of the World !!! In 1980 he was dethroned by Mike Lee and then the Super Yank, Bruce Penhall took over, winning the World Finals of 1981 at Wembley and 82, in his home town of Los Angeles, California, USA. Oh yes, home of Mickey Mouse who never did Walt Disney any harm!
Ivan Mauger now had a 'Mini Me' in the form Brit, Kenny Carter. Iveco Trucks had offered Ivan a lot of money to make this lad World Speedway Champion. [ It never happened. But in 1983, Carter and Peter Collins won the World Pairs Final ] Ivan said of his shadow that it did not matter if he did not win at Wembley in 81 as in the next two or three years, he was going to win no question, words to that effect.
What happened? Penhall quit within minutes of taking the 82 World Crown. Speedway immediately lost its number 1 drawcard. Speedway's 'Golden Eagle' became Speedway's 'Lame Duck'. He took an acting job and it never rains in Southern California.
Without Penhall, Speedway suffered a death-blow. Really? Yes Really ! He Really was THAT big. No-one could fill his shoes. 1976 World Champion Peter Collins was still there. So was Chris Morton, Billy Sanders, Dave Jessup and Mike Lee. Who were the new brigade alongside Carter? 'Yanks' Dennis Sigalos, Shawn and Kelly Moran, [These two had more talent in their little fingers than most of us have in a lifetime ! They just had no idea what to do with it !!!] Danes Hans Nielsen, Tommy Knudsen, Erik Gundersen and a very bright star emerging, 'Englander' Simon Wigg.
Then, in 1983 came something so bizzare; if Penhall quitting was Speedway's 'Hiroshima', then this was Speedway's 'Nagasaki' ! Speedway's 'Jewel in the Crown', its 'Night of Nights', the event that much of the Western World's Press took an interest in covering, The World Speedway Final was held in the countryside near Norden, West Germany. Speedway's Rolls Royce was traded in for Oz's clapped out Zephyr. "Hey, canny car this kidda !" And on a tailor-made track, on a bike so clearly 20 ks faster than anyone else's, the home favourite Egon Muller was unbeaten for the Gold Medal. He made Billy Sanders, Mike Lee, Erik Gundersen, Kenny Carter, the evergreen Ole Olsen in his last season, Hans Nielsen, Dennis Sigalos, Chris Morton and the rest all look like novices.
Now don't get me wrong, Muller was a top bloke and Speedway Longtrack legend, 3 times the World Champion in fact. [Longtrack and Speedway being like Rugby and Rugby League] And yes he was a very talented Speedway rider BUT the only way he was ever going to become World Speedway Champion was to have things exactly the way things were set up in 1983. Oh yes, he was going to have to ride as good as any time in his career, but in the end, all he had to do was sit on his bike and drop the clutch. I'm not saying that he did not deserve to win that day in those conditions, but what I am saying is that the World Speedway Final should NEVER have been held in Germany in the first place !!! [must have been Herr Grunwald and his sidekick Herr Ullrich]
That, I believe all came about by power, politics and nepotism. [Noo, just a touch of arthritis !] AND that was the day for many, The World Speedway Final died. How could it be taken seriously again? It never really recovered and many newspapers didnt bother anymore. Wembley closed its doors to Speedway and World Finals would be held at Bradford, Amsterdam, Sir Ole Olsen's track in Denmark and later Munich.
The rest of the decade drowned in the fallout. THE finest track in the world, Belle Vue, Manchester was bulldozed. Dennis Sigalos had his career ended by injury. Mike Lee saw a drug entangled lifestyle bring him down and send him to jail. Billy Sanders took his own life. [marriage split ...] Kenny Carter, who had seen Ivan Mauger jump ship, murdered his wife and then turned the gun on himself. Kelly Moran never got close to the 'Goldmine' he could have sat on had he taken life seriously while Shawn Moran won the 1983 World Longtrack Final and in 1990, was 2nd in the World Speedway Final. [He lost the Gold medal run-off to Swede Per Jonsson] But he too should have been 3 times the rider he was !
Simon Wigg became a Speedway 'Superstar', 2nd in the 1989 World Final and a Longtrack Legend. [ 5 times World Longtrack Champion ] Brit Kelvin Tatum had joined Speedway's top ranks and he too became a Longtrack Giant. [ 3 times World Champion ]. For everyone else, it was 'Danish Delight'. Nielsen and Gundersen dominated the Speedway World along with Knudsen in the team events and Jan O Pedersen quickly joined in to continue the monopoly. Gundersen's career [and nearly his life] came to an end at the 1989 World Cup Final at Bradford. You-Tube it and see for yourself what happened.
After 'The Norden Fiasco', I was all set to chuck Speedway and just keep all my scrapbooks. But along came Auf Wiedersehen Pet.
I was introduced to Dennis "ahh bloody hell !", Oz "Bollocks !", Neville "dearest Brenda", Bomber "Bomber's away !", Barry "they use real human beings, or students !", Wayne "Wots da word then?" and Moxey "better get another doughnut." I saw how the story revolved around unemployed Brits thanks to "Margaret bloody Thatcher", who went to Germany to become 'self employed' on German building sites and the trouble they got into and fun they got up to [xxx] away from home. Some got into trouble with the law, underestimated the strength of German beer, lost all their money and became "ridiculously patriotic for the country that couldn't bloody employ them in the first place!"
I saw the funny side of Speedway and how Egon Muller becoming World Champion could be written off as "just a bit of fun Den !" I listened to the German workers and their music, saw the towns and countryside. [yes I know most of it was filmed in England] I came to the realization that a TV comedy/drama was when all said and done, entertainment. And Speedway was too ! I got my sense of humour back and while I have never forgiven the 'Krouts', "cause they're the bastards that bombed me Granny", I mean hijacking Speedway's Red Carpet Event, I can live with it and see "that the average German's allreet ! I mean compared to a Turk !!!"
The World Speedway Final was killed off in 1994 and the World Longtrack Final died just 2 years later. Both replaced by a Grand Prix series that today presents some fantastic racing and amazing scenes BUT is far removed from the heart and soul of what Speedway is meant to be all about. The kind of excitement that the Circus brings to town, "Roll up Roll up for the greatest show on earth !!!"
I will finish now "which I wish you would like" with a few lines I have written before but puts the lid on this as I think it should;
The Circus was sold for a miserly bet,
Elephants packed in a Jumbo jet,
As the Ringmaster rode into the sunset,
He waved and sighed, "Auf Wiedersehen Pet."
This article was first published on 10th March 2013
---

Bill Elliot:

"I couldn't agree more with Tracey Holmes' "Auf Wiedersehen, Pet" piece - speedway was awash with world class riders in the 70's and into the 80's, but these days who is there who is actually good enough to get the pulse racing and get you out your armchair and go to a meeting? Whether you cheered them or booed them, hated them or respect them, you had to see them, but unfortunately who is there these days who fits any of those descriptions? Probably why I seldom go now, like so many others......."
Ivan Blacka:

"Very interesting read Tracy Holmes. Thanks so much and you hit the nail right on the head with that article. "
Jim Kennedy:

"Tracy Holmes, have to agree with your view of the sport."

[ Use Mobile Version ]

Comment on this Article | Contact Us | Go Back to Main Menu