2016 Aussie GP: No Lessons Learned
By Ivor Craine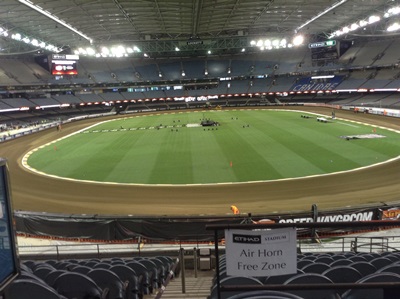 The Australian Speedway GP was staged at Etihad Stadium in front of a disappointingly low crowd of 21,729 about one third of the stadium's capacity and about that which would be expected to attend an Aussie Rules match between two bottom teams. The event had negligible advertising or publicity and the promotion obviously did not learn from 2015 when there were probably more people who said they would have gone to the event if they had known it was on than those that actually attended.
There was some advertising on the Melbourne Sports Radio Station, about one tenth of that devoted to the Moto GP at Phillip Island, and there was no actual comment from the announcers who know nothing about speedway, let alone the fact that an Aussie Jason Doyle was leading the series until he was severely injured in Torun. Their only reference to speedway was that there was a speedway track being laid at the stadium and therefore a soccer match could not be played there this week.
If the event was properly publicised I am sure it would not be just Speedway diehards who attend but Melbourne sports people would also attend in numbers to exceed the 31,990 crowd that attended the first Australian GP held in Sydney in 2002.
At $150 a head every extra 1000 people that attended would raise $150,000 surely enough to justify some TV advertising and cover the cost of supplying radio announcers with some speedway information and providing free tickets for their audiences to compete for? This is a great chance to promote the cause of speedway in Australia and is sadly being wasted.
This year the event was sponsored by QBE Australia's leading Insurance Company with worldwide activities but I doubt if they will be interested in maintaining their association with such a poorly publicised event
This article was first published on 25th October 2016
[ Use Mobile Version ]
---

Duncan Pemberton:

"I was there for first one and comments made then over the tannoy was indicating that it was the biggest sporting secret in Melbourne! Think the organisers should employ the Glasgow promotion next year with a reasonable budget and I will bet the crowd would be nearer 40k !!!!"
Ron Malm:

"I agree with Ivor in that the crowd was disappointingly small, and that for the second year in a row there seemed to be negligible advertising.

I will note however that the weather in Melbourne on the particular day was appalling, and any person with an ounce of sanity did not venture outdoors. There was also a significant horse race run in Melbourne on the same day, the Cox Plate (this is the second year in a row the SGP has clashed with the Cox Plate - so far it is 2-0 to the horses). This event, which is entrenched in the Melbourne calendar, attracts at least 50,000 people, and dominates the sports pages in the lead up to the event.

That, along with the fact that the MotoGP was on just down the road at Phillip Island, made it difficult for any other sport, particularly a "newish" sport such as a Speedway GP, to get a look in for some free press.

I am not sure how much PR & advertising for the SGP hinged on the potential for Jason Doyle to be crowned World Champion in Melbourne, but would suggest that his off early on in Torun had a significant effect on the promotion of the event. It appears as though there wasn't a plan B.

The premium seats (the $150 per seat) seemed to be nearly sold out. I was one of those sat near the first turn. I dare say that those seats were occupied by fellow diehards, who will travel ridiculous distances for 3 hours entertainment. The lesser priced seats, generally sold to the less fanatical followers of the sport, were where the vacancies appeared.

Having piggy-backed the MotoGP, I was surprised there wasn't more of an amalgamation of the 2 crowds, but would say the weather was a factor in that. A mate & myself had all good intentions of going to Phillip Island on Sunday, but given the weather, we found ourselves taking a ride on the Puffing Billy steam train instead!

For me it was still a fantastic event. Some of the racing was brilliant, and a local win nearly lifted off the roof. Hopefully we will be there again next year."

Comment on this Article | Contact Us | Go Back to Main Menu