Help Us to Help the Kids
By Marcus Williams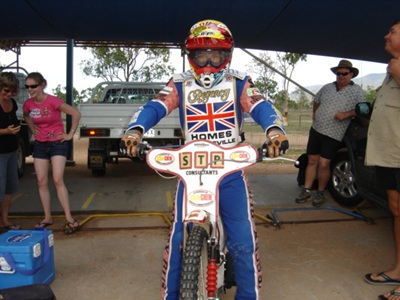 Kyle Newman
Over a period of time I have noticed the decline in both the quantity and quality of young British speedway riders and being an ex rider myself, I and some colleagues have decided to do something about this decline and hopefully take steps to restore British speedway to where it should be...on top!
I advertised and was fortunate to have the pleasure of welcoming Kyle Newman, a young Weymouth rider into our family so that he could continue his progress and gain valuable experience on our well prepared Australian tracks. The publicity and good press reports showed that this was achieved and he was an instant success and a big hit on most of the tracks he visited. All of Kyle's success was achieved on borrowed equipment , which speaks highly of his ability. The amount of young rider talent here in Australia is awesome, so to obtain the results he achieved was remarkable.
My colleagues and I in Australia and England are so impressed with Kyle Newman's Efforts and overall professionalism we have invited Kyle back to Australia for season 2009/2010. Kyle Newman is a credit to British speedway and one can only guess how much talent is ready to be brought on and nurtured.
My colleagues and I are considering inviting several other young English riders out to Australia at the end of the British speedway season, they will stay and compete in various meetings held throughout Australia during the time they would spend here. Besides riding they would be taken through bike preparation before and after meetings, correct maintenance, adjustments, set up and many of the basic repairs that riders should be able to manage.
For the season 2009/2010 to be successful, and for my colleagues and I to finance bringing out more than one rider we need help, we haven't got all the resources to manage the programme ourselves. However we have the experience, knowledge and the desire to take keen up and coming young riders along a successful path.
We don't intend making anything out of this venture, but as an ex rider given the same opportunity in the early part of my career I'm very keen to put something worthwhile back into the wonderful sport. My colleagues and I think the sooner we get more young British lads into all the three leagues in numbers, the better it will be for British speedway.
We are at the present time building three Elite League standard bikes,c omplete with short stroke GM engines. It is very important that we provide good quality, reliable and competitive bikes. Without the correct machinery our young lads will not do themselves or their country justice.
The help we require is ten fold ,we however do not expect the earth, a little help in any way will go a long way in helping us all achieve our goals.
Kyle taught us a great deal in his first visit to Australia, it showed us what level of machinery we needed for Kyle to be competitive along with all the day to day cost which need to be covered. The cost of bringing one rider out are mind blowing and include the following:
A competitive bike and spare engine Air fares
Travel expenses
Living expenses
Riding expenses
Fuel
Oil
Tyres
Spares
Repairs.

Please don't get me wrong we are not complaining we are just pointing out the facts.
In conclusion if you or your company is willing to provide help in any shape or form for this worthwhile project we would love to hear from you.
We can be contacted on the following phone numbers, postal address and email addresses via the UK or Australia.
It is also worth mentioning that Kyle Newman rode in Australia (season 2008) In the memory of Darren and Sharon Boocock. The riders who tour this season 2009/2010 will also be riding in the memory of Darren and Sharon Boocock and the Boocock family.
AUSTRALIA
Mr Marcus and Mrs Beverley Williams
37, Morstone Street
Annandale
Townsville
Queensland, 4814
Australia.
Email ....morstonemanor@hotmail.com
Mobile...04000 321 00
Home phone. area code 07 47 751392
Work.....area code 07 47 794477

UNITED KINGDOM
Mr Andy and Mrs Kathy Waddington
6 , Aldate Grove,
Ashton,
Preston,
Lancashire..PR21JY
United Kingdom
Email......Andyandtat@aol.com
Mobile....07 956649979
Home phone..01 772 496035

Some more pictures from Kyle Newman's tour in 2008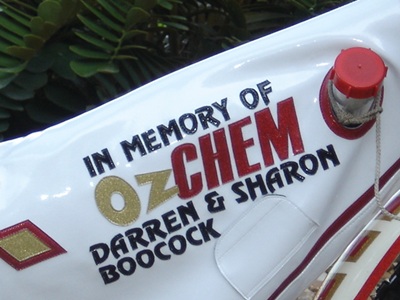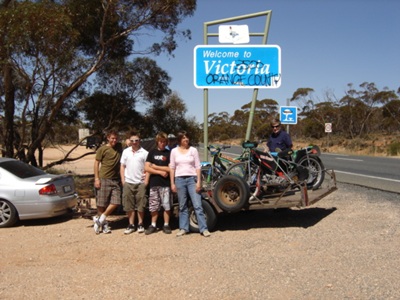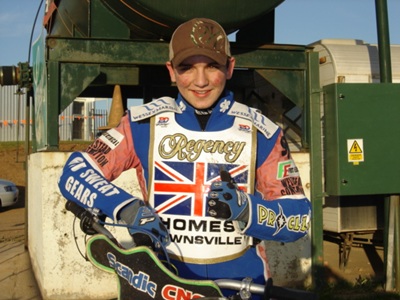 This article was first published on 22nd January 2009
[ Use Mobile Version ]
Comment on this Article | Contact Us | Go Back to Main Menu