Back on Track After 20 Years
By George Dodds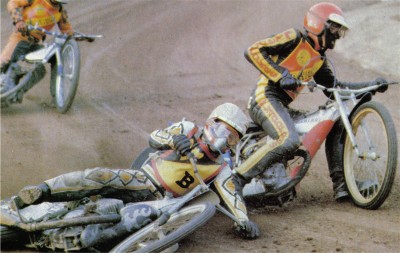 Berwick in action at Crayford in 1980
IT was Leozi - a Chinese philosopher rather than a Polish heat leader -who said that "a journey of a thousand miles begins with a single step" well March 26 will complete a personal trek, one which begins and ends at Shielfield Park, Berwick and has taken 37 years.
Along the way many have fallen - Boston, Skegness, Canterbury, Reading, Oxford, Halifax, Hull, Exeter, Wimbledon, Hackney, Barrow, Powderhall, Berrington Lough - a few have arrived - Somerset, Buxton, Kent, Grand Prix - and some have gone and then risen again Phoenix-like - take a bow Leicester, Workington, Scunthorpe, Birmingham.
As a four-year-old I attended Berwick's opening night in May 1968, initially attracted by the noise and smell of the town's newest sport which rather conveniently was being staged just a couple of hundred yards away from my humble council home.
I was smitten and became a Saturday night regular even venturing away to Newcastle, Edinburgh and - in 1977 - to Eastbourne for the least successful Cup Final in history - Bandits managing a paltry 17 point return. It was a pretty solemn coach full of supporters which returned north to end a journey in the early hours of Monday morning which had begun full of high hopes on the Saturday evening.
Those were halcyon days and as I turned into a teenager the speedway world stretched before me.
Little did I know that a family decision to leave the Borders in 1978 and relocate to the not so beautiful south - Yorkshire that is - would eventually lead to a 20-year hiatus which would only end this year.
There was little hint of what was to come as initially the move sparked a spectating bonanza - British League Sheffield with 1971 Bandit Dougie Wyer and later the big money signing of 1980 hero Wayne Brown gave a familiar feeling to my new home track.
Living in Doncaster gave easy access to the rail network and Hull, Halifax and Scunthorpe became regular haunts along with the weekly Owlerton fix while Belle Vue on Bank Holidays was a treat and World finals at Wembley in 1978 and 1981 along with 80,000 fellow fans were atmospheres to savour - even if the actual racing left a little to be desired.
Jaunts to London also took in the trick tracks of Rye House - another losing KO Cup final in 1979 - and Crayford - Bandits providing the warm-up in 1980 to the double header when the Kestrels put a perfect 65 past hapless Workington who could only manage 12 points under the old 13 heat format.
It would be fair to say that neither the Bandits nor my adopted Tigers proved to be the most competitive of visitors in those days so perhaps I didn't always see these tracks in their best racing light but it was still an excellent adventure.
Armed with a Young Persons' Railcard and access to concessionary admission I was clocking up 80 or more meetings a year, speedway was my drug of choice and it would always be - or so it seemed.
One memorable evening saw the Bandits finally lift the Cup in thrilling fashion as Nig Close forced his way under Steve Wilcock to win an epic tie at Brough Park - Berwick having been forced to stage the match at neutral Newcastle after being unceremoniously slung out of Shielfield before the 1980 season was over.
The first hint of things to come was when the end of school meant full price admission bit a huge chunk out of my income but a move to college in Darlington had the unexpected side effect of stumbling across a fellow speedway nut downstairs in my rented bedsit ... and this one came complete with a Ford Transit van.
Middlesbrough's Cleveland Park was my new home base - I even saw Bandits win there in the 1980s - but the real revelation was the freedom from the restrictions of public transport which allowed Reading, Mildenhall, Coventry, Peterborough, Milton Keynes and Kings Lynn to be crossed off the list of tracks visited.
One glorious week, camp bed in the back of aforementioned Transit, read: Monday Reading, Tuesday Weymouth, Wednesday Poole, Thursday Wimbledon, Friday Peterborough, Saturday Cradley Heath, Sunday rest.
Even the need to work full-time couldn't affect the momentum, although taking up a job in Gateshead did mean that Brough Park on a Monday night became my new "home". Many a southern team may have wondered where their vociferous support came from over the next three seasons, Diamonds' fans were probably somewhat bemused that the opposition seemed to be supported by the same nutter every week.
Next came the dream move - a job on the sports desk of a weekly newspaper in Thurrock (nope I hadn't heard of it either when I applied) which involved covering Essex cricket and speedway at, the then fenceless, Arena Essex and Hackney.
My love became my job; I gorged on speedway - five or six meetings a week, and being paid to do it too. I even managed a rare return to the Borders as part of a northern tour with the Hammers which took in Glasgow (Shawfield), Berrington Lough and Brough Park.
World finals in Amsterdam and Munich - including a monumental Briggo's Golden Greats meeting at Landshut - were tucked under the belt but then it all began to go wrong as another work move saw me back north(ish) and brought about my speedway demise.
Not to put too fine a point on it: Belle Vue ruined my speedway life.
This was not the Hyde Road of Collins, Mauger, Morton, Dick Barrie and his monkey and visits by the Cabbage Patch Heathens but the trick greyhound track with its tatty stands and lousy terracing.
Worse still the old 13 heats had been dumped and replaced with an 18 heat marathon in 1993 which, crucially, was only a couple of heavy crashes away from forcing me to leave early to catch the last bus home. A drop to 16, then 15 heats helped but by then the damage had been done.
Changes to race nights - Wednesday and then Monday - made it tougher and tougher to fit speedway into my working life and the actual quality of racing made the ever increasing cost of attending a meeting harder and harder to justify.
Once the habit was broken it became increasingly easy not to make the effort and join my non-speedway loving mates in the pub.
Bradford provided an alternative and the quality of racing at Odsal was more to my taste but Saturday nights in the summer were an uncomfortable fit with the life of a working sports journalist, clashing as it did with the highly competitive Lancashire leagues cricket which filled the summer pages of my newspaper.
And so gradually the unthinkable began to become a reality - speedway, my staple summer fix since 1968 - became an occasional, then every few years event.
Then, 1996, to be exact, it became, apparently, consigned to history.
A visit to family in 2000 saw the Bandits back at Shielfield and me under The Ducket again for a derby against Glasgow but, a visit to a double header at Rye House apart - we were sailing our narrowboat past the stadium on the River Lea and decided to moor up opposite the pub and part with a combined £40 - there was little stirring on the speedway front.
But you cannot keep a good obsession down and life took an unlikely u-turn a few months ago as, after ten years living aboard a narrowboat near Long Eaton - sadly with houses built on what was once the gloriously semi-derelict but superbly entertaining Station Road - a decision to return to dry land ended in unexpected style as it turns out that Berwick is the place to be again.
As Leozi prophesised so many years before - my journey is complete and for the first time since 1978 I am preparing to enjoy a season as a Bandits fan and getting my weekly fix of the sport that did so much to mould my formative years.
Let the games begin!
This article was first published on 14th February 2016
[ Use Mobile Version ]
Comment on this Article | Contact Us | Go Back to Main Menu