Backtrack Issue 43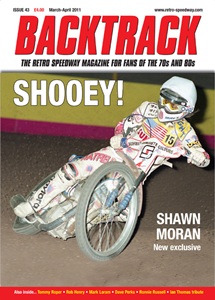 Issue 43 of Backtrack is out now and here's what you can look forward to in another feast of 70s and 80s nostalgia . . .
SHAWN MORAN INTERVIEW
The story behind the spectacular rise and fall of one of the sport's biggest stars, Shawn Moran, is a compelling one. The former USA, Sheffield and Belle Vue favourite talks candidly about hitting rock bottom after his glittering career came to an end and how he's now beginning part two of his life.
Here's a very brief taster of the kind of honesty 'Shooey' has displayed in our exclusive interview:
"I'd say my drinking got really bad from year 2000. I'd mainly stick to beer but every four-to-six months I'd knock back shots - as if to remind myself where NOT to go. I'd wake up some mornings and not know what had happened the previous night. It was hopeless really but it became a way of life that I got used to."
"I still like a couple of beers but that's all I have now - usually no more than two per day and Sabine makes sure that's my limit," he says. "She's got me under control. I can't say that I exactly wanted it but I guess I needed it!
"We did what we wanted to do and had a great time doing it. Titles and trophies are great to have but they are just things on the wall. To have won more, even the World Championship, wouldn't have changed us as people in any way. We enjoyed our sport, big-time. It was all good."
John Berry also presents his own profile of the popular California who went so close to winning the world title in 1990.
TOMMY ROPER INTERVIEW
In another revealing and candid interview, we talk to former Belle Vue, Halifax and Hull rider Tommy Roper about what might have been and how he turned speedway regrets into lasting success away from the track.
Tommy says: "I was a bit upset when I finished speedway that I didn't put more effort into it and take it more seriously. But had I done so, I wouldn't have enjoyed it as much. I enjoyed speedway more than most other guys. But I do look back at it now and think I could have achieved so much more. On my night, when I wasn't tired out and my bike was running good, I could beat anybody on the right track."
TONY CLARKE INTERVIEW
He was a No.1 for West Ham and Newport before ending his career with Wimbledon and Wolves. But the name of Tony Clarke is also associated with Russian bikes that went missing before the 1972 World Final. Read on for the truth about that and much more.
"Yeah, I nicked 'em. In those days the Russians used to bring over lots of bikes, engines and equipment - not to use as spares, but to sell while they were here to get their hands on some western currency. I didn't have the money to buy it from them, so I thought, 'f*** it, I'll help meself' - simple as that. They had everything stored in a lock-up near Wembley Stadium car park - anyone could have nicked it. I know who grassed us up, though, although he would never admit it."
THE BOSS: RONNIE RUSSELL INTERVIEW
He's a larger-than-life East London "geezer" and one of the most no-nonsense promoters the sport has known. But Ronnie Russell is better known for his heroic role in foiling a dramatic attempt to kidnap a member of the royal family. In this revealing new interview he re-lives that fateful day in detail, looks back on his introduction to speedway and explains why he made arrangements for his own funeral.
Ronnie recalled: "Ian Ball went round the other side of the car and came behind me. Mark Phillips saw this and pulled Princess Anne back inside the car. I turned round and there was Ball, standing and pointing his gun at me. He had a very drained look on his face, glazed eyes and I thought, 'either you're going to shoot me or I'm going to hit you, whichever comes first' - and obviously it was easier for him to pull the trigger."
MICHAEL LEE INTERVIEW
For new Mildenhall co-promoters Michael Lee and Kevin Jolly, their new venture signals a return to the venue where they first raced speedway.
Mike says: "I remember those days very fondly. When I first rode at Mildenhall as a 13 or 14-year-old, the track had just been built by Bernie and Barry Klatt in a potato field and they had straw bales for a safety fence. Kevin and I both rode for the Tiger Cubs in their winter training school matches and we were talking about that the other day. We travelled to places like Stoke, Crewe and Iwade in a lorry - riders, mechanics, friends and our bikes and equipment all piled into the back of a 40ft container. We had a lot of fun and they were memorable times."
ROBERT HENRY INTERVIEW
As Mildenhall mark their welcome return to league speedway in 2011, we caught up with Fen Tigers legend Robert Henry, probably the National League's ultimate team man.
Rob says: "I thought I was a fair rider and had the same respect from opponents. I never did the dirty on anybody and I don't think anyone did to me. I went through 11 seasons with no serious injury, so my approach must have worked."
IAN THOMAS TRIBUTE
Speedway has lost a great showmen and one of its most successful promoters and team managers. Richard Bott, who read the eulogy to Ian Thomas at his recent funeral, leads the tributes to a magical man who will be sadly missed.
"He wasn't averse to staging confrontations with visiting team managers. If a speedway meeting was going a bit flat, Ian would grab the centre green microphone and shout abuse at his opposite number or even the referee."
MARK LORAM INTERVIEW
With a new DVD out to coincide with his recent farewell meeting, Mark Loram is back in the spotlight again. Here we recall with him the early stages of the brilliant career of Britain's last World Champion.
Mark says: "As a kid you dreamed of becoming World Champion and to do it was obviously very nice at the time. It was my reward for all the hard work I'd put into my racing over the years and a way of giving something back to my sponsors and all the people who helped me to get to the top. But what meant just as much to me was entertaining the fans. To have people come up to you in the bar or the pits car park afterwards and say how much they had enjoyed watching me ride meant a lot to me."
DAVE PERKS INTERVIEW
One of the unsung heroes of Cradley Heath who later became a National League star with Nottingham, Oxford and Long Eaton, Dave Perks looks back.
Dave says: "That was just fabulous, to win those two trophies with Cradley. The fans had supported the club through some pretty lean years, so it was great to finally give them something to celebrate."
Plus...
Q&As with KEITH CHRISCO, KEVIN HOWLAND and JULIAN PARR.
We mingle with former Leicester riders and bosses at the Lions' recent relaunch meeting.
AND ANOTHER THING . . . John Berry presents a history of Rider Control.
AVAILABLE NOW FROM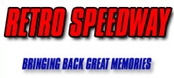 www.retro-speedway.com
This article was first published on 21st April 2011
[ Use Mobile Version ]
Comment on this Article | Contact Us | Go Back to Main Menu